Bimtek Ciawi, BPPSDMP Wajibkan Penyuluh Perkuat `Sejuta Petani Milenial`
Indonesian Agricultural Extentionists must be Support Millennial Farmers
Editor : M. Achsan Atjo
Translator : Dhelia Gani

PUBLISHED: Sabtu, 16 Maret 2019 , 22:40:00 WIB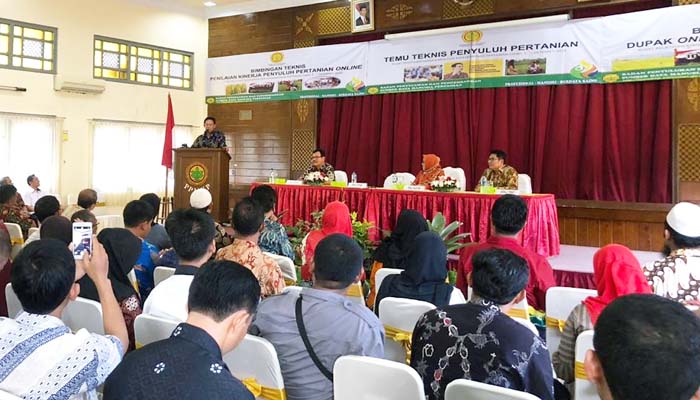 PENYULUH ERA MILENIAL: Kepala BPPSDMP Kementan, Momon Rusmono mengingatkan peran penyuluh di era milenial (Foto: Humas Pusluhtan BPPSDMP)
Bogor, Jabar [B2B] - Generasi muda petani yang produktif, responsif, memahami teknologi informasi, dan menguasai alat mesin pertanian [Alsintan] menjadi tulang punggung masa depan pertanian Indonesia sebagai petani milenial, adalah tujuan utama Kementerian Pertanian RI mengembangkan sejuta petani milenial, dan penyuluh pertanian berperan vital memperkuat program regenerasi petani mewujudkan Indonesia sebagai ´lumbung pangan dunia.´

Hal itu dikemukakan Kepala Badan Penyuluhan dan Pengembangan SDM Pertanian [BPPSDMP] Kementan, Momon Rusmono pada bimbingan teknis [Bimtek] yang dihadiri sedikitnya 269 penyuluh dari 34 provinsi di PPMKP Ciawi, Sabtu [16/3]. Turut hadir Kepala Pusat Penyuluhan Pertanian [Pusluhtan] Siti Munifah; Kepala Pusat Pelatihan Pertanian [Puslatan] Bustanul Arifin Caya; dan Kepala PPMKMP Ciawi, Heri Suliyanto.

"Tantangan terbesar pembangunan pertanian saat ini adalah minimnya minat generasi milenial untuk bertani. Jika hal ini terus berlanjut, maka di masa mendatang Indonesia akan kekurangan petani. Kedaulatan dan ketahanan pangan pun terancam," kata Momon Rusmono.

Sebagaimana diketahui, data survei pertanian Badan Pusat Statistik [BPS] tahun 2013 menyebutkan bahwa 57% petani di Indonesia berusia lebih dari 45 tahun, sisanya petani berumur 45 tahun ke bawah. Kekurangan SDM pertanian akan mengancam keberlangsungan pertanian Indonesia.

"Generasi saat ini yang lekat dengan sebutan generasi milenial enggan menjadi petani karena beberapa faktor. Pertama, menganggap insentif menjadi petani lebih rendah daripada insentif bekerja di sektor lain. Kedua, stigma bekerja sebagai petani tidak bisa menjadi bekal hidup yang layak, sehingga banyak petani malah berharap anaknya bekerja di sektor lain," kata Kepala Badan SDM Kementan.

Faktor ketiga adalah teknologi, generasi milenial hadir di tengah kemajuan teknologi informasi dan lekat dengan sarana digital sebagai ´gadget freak´ karena menjadi sangat tergantung pada smartphone dan internet.

Menurutnya, Pemerintah RI melalui Kementan meningkatkan insentif menjadi petani milenial dengan asuransi pertanian, asuransi peternakan, bantuan Alsintan, pelatihan, akses modal dan pemasaran hasil pertanian.

Peran Penyuluh
Momon Rusmono mengingatkan peran vital penyuluh pertanian mendukung program ´sejuta petani milenial´ namun sebelum terjun ke lapangan, maka penyuluh harus meningkatkan kemampuan dan skill terkait penguasaan teknologi pertanian dan teknologi informasi, ´antara lain melaui Bimtek yang digelar di PPMKP Ciawi hari ini."

Peranan penyuluhan dalam memberikan pengetahuan kepada petani dapat berfungsi sebagai proses penyebarluasan informasi, fungsi penerangan atau memberikan penjelasan, fungsi perubahan perilaku petani dan fungsi pendidikan.

"Penyuluh wajib mengembangkan kemampuan petani secara bertahap agar pengetahuannya meningkat, mengakses informasi, dan mengaplikasikan teknologi yang dibutuhkan sehingga petani dapat memecahkan masalah serta mengambil keputusan yang terbaik untuk usaha taninya," katanya.

Penyuluh pertanian berperan strategis sebelum petani menanam hingga pasca panen. Mulai dari pemilihan benih, pengolahan tanah, penanaman, pemupukan, pemeliharaan, pengendalian hama penyakit, panen hingga pasca panen.

"Itulah peran penyuluh sebagai edukator, sementara sebagai fasilitator tugasnya mendukung pembuatan RDKK pupuk bersubsidi, pembuatan demplot, proposal, kios Saprodi, rencana usaha tani, penumbuhan kelompok tani, dan alternatif solusi tiap masalah yang dihadapi petani," kata Momon Rusmono. [Liene]
Bogor of West Java [B2B] - The young generation of farmers who are productive, responsive, understand information technology and agricultural machinery are the backbone of Indonesia´s agriculture as millennial farmers is the main goal of Agriculture Ministry to develop a million millennial farmers, and agricultural extensionist play a vital role in supporting farmers´ regeneration programs, according to the ministry´s senior official.
It was stated by Director General of Extension and Agricultural HR Development at the Agriculture Ministry [BPPSDMP] Momon Rusmono in technical guidance [Bimtek] attended by at least 269 agricultural extensionist of 34 provinces. The Bimtek activity was held in Ciawi, Bogor [March 16].
"The main challenge for Indonesian agriculture is the lack of interest of the young generation in farming. This condition must be anticipated to prevent Indonesia of lacking farmers," Rusmono said.
As is known, the 2013 agricultural survey of the Central Statistics Agency [BPS] stated that 57% of farmers in Indonesia were over 45 years old, the rest were farmers aged 45 years and under. Lack of agricultural human resources will threaten the sustainability of Indonesian agriculture.
"Today´s young generation who are often referred to as millennials are reluctant to become farmers because several factors. First, consider incentives to be farmers lower than incentives in other sectors. Second, the stigma of working as a farmer has no future, so many farmers actually hope their children work in other sectors," he said.
The third factor is technology, the millennial generation lives in the era of information technology and often called the ´gadget freak´ because it is very dependent of smartphones and internet.
According to him, Indonesian government through the agriculture ministry increased incentives for millennial farmers with agricultural insurance, livestock insurance, free assistance of agricultural machinery, training, access to capital and marketing of agricultural products.
Agricultural Extension
Rusmono reminded the vital role of agricultural extension to support program of ´a million millennial farmers´ but before going into the field, they had to improve their skills and skills related to agricultural technology and information technology.

The role of agricultural extensionist to provide knowledge to farmers, function of information dissemination, function provides an explanation, function of changing farmer behavior and educational functions.

"Agricultural extensionists must develop the ability of farmers to increase farmers´ knowledge, access to information, application of technology so that farmers can solve problems, and make the best decisions for farmers," Rusmono said.

The agricultural extensionist play a strategic role before farmers plant corn until the post-harvest process. Starting of seed selection, tillage, planting, fertilizing, maintenance, pest control, and harvesting to post-harvest.

"That is the role of an educator, while as a facilitator support farmers to get subsidized fertilizer, making demonstration plots, proposals, kiosks for production facilities, farming plans, developing farmer groups, and solutions to problems faced by farmers," Rusmono said.