Sesba BPPSDMP: KostraTani Perkuat Penyuluhan, Bukan Hilangkan Peran BPP
Indonesia`s Agricultural Extension Connected through the KostraTani
Editor : M. Achsan Atjo
Translator : Dhelia Gani

PUBLISHED: Selasa, 18 Februari 2020 , 22:43:00 WIB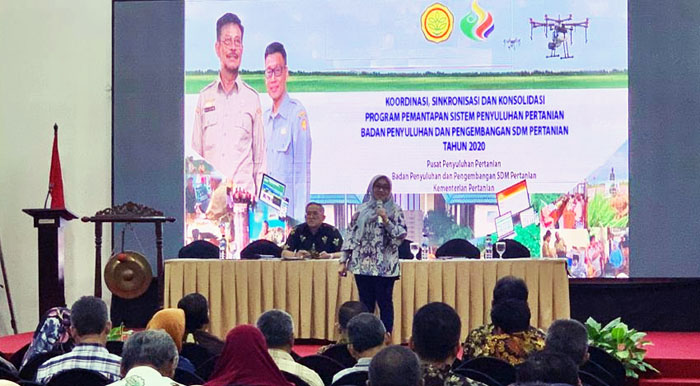 RAKOR DEKON PENYULUHAN 2020: Sekretaris Badan Penyuluhan dan Pengembangan SDM Pertanian - Kementerian Pertanian RI [BPPSDMP] Siti Munifah [Foto: Humas BPPSDMP/Prabu]
Yogyakarta, DIY [B2B] - Komando Strategis Pembangunan Pertanian [KostraTani] dikembangkan oleh Kementerian Pertanian RI untuk memperkuat peran penyuluhan di tingkat kecamatan melalui Balai Penyuluhan Pertanian [BPP]. Tujuannya, bukan menghilangkan peran dan tugas BPP sebagai koordinasi pembangunan pertanian, tapi merupakan program pembaharuan pembangunan pertanian di tingkat kecamatan sebagai locust pertanian berbasis teknologi informasi era 4.0.
"Saya ingin menegaskan di sini tentang hoax yang menyebut Kostratani akan menghilangkan BPP. Itu tidak benar, Kostratani bertujuan menguatkan pembangunan pertanian di tingkat kecamatan dengan memanfaatkan IT era 4.0. Bukan dihilangkan, kalau dihapus maka Kemendagri pun bisa marah," kata Sekretaris BPPSDMP Kementan, Siti Munifah di Yogyakarta, Selasa malam [18/2] pada Pertemuan Sinkronisasi dan Koordinasi Dana Dekon 2020 di Yogyakarta yang dihadiri para kepala dinas pertanian dan pejabat terkait dari 34 provinsi.
Menurutnya, ada lima peran Kostratani yakni sebagai pusat data dan informasi, pusat gerakan pembangunan pertanian, pusat pembelajaran, pusat konsultasi agribisnis, dan pusat pengembangan jejaring dan kemitraan.
Siti Munifah mengingatkan bahwa KostraTani di kecamatan agar segera melakukan updating, verifikasi dan validasi data Sistem Informasi Penyuluhan Pertanian atau Simluhtan terkait dengan data etenagaan dan kelembagaan penyuluhan, data kelembagaan petani dan pengusaha pertanian milenial.
Menurutnya, data penting lain untuk mendukung KostraTani adalah data potensi wilayah, data statistik pertanian menyangkut luas baku lahan sawah, luas areal tanam, produksi komoditas tanaman pangan, hortikultura dan perkebunan dan standing crop, populasi dan produksi peternakan dan komoditas ekspor dan para penyuluh agar memanfaatkan CyberExtension untuk menyusun materi penyuluhan.
Turut hadir sejumlah pejabat Pusluhtan di antaranya; Kabid Kelembagaan & Ketenagaan Penyuluhan, Joko Samiyono; Kasubbid Informasi dan Materi Penyuluhan, Septalina Pradini mewakili Kabid Penyelenggaraan Penyuluhan, I Wayan Ediana; Kasubbid Kelembagaan Penyuluhan, Purnomojati Anggoroseto; Kasubbid Ketenagaan Penyuluhan, Welly Nugraha; Kasubbid Program dan Kerjasama Penyuluhan, Andreas Nadianto; dan Kasubbid Evaluasi Penyuluhan, Hafsah Husas serta turut hadir sejumlah pejabat terkait bidang penyuluhan dari 34 provinsi. [Liene]
Yogyakarta [B2B] - The Indonesian Agriculture Ministry to disseminate the development of agricultural extension centers at the sub-district level [BPP] into the center of Indonesian agricultural development [KostraTani] across the country, according to Postgraduate doctoral student at Padjadjaran University, Bandung.