Penyuluh Sokong Taropo jadi Sentra Produksi Bawang Dompu
Indonesia`s West Nusa Tenggara Seeks to Meet the Needs of Shallots
Editor : M. Achsan Atjo
Translator : Dhelia Gani

PUBLISHED: Jum'at, 19 Juni 2020 , 22:43:00 WIB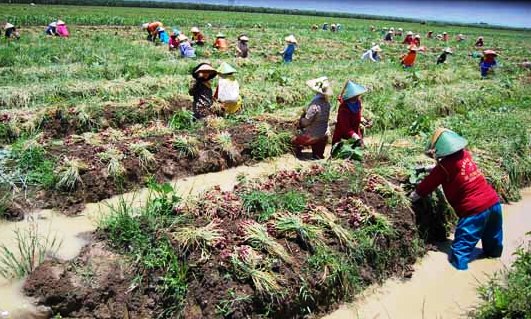 TANGKAL CORONA: Kinerja petani bawang Taropo didukung pendampingan dan pengawalan penyuluh pertanian di tengah pandemi Covid-19, dengan mematuhi Protokol Kesehatan [Foto: istimewa]
Dompu, NTB [B2B] - Penyuluh pertanian Kabupaten Dompu khususnya di Kecamatan Kilo didorong oleh pemerintah kabupaten [Pemkab] untuk mendampingi petani Desa Taropo mengembangkan potensi lahan 50 hektar, yang ditargetkan menjadi penyangga kebutuhan bawang merah di Provinsi Nusa Tenggara Barat [NTB].
Kepala Dinas Pertanian dan Perkebunan Pemkab Dompu, Ilham mengatakan bawang merah layak dikembangkan di Dompu khususnya di Desa Taropo sebagai sentra produksi, karena lahannya masih luas apalagi ditunjang adanya embung Geomembran, yang menjadi sumber pengairan Desa Taropo dan desa-desa lain di sekitarnya.
"Dari areal tanam tiga hektar yang saat ini panen perdana, akan dikembangkan hingga 10 hektar pada musim tanam berikutnya, kemudian diperluas hingga 50 hektar sesuai target Pemkab Dompu," kata Ilham melalui pernyataan yang tertulis yang dihimpun Pusat Penyuluhan Pertanian [Pusluhtan].
Dia menambahkan bahwa potensi produksi tergolong tinggi, dengan produktifitas 10 ton per hektar, tentunya hal itu menarik minat petani Taropo mengembangkan potensi lahan dan lingkungan sekitar yang kondusif untuk pengembangan sentra produksi bawang di NTB.
"Bawang merah menjadi unggulan Dompu setelah komoditas tanaman pangan, padi dan jagung sehingga dapat memenuhi kebutuhan lokal di Dompu di masa mendatang tanpa harus tergantung pada suplai dari luar Dompu," kata Ilham.
Penyuluh Pusat, Edizal di Kementerian Pertanian RI selaku pembina kegiatan penyuluhan pertanian NTB mengatakan bahwa Menteri Pertanian RI Syahrul Yasin Limpo berulangkali mengingatkan petani, untuk mengembangkan komoditas pertanian spesifik lokasi didampingi penyuluh pertanian.
Kepala Seksi Penyuluhan Pertanian Dinas Pertanian dan Perkebunan Dompu, Muhammad Nastap mengatakan kinerja petani bawang Taropo didukung pendampingan dan pengawalan penyuluh pertanian di tengah pandemi Covid-19, dengan mematuhi Protokol Kesehatan.
Hal itu digarisbawahi oleh Kepala BPPSDMP Dedi Nursyamsi mengapresiasi tugas dan peran penyuluh setia mendampingi petani, meski virus Corona mengintai seraya mengingatkan bahwa lahan pertanian adalah zona aman karena berlimpah sinar matahari.
"Jaga jarak. Jangan berkerumun. Kenakan masker. Rajin cuci tangan dengan sabun di air yang mengalir," pesan Dedi Nursyamsi. [Liene]
Dompu of West Nusa Tenggara [B2B] - Indonesian government through the agriculture ministry has developed shallots production centers in West Sumatera province as the buffer zone for improve welfare of farmers and the anticipation of the supply chain and expense transport which often trigger price increases in consumer level, according to senior official of the ministry.