Kementan Dorong Penyuluh Kalbar Dukung Sistem Pertanian Terpadu
Indonesian Govt Supports Development of Integrated Farming Systems
Editor : M. Achsan Atjo
Translator : Dhelia Gani

PUBLISHED: Kamis, 24 Oktober 2019 , 22:44:00 WIB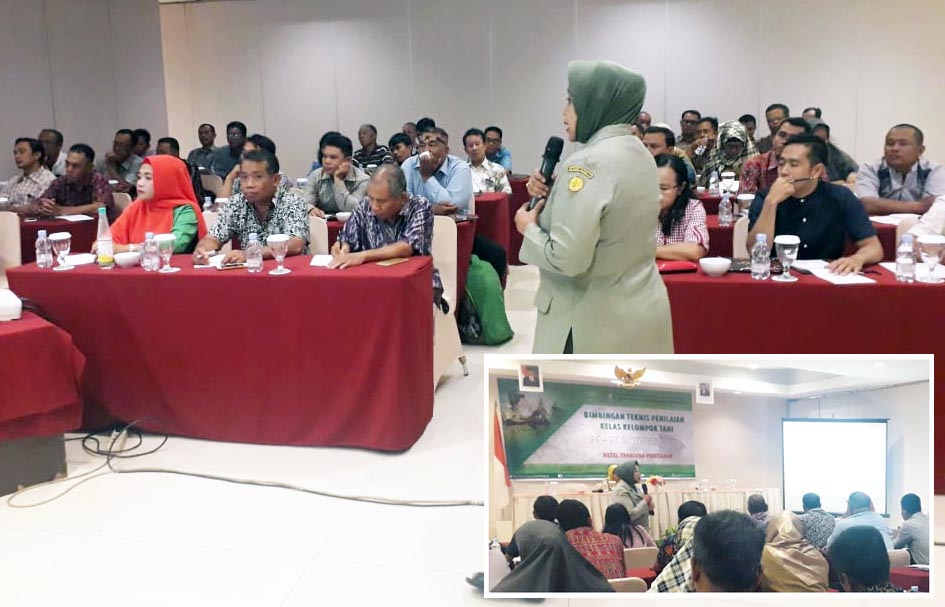 BIMTEK PENYULUH: Siti Nurjanah, Penyuluh Pertanian Utama dari Pusat Penyuluhan Pertanian [Pusluhtan BPPSDMP Kementan] memaparkan manfaat dan keuntungan pengembangan SPT [Foto2: Humas Pusluhtan]
Pontianak, Kalbar [B2B] - Kementerian Pertanian RI mendorong penyuluh di Provinsi Kalimantan Barat untuk mengajak kelompok tani [Poktan] binaannya untuk mengembangkan sistem pertanian terpadu [SPT]. Konsep SPT pada dasarnya mengubah pola bertani dari tradisional menjadi tepat guna, yang didasarkan pada prinsip penggunaan input eksternal yang rendah melalui daur-ulang biologis (biological recycling) antara usahatani tanaman, ternak dan/atau ikan secara terpadu pada kawasan pertanian tertentu.
Hal itu dikemukakan Siti Nurjanah, Penyuluh Pertanian Utama dari Pusat Penyuluhan Pertanian [Pusluhtan BPPSDMP Kementan] pada kegiatan bimbingan teknis [Bimtek] 'penilaian kelas kelompok tani' di Pontianak selama tiga hari, 21 - 23 Oktober 2019, yang diikuti oleh 40 penyuluh pertanian dari 14 kabupaten/kota di Kalbar. Kegiatan Bimtek dibuka oleh Kepala Dinas Pertanian Tanaman Pangan dan Hortikultura [TPH] Kalbar, Heronimu Hero.
Siti Nurjanah mengatakan pengelolaan SPT menerapkan enam teknik pengelolaan terpadu meliputi tanaman, hama, limbah, kelembaban tanah, hara untuk menghasilkan 4F yakni food [pangan], feed [pakan], fuel [energi] dan fertilizer [pupuk].
"Sudah saatnya para penyuluh pertanian mengajak dan mengarahkan Poktan untuk inisiatif memanfaatkan sumber daya lokal didukung teknologi untuk mengembangkan SPT," katanya.
Dia mengingatkan, lahan merupakan sumberdaya alam yang mempunyai fungsi beragam, antara lain sebagai medium tumbuh tanaman untuk penyediaan bahan pangan, cadangan air, rekreasi, permukiman dan bangunan lain.
"Fungsi untuk penyediaan bahan pangan dan permukiman selalu antagonis, artinya semakin luas lahan yang digunakan untuk permukiman atau kebutuhan non pertanian akan semakin menurunkan luas lahan untuk pertanian," kata Siti Nurjanah.
Saat ini, lahan pertanian semakin menyempit akibat alih fungsi lahan, salah satu alternatif untuk mengatasinya adalah pengembangan SPT yang memadukan tanaman, ternak dan ikan dalam suatu kesatuan utuh.
"Di sisi lain, sistem pertanian terpadu meningkatkan kemampuan para petani memproduksi pupuk organik, dan membudayakan pertanian organik. Pertanian organik akan menghasilkan produk berkualitas dan higienis tanpa kontaminasi bahan kimia, yang baik bagi kesehatan dan mendatangkan keuntungan," katanya. [Liene]
Pontianak of West Borneo [B2B] - Integrated farming system or the SPT changed farming patterns of traditional to modern, encourage increased production and quality results to meet domestic and export needs success used technology and community development, according to the senior agricultural extensionis of Indonesian Agriculture Ministry.