Laporkan Gratifikasi di Kementan? Itjentan Luncurkan Aplikasi UPG SIGAP
Indonesian Agriculture Ministry Launches an Online Antigratification Reporting App
Reporter : Gusmiati Waris
Editor : Cahyani Harzi
Translator : Dhelia Gani

PUBLISHED: Selasa, 10 April 2018 , 22:56:00 WIB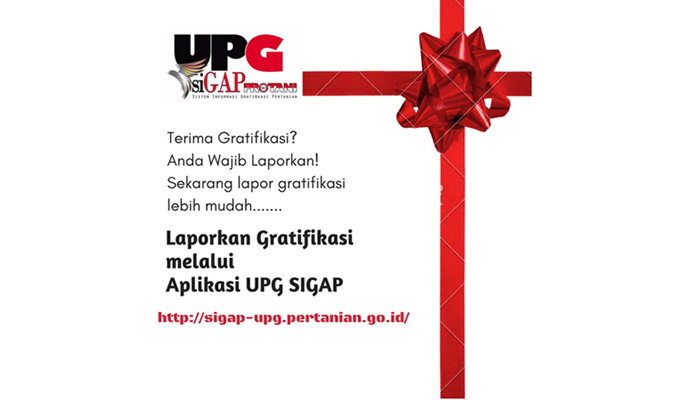 Jakarta (B2B) - Kementerian Pertanian RI melalui Inspektorat Jenderal (Itjentan) mempermudah PNS di Kementan untuk melaporkan gratifikasi via aplikasi online di Sistem Informasi Gratifikasi Pertanian (siGAP Protan) melalui http://sigap-upg.pertanian.go.id/ dan kerahasiaan para pelapor akan dijamin sesuai ketentuan UU Tindak Pidana Korupsi No 20/2001.

"Jika tidak dilaporkan maka ada risiko pelanggaran hukum administratif dan atau pidana," kata Kepala Subbagian Humas Itjentan, Eko Supriyanto melalui pernyataan tertulis, Selasa (10/4).

UU Nomor 20/2001 tentang Perubahan atas UU Nomor 31/1999 tentang Pemberantasan Tindak Pidana Korupsi disingkat Tipikor mengatur bahwa ´wajib´ bagi PNS atau penyelenggara negara untuk melaporkan pada Komisi Pemberantasan Korupsi (KPK) perihal penerimaan gratifikasi yang berhubungan dengan tugas atau kewajiban penerima gratifikasi.

"Apabila mengetahui namun tidak melaporkan maka ada risiko pelanggaran hukum administratif dan atau pidana. Terkait hal itu, Itjentan mempermudah setiap PNS Kementan di seluruh Indonesia untuk melaporkan gratifikasi," kata Eko Supriyanto.
Jakarta (B2B) - Indonesian Agriculture Ministry through the Inspectorate General or Itjentan makes it easier for civil servants at the ministry to report gratification via online application by the the Agricultural Gratification Information System or siGAP Protan via http://sigap-upg.pertanian.go.id/ and Itjentan guarantees the confidentiality of the complainant of gratification in accordance with the provisions of Corruption Act Number 20/2001.

"If there is gratification but civil servants did not report it, will be liable to administrative or criminal law," said spokeperson of Itjentan, Eko Supriyanto through a written statement on Tuesday (April 10).

Amendment Act No. 20/2001 of Law No. 31/1999 on Eradication of Corruption provides that compulsory for civil servants or state officials report to the Indonesian Anti-graft Commission or the KPK.

"If you knew but did not report that there is a risk violation of administrative or criminal law. Related to that, the Itjentan facilitate every civil servants across the country to report gratification," Mr Supriyanto said.