Kinerja Anggaran 2018, Itjentan `3 Besar` Satker Eselon Satu Kementan
Indonesian Agriculture Ministry Selected the Top 3 Best Performance Budget 2018
Editor : M. Achsan Atjo
Translator : Dhelia Gani

PUBLISHED: Sabtu, 02 Maret 2019 , 22:07:00 WIB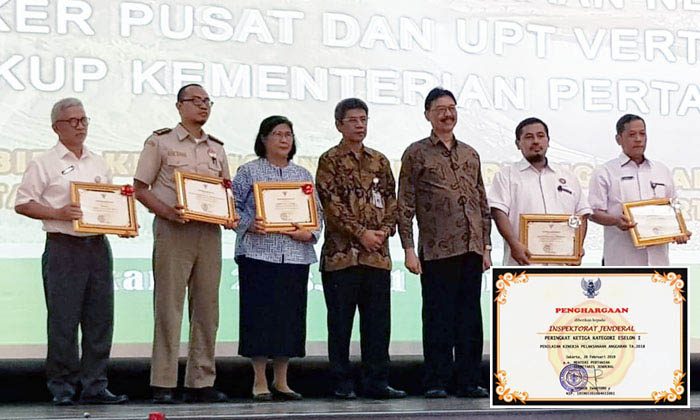 OM-SPAN KEMENKEU: Kabag Keuangan dan Perlengkapan ItJenTan, Retno Dewi Susilowati (ke-3 kiri) menerima penghargaan (inset) dari Sekjen Kementan, Syukur Iwantoro (ke-3 kanan) Foto2: Humas ItJentan
Jakarta (B2B) - Inspektorat Jenderal Kementerian Pertanian RI (ItJenTan) masuk peringkat ´Tiga Besar´ satuan kerja pelaksanaan anggaran lingkup Kementan, mengacu Online Monitoring Sistem Perbendaharaan dan Anggaran Negara (OM-SPAN) dari Kementerian Keuangan, untuk kategori eselon satu bersama Sekretariat Jenderal dan Badan Karantina Pertanian.
Penghargaan Kinerja Anggaran 2018 Kementan diserahkan oleh Sekjen Kementan, Syukur Iwantoro kepada Kepala Bagian Keuangan dan Perlengkapan ItJenTan, Retno Dewi Susilowati mewakili ItJenTan di Jakarta, belum lama ini.
Sekjen Syukur Iwantoro mengatakan penghargaan tersebut bertujuan meningkatkan motivasi dan apresiasi atas kinerja pelaksanaan anggaran Satker lingkup Kementan. Acuannya adalah KepMentan No 226/Kpts/KP.590/2/2019.
"Sementara penilaian kinerja terbagi empat kategori yakni: eselon satu; pagu besar di atas Rp50 miliar, pagu sedang untuk Rp15 miliar sampai Rp50 miliar; pagu kecil untuk di bawah Rp15 miliar," menurut pernyataan tertulis Humas ItJenTan.
Kemenkeu melalui OM-SPAN menetapkan kriteria antara lain penyerapan anggaran dengan bobot nilai 20%; penyelesaian tagihan dengan bobot 20%; pengelola uang persediaan dengan bobot 10%; penyampaian data kontrak dengan bobot 5%; deviasi halaman III DIPA dengan bobot 5%; penyampaian LPJ bendahara dengan bobot 5%; revisi DIPA dengan bobot 5%; pengembalian/kesalahan SPM dengan bobot 5%; dispensasi SPM dengan bobot 5%; perencanaan kas/RPD dengan bobot 5%; retur SP2D dengan bobot 5%; dan pagu minus dengan bobot 5%. (Ri2n/Ind)
Jakarta (B2B) - Inspectorate General at the Indonesian Agriculture Ministry or the ItJenTan ranked ´Big Three´ for the ministry´s budget implementation work unit, refers to the Online Monitoring of the Treasury System and the State Budget or the OM-SPAN for the ministry´s first echelon category with the Secretariat General and the Agriculture Quarantine Agency.
The 2018 Agriculture Ministry Budget Performance Award handed over by the Secretary General of Agriculture Ministry, Syukur Iwantoro to the Head of Finance and Equipment of ItJenTan, Retno Dewi Susilowati represented her office in Jakarta, recently.
Iwantoro said the award was given to increase motivation and appreciation of budget performance in the ministry, refers to the decision of the minister of agriculture Number 226 of 2019, February.
"Performance appraisal is divided into four categories for the first echelon; budgets above IDR 50 billion, medium budgets for IDR 15 billion to IDR 50 billion; small budget for under IDR 15 billion," as stated in the written statement of ItJenTan Public Relations.