Diklat Reviu RKAKL, Auditor ItJenTan Laksanakan Rekomendasi BPK RI
Indonesian Govt Supports Auditor Capabilities in Industrial Era 4.0
Editor : M. Achsan Atjo
Translator : Dhelia Gani

PUBLISHED: Kamis, 19 September 2019 , 02:59:00 WIB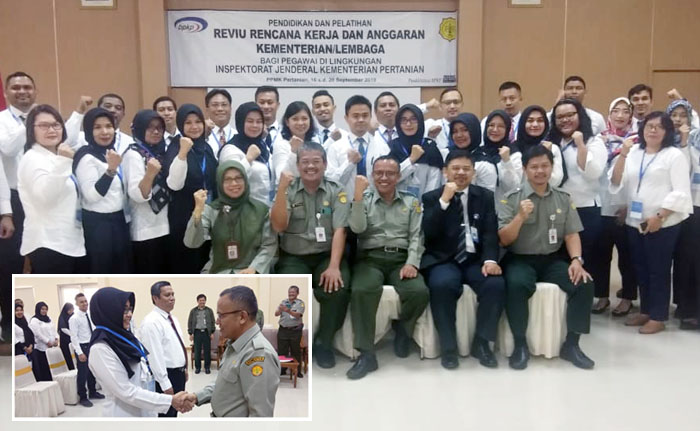 AUDITOR 4.0: Irjentan Justan R Siahaan [duduk ke-3 kiri], Kasubbid Diklat Teknis SPIP BKP, Dindin Safrudin [jas hitam], Sekretaris ItJenTan Suprodjo Wibowo, Inspektur II Tin Latifah dan Inspektur III Fuadi bersama peserta [Foto2: Humas]
Bogor, Jabar [B2B] - Kegiatan Pelatihan Reviu RKAKL yang diikuti oleh sejumlah Auditor Inspektorat Jenderal Pertanian - Kementerian Pertanian RI [ItJenTan] dijadwalkan berakhir Jumat [20/9] atas kerjasama dengan Pusdiklat BPKP. Pelatihan dibuka oleh Irjentan Justan R Siahaan, Senin [16/9] di PPMKP Ciawi, yang bertujuan ´meningkatkan kompetensi auditor melakukan reviu sebagai tindak lanjut rekomendasi Badan Pemeriksa Keuangan RI [BPK].
"Pelatihan Reviu RKAKL bertujuan memastikan penganggaran kinerja telah sesuai standar masukan atau standar keluaran, dan sesuai kondisi lapangan 11 satuan kerja [Satker] di Kementan, mengacu pada masa lalu dan cita-cita di masa depan," kata Irjentan Justan R Siahaan dalam arahannya didampingi Dindin Safrudin selaku Kepala Sub Bidang Diklat Teknis SPIP BPKP.
Menurutnya, Reviu dari Rencana Kerja Anggaran Kementerian Lembaga disingkat RKAKL merupakan tool assurances, dengan memahami risiko yang harus diantisipasi dalam melakukan reviu RKAKL yakni gagal memfungsikan assurances, gagal memastikan kesesuaian standar biaya masukan [SBM] dan standar biaya keluar [SBK], gagal memastikan konsistensi MAK, dan gagal memastikan kesesuaian dengan kondisi lapangan.
"Di sisi lain, ada problematika yang dihadapi dalam Reviu RKAKL yaitu jumlah Satker yang besar sebanyak 635 harus direviu dalam waktu singkat selama tiga hari, term of reference atau TOR yang belum lengkap, perhitungan biaya serta bias antara RKAKL awal dan akhir," kata Justan R Siahaan.
Untuk mengatasi kendala tersebut, menurutnya, ada tiga hal yang harus dimiliki pelaksana reviu RKAKL yakni sikap selalu mencari kebenaran, berbuat kebaikan dan menggunakan seni untuk mengelola pekerjaan.
"Peserta pelatihan, jangan mengikuti Diklat karena sekadar menggugurkan kewajiban, tapi harus dibarengi tekad menjadi SDM yang unggul dan mumpuni. Sukses ItJenTan mencetak SDM unggul akan menjadi salah satu kunci sukses mewujudkan Indonesia maju," kata Irjentan Justan Siahaan.
Tampak hadir Sekretaris ItJenTan Suprodjo Wibowo; Inspektur II Tin Latifah dan Inspektur III Fuadi. [Ri2n]
Bogor of West Java [B2B] - Inspectorate General of Indonesian Agriculture Ministry or ItJenTan must be understand agriculture and information technology, to control the risk of state losses for the implementation of duties and functions as well as programs and activities, for early detection of state financial irregularities.