Inisiasi Penyuluh, KWT Tani Lestari di Malang Kembangkan Produk Olahan
Indonesia`s Malang Women Farmers Developing Processed Agricultural Products
Editor : M. Achsan Atjo
Translator : Dhelia Gani

PUBLISHED: Kamis, 07 Maret 2019 , 02:28:00 WIB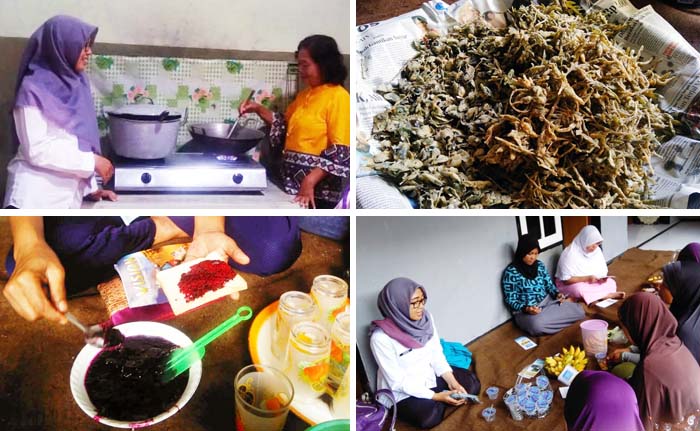 Arah jarum jam: Penyuluh Anggi (hijab ungu) mendorong pengolahan produk pertanian, kripik dan stik daun kelor, pertemuan sebulan sekali, dan selai dari buah naga (Foto2: Humas Pusluhtan/Lely)
Malang, Jatim (B2B) - Penyuluh pertanian mengemban tugas sebagai advisor, supervisor dan fasilitator kepada petani dan masyarakat untuk mendukung pembangunan pertanian nasional. Tugas pokok dan fungsi dari penyuluh ditunjukkan Anggi, penyuluh di Kecamatan Turen, Kabupaten Malang, Provinsi Jawa Timur mendorong dan mendukung pengembangan KWT Tani Lestari.
Anggi mendorong 20 anggota kelompok wanita tani binaannya untuk mengembangkan produk olahan skala rumah tangga, dengan memanfaatkan atau mengolah hasil pertanian untuk menambah pendapatan keluarga.
"Sudah saatnya wanita tani mengembangkan produk bernilai tambah dari hasil pertanian menjadi produk olahan. Rasa dan kemasan kami belajar secara otodidak melalui uji coba. Inti dari semuanya adalah semangat. Tidak mudah menyerah dalam berikhtiar. Tidak cepat puas atas kesuksesan yang diraih," kata Anggi.
KWT Tani Lestari yang didirikan pada September 2018 mengawali kiprahnya dengan bercocok tanam di pekarangan, yang dikenal sebagai urban farming atau ´kawasan rumah pangan lestari´ disingkat KRPL. Kemudian membuat pupuk organik, sekam bakar, pestisida nabati hingga plant growth promoting rhizobakteri (PGPR).
Saat ini kegiatan KWT Tani Lestari merambah pada produk olahan seperti mengolah buah naga menjadi selai, kripik dan stik daun kelor, krispi daun kenikir yang dijual seharga Rp7.000 per 100 gram, dan kini dipasarkan di toko oleh-oleh dan rumah makan terkemuka di Malang.
"Rencananya, produk olahan hasil pertanian dikembangkan menjadi jajanan hari raya. Malang kan menjadi salah satu tujuan wisata, kami yakin akan banyak masyarakat dari luar kota datang ke Malang, ini menjadi peluang kami untuk mengenalkan produk olahan KWT Tani Lestari," kata Anggi.
Menurutnya, untuk membuka wawasan berpikir, meningkatkan pengetahuan, dan kecakapan administrasi maka penyuluh dan anggota KWT Tani Lestari melakukan pertemuan rutin bulanan, setiap Rabu pekan terakhir. (Lely)
Malang of East Java (B2B) - Agricultural extensionist carry out duties as advisors, supervisors and facilitators to farmers and communities to support Indonesian agricultural development. The main tasks and functions are shown by Anggi, agricultural extensionist in Turen subdistrict of Malang district in East Java province encourage and support development Tani Lestari women farmers or the KWT Tani Lestari.
Anggi encourages 20 members of KWT Tani Lestari to develop processed home industry products, by utilizing or processing agricultural products to increase family income.
"It is time for women farmers to develop value-added products from agriculture to processed products. Self-taught learning through trial and error. Endlessly trying and not satisfied quickly even though it was successful," she said.
KWT Tani Lestari which was established in September 2018 started its activities with urban farming then making organic fertilizers, fuel husks, vegetable pesticides and developing plant growth promoting rhizobacteria.
Currently KWT Tani Lestari is exploring processed products such as processing dragon fruit into jams, chips and Moringa leaf sticks, krispi leaves of kenikir which sell for IDR 7,000 per 100 grams, and are now marketed in gift shops and restaurants in Malang.
Malang is a tourist destination, we believe many tourists come to Malang, this is an opportunity to introduce KWT Tani Lestari processed products," said Anggi who goes by one name, like many Indonesians.
According to her, to open insight into thinking, increase knowledge, and administrative skills, extensionist and KWT Tani Lestari members conduct regular monthly meetings, every Wednesday in the last week.