Realisasi Janji Mentan, Kapusluhtan Lepas Penyuluh Studi Banding ke India
Indonesian Agricultural Extensionists Comparative Study of IT in India
Editor : M. Achsan Atjo
Translator : Dhelia Gani

PUBLISHED: Senin, 17 Juni 2019 , 02:29:00 WIB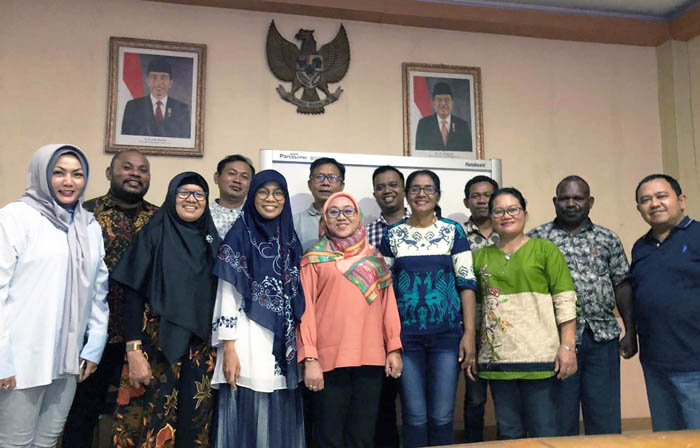 TEKNOLOGI INFORMASI: Kepala Pusluhtan BPPSDMP Siti Munifah [hijab oranye] dengan peserta studi banding didampingi Kasubbag Kerjasama, Winarti [ke-3 kiri] dan Kasubbag Welly Nugraha [belakang ke-3 kiri] Foto: Humas Pusluhtan
Jakarta [B2B] - Tujuh penyuluh pertanian dari ´tujuh pulau besar´ di Nusantara bertolak ke India untuk melakukan studi banding terkait pengembangan teknologi informasi, mengingat India merupakan salah satu negara terbaik di dunia dalam pengembangan teknologi informasi [IT] di sektor pertanian.

Tujuan studi banding sebiduk sehaluan dengan upaya Kementerian Pertanian RI mengembangkan IT pertanian khususnya Big Data Pertanian oleh Badan Penyuluhan dan Pengembangan SDM Pertanian - Kementerian Pertanian RI [BPPSDMP] dengan aplikasi Sistem Informasi Manajemen Penyuluhan Pertanian [Simluhtan] oleh Pusat Penyuluhan Pertanian [Pusluhtan].

Keberangkatan mereka dilepas oleh Kepala Pusluhtan, Siti Munifah di Jakarta, Minggu [16/6] mewakili Kepala BPPSDMP Kementan, Momon Rusmono. Studi banding tersebut sebagai realisasi dari janji Menteri Pertanian RI Andi Amran Sulaiman di Makassar [10/4] pada ´Apresiasi dan Penguatan Penyuluh dan Petani Andalan: Penyuluh Maju Petani Sejahtera.´

"Studi banding ini merupakan salah satu kegiatan untuk mewujudkan SDM pertanian yang profesional, mandiri dan berdaya saing melalui peningkatan kapasitas diri sebagai penggerak kemajuan pertanian Indonesia, sekaligus realisasi janji Mentan di Makassar pada awal April kepada penyuluh pertanian " kata Siti Munifah sebelum melepas keberangkatan ketujuh penyuluh pertanian ke India.

Dia menambahkan bahwa India dipilih mengingat kemajuan teknologi IT di bidang pertanian tergolong paling maju di dunia, sehingga seyogyanya kita belajar dan mengadopsi sistem IT India untuk kemajuan pertanian Indonesia.

"Harap menjaga nama baik Indonesia. Berikan contoh yang terbaik dalam berkomunikasi dan berinteraksi kepada sesama, selayaknya kita bertamu di rumah orang. Jaga kesehatan dan tetap semangat menjalankan tugas negara dengan ikhlas, berfikiran positif dan besar hati sebagai wakil Indonesia di luar negeri," kata Siti Munifah didampingi Kasubbag Kerjasama BPPSDMP Kementan, Winarti.
Studi banding ke India dipimpin oleh Kasubbid Ketenagaan Penyuluhan, Welly Nugraha mendampingi ketujuh penyuluh yang terdiri atas Nurlisma [penyuluh madya] dari Distan Provinsi Aceh; petani muda Hendrik Kuswoyo dari Kabupaten Banyuasin, Provinsi Sumatera Selatan mewakili Pulau Sumatera; Odik Setia Sukmana [penyuluh madya] dari Distan Kabupaten Tasikmalaya, Jabar; petani cabai milenial Krisdyanto dari Kabupaten Banyuwangi, Provinsi Jawa Timur; mewakili Pulau Jawa; Matilde Aso dari Distan Kabupaten Nagekeo, Provinsi Nusa Tenggara Timur [NTT] mewakili Bali Nusa Tenggara [Bali Nusra]; Imam Rokhimin [penyuluh madya] dari Kalimantan Utara; Harming, [penyuluh pertanian pertama] dari Kabupaten Mamasa, Provinsi Sulawesi Barat; Kadri Hasim [penyuluh pertanian pertama] dari Kabupaten Halmahera Timur, Provinsi Maluku Utara mewakili Kepulauan Maluku dan Matias Wuka [penyuluh pertanian pertama] dari Kabupaten Mimika, Provinsi Papua.
Sebelumnya, Mentan menawarkan studi banding ke Thailand namun kemudian diganti ke India, ternyata tak mengendurkan semangat peserta. Hal itu selaras kebijakan dan program Kementan menghadapi tantangan era industrialisasi 4.0 sekaligus sosialisasi pengembangan Big Data Pertanian oleh Pusluhtan BPPSDMP didukung seluruh unit kerja eselon satu Kementan dan sinergi dengan Kementerian Komuniasi dan Informasi [Kemenkominfo].

Janji Mentan
Sebelumnya diberitakan, Mentan Amran Sulaiman di Makassar, Rabu pagi [10/4], memberi kejutan pada tujuh penyuluh pertanian berupa bonus berkunjung ke Thailand, sebagai apresiasi Kementan atas dedikasi mereka mengawal dan mendampingi petani mendukung peningkatan produksi pangan strategis sehingga Indonesia dapat menekan impor pangan dalam empat tahun terakhir.

"Saya berikan bonus ke Thailand ini spontan sebagai bentuk apresiasi pemerintah atas dedikasi penyuluh pertanian mendukung petani menyediakan pangan untuk bangsa ini. Saya minta Kepala Badan SDM yang mengurus kunjungan ketujuh penyuluh ini ke Thailand," kata Mentan Amran Sulaiman di GOR Sudiang Makassar, Sulsel pada Rabu pagi [10/4].

Lazimnya kunjungan kerja di daerah, Mentan Amran Sulaiman kerap berdialog dengan penyuluh dan diakhiri pemberian bonus, dan kali ini bonusnya adalah ´kunjungan ke Thailand´ bukan sekadar berwisata melainkan field trip mengunjungi pusat inovasi dan teknologi pertanian Thailand, yang dikenal sebagai negara termaju di Asia Tenggara dalam hal teknologi pertanian.

"Saya memilih penyuluh berdasarkan pulau, sekaligus ingin membuktikan janji panitia akan mendatangkan perwakilan penyuluh dari 11 provinsi di tujuh pulau," kata Mentan yang hadir di GOR Sudiang didampingi Gubernur Sulawesi Selatan, Nurdin Abdulah; Kapolda Sulselbar, Irjen Pol Hamidin dan Kepala BPPSDM Kementan, Momon Rusmono. [Liene]
Jakarta [B2B] - Seven Indonesian agricultural extensionists across the country left to India for comparative studies of development of information technology, considering that India is one of the best countries in the world in developing information technology in the agricultural sector. This is in line with efforts of Indonesian Agriculture Ministry to develop agricultural IT, especially Big Data Agriculture.

Their departure was released by Director of Agricultural Extension Center [Pusluhtan] Siti Munifah here on Sunday [June 16] representing Director General of Agricultural HR Development [BPPSDMP Kementan] Momon Rusmono. The comparative study is realization of promise of Indonesian Agriculture Minister Andi Amran Sulaiman in Makassar [April 10] in coordination activities with 10,000 agricultural extensionists across the country.

"The comparative study is one of activities to realize professional, independent and competitive agricultural human resources through capacity building to support the advancement of Indonesian agriculture," Munifah said.

She said India was chosen because the progress of agricultural IT technology which is considered the most advanced in the world, so we should study and adopt the Indian IT system for Indonesian agriculture.

"Please keep the good name of Indonesia. Give an example of best communicate and interact with strangers in foreign countries like we visit someone´s house. Take care of health and keep the spirit of carrying out tasks and positive thinking," Munifah said.

Comparative studies to India are led by Head Subsection of Professionalism of Agricultural Extensionist, Welly Nugraha accompanied the seven participants consisting Nurisma of Aceh province; Krisdiyanto of Banyuwangi district, East Java province; Matilde Aso of Nagekeo district, East Nusa Tenggara province; Imam Rokhimin of North Borneo province; Harming of Mamasa district, West Sulawesi province; Kadri Hasim of East Halmahera district, North Maluku province; and and Martias Suka of Mimika district, Papua province.

Previously, Minister Sulaiman offered the comparative study to Thailand but later changed to India is in line with the agriculture ministry´s policies and programs facing the challenges of industrialization era 4.0 as well as socialization development of Big Data Agriculture by the Pusluhtan through synergy with Indonesian Communication and Information Ministry.