2,255 Juta Ton, Potensi Produksi Beras Januari 2019 dari 781,8 Ribu Ha
Indonesian Rice Production in January 2019 is Predicted 2.255 million Tons
Reporter : Gusmiati Waris
Editor : Cahyani Harzi
Translator : Dhelia Gani

PUBLISHED: Jum'at, 11 Januari 2019 , 23:00:00 WIB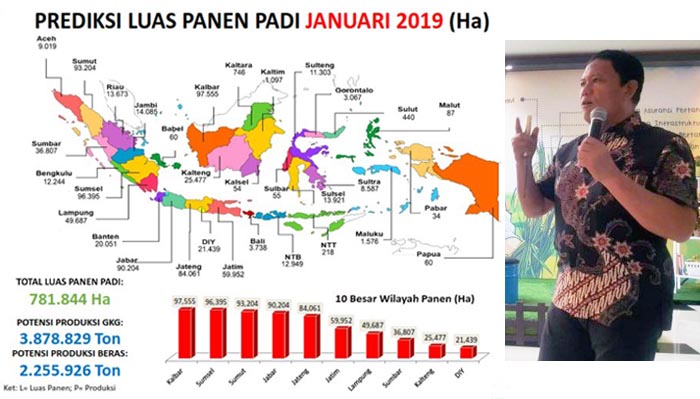 Data produksi beras Januari 2019, Dirjen Tanaman Pangan, Sumarjo Gatot Irianto (Data: Kementan/Foto: B2B/Mya)
Jakarta (B2B) - Kementerian Pertanian RI memprediksi produksi beras pada Januari 2019 mencapai 2.255.926 ton atau 2,255 juta ton, dari hasil produksi 3,878 juta gabah kering giling (GKG) pada total lahan 781.844 ha. Kalimantan Barat menjadi provinsi dengan luas panen terbesar bulan ini yakni 97.555 ha, dan Yogyakarta di posisi buncit dari ´10 besar wilayah panen´ untuk bulan ini.
Dirjen Tanaman Pangan Kementan, Sumarjo Gatot Irianto mengatakan selain Kalbar, dua provinsi di luar Jawa menjadi kontributor luas panen terbesar Januari 2019 yakni Sumatera Selatan seluas 96.395 ha dan Sumatera Utara 93.2014 ha.
Kontribusi Jawa Barat hanya 90.204 ha, Jawa Tengah 84.601 ha, dan Jawa Timur 59.952 ha, Lampung 49.687 ha, Sumatera Barat 36.807 ha, dan Kalimantan Tengah 25.477 ha seperti tertera di tabel.
"Luas panen terbesar di luar Top Ten adalah Jambi seluas 14.085 ha dan terendah Papua Barat hanya 34 ha," kata Gatot kepada pers pada Bincang Asyik Pertanian (Bakpia) di Jakarta, Jumat (11/1).
Dia menambahkan program upaya khusus padi, jagung, kedelai (Upsus Pajale) berhasil meningkatkan luas tanam padi dua juta hektar sejak 2014 melalui monitoring luas tanam harian. Luas tanam padi 2014 mencapai 14,044 juta ha, 2015 (14,45 juta), 2016 (15,51 juta), 2017 (15,89 juta), dan 2018 (16,31 juta).
Perluasan tanam padi didukung pengembangan budidaya padi, selain untuk meningkatkan produktivitas juga meningkatkan nilai tambah petani antara lain minapadi, padi khusus, padi salibu, padi hazton, padi organik, padi eks tambang.
"Subsidi benih mendukung peningkatan produksi padi, yang terus meningkat dari 2014 ke 2017, mencapai 82 ribu ton pada 2017, atau naik 49 ribu ton dibanding 2014," kata Dirjen Gatot Irianto.
Jakarta (B2B) - Indonesian Agriculture Ministry predicts rice production in January 2019 around 2,255,926 tons or 2.255 million tons, from 3.878 million milled dry grain in the harvested area of 781,854 hectares. West Borneo, province with the largest harvest area is 97,555 hectares, and Yogyakarta ranked the lowest of the Top 10 rice harvest regions this month.
Director General of Food Crops, Sumarjo Gatot Irianto said besides West Borneo province, two provinces outside Java are contributors to the largest harvest area in January 2019 namely South Sumatra 96,395 hectares and North Sumatra 93,2014 hectares.
West Java province´s contribution was only 90,204 hectares, Central Java 84,601 hectares, and East Java 59,952 hectares, Lampung 49,687 hectares, West Sumatra 36,807 hectares, and Central Borneo 25,477 hectares as shown in the table.
"The biggest harvest area outside the Top Ten is Jambi with an area of 14,085 ha and the lowest in West Papua with only 34 ha," Irianto told the press here on Friday (January 11).
He said the special rice program has succeeded increasing the planting area to two million hectares since 2014 through monitoring daily planting area. The area of 2014 rice planting reaches 14,044 million hectares, 2015 (14.45 million), 2016 (15.51 million), 2017 (15.89 million), and 2018 (16.31 million).
Widespread rice planting land is supported by development of rice cultivation, besides increasing productivity, it also adds the rice harvest including minapadi, special rice, millenium rice, hazton rice, organic rice, and rice planting on ex-mining land.
"Seed subsidies support increased rice production, which continues to increase from 2014 to 2017, reached 82 thousand tons in 2017, or up 49 thousand tons compared to 2014," Irianto said.