Penyuluh Gorontalo `Curhat` ke Mentan SYL melalui AOR KostraTani di BPP
Indonesia`s Gorontalo Agricultural Extension Connected through KostraTani
Reporter : Gusmiati Waris
Editor : Cahyani Harzi
Translator : Dhelia Gani

PUBLISHED: Kamis, 06 Februari 2020 , 02:30:00 WIB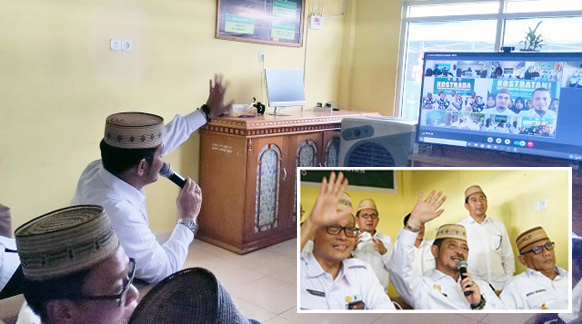 SIMULTAN: Mentan Syahrul Yasin Limpo [SYL] melambaikan tangan pada penyuluh Gorontalo via teleconference di AOR KostraTani [BPP] didampingi Kepala BPPSDMP Prof Dedi Nursyamsi dan Gubernur Rusli Habibie [inset] Foto2: Humas BPPSDMP
Gorontalo [B2B] - Penyuluh pertanian di Provinsi Gorontalo gegap gempita menyambut kunjungan Menteri Pertanian RI Syahrul Yasin Limpo [SYL] di Kota Gorontalo, Rabu [5/2] via teleconference dari Agriculture Operation Room [AOR] di enam Balai Penyuluhan Pertanian [BPP] di enam kabupaten ke Kostrawil di ibukota provinsi, yang terhubung online di bawah kendali dan koordinasi Agriculture War Room [AWR] Kementerian Pertanian RI di Jakarta.
Mereka mengaku surprise dapat melakukan tatap muka interaktif melalui AWR lantaran Gorontalo tidak termasuk 13 provinsi pilot project KostraTani untuk 2019, namun berkat dukungan Pusat Penyuluhan Pertanian [Pusluhtan BPPSDMP] dan diskresi Kementan, maka sejumlah BPP di Gorontalo dapat menguji coba keandalan AWR KostraTani setelah mendapatkan suplai sarana dan prasarana [Sarpras] teknologi informasi dan komunikasi [TIK] standar era 4.0.
Data BPPSDMP menyebutkan Kementan akan mengembangkan 51 KostraTani di 77 kecamatan dari enam kabupaten/kota di Provinsi Gorontalo.
Setelah AOR di Kostrawil on air, Mentan SYL langsung menyapa para penyuluh di seluruh Gorontalo. "Selamat berjumpa di KostraTani. Coba kalian penyuluh, apa yang kalian butuhkan saat ini? Di sini ada saya, bupati, gubernur," katanya didampingi Gubernur Rusli Habibie dan Kepala BPPSDMP Prof Dedi Nursyamsi dan sejumlah bupati maupun pejabat eselon satu Kementan.
Kesempatan tersebut tak disia-siakan penyuluh Gorontalo untuk menyampaikan ´curahan hati´ alias curhat tentang kebutuhan petani terkait pupuk dan benih seraya mengemukakan sejumlah permasalahan tentang kelembagaan dan ketenagaan penyuluhan.
"Berikan pupuk dan benih yang sesuai ya. Catat dan berikan yang dibutuhkan ya. Kerjasama dengan bupati dan gubernur ya," kata Mentan SYL seraya mengingatkan Dirjen Prasarana dan Sarana Pertanian [PSP] Sarwo Edhy untuk menindaklanjuti kebutuhan petani Gorontalo.
Terkait KostraTani, Mentan SYL menegaskan bahwa Kostratani merupakan sarana komunikasi interaktif antara pengambil keputusan seperti camat, bupati dan gubernur dengan penyuluh dan petani.
"Mari kita kelola pertanian dengan pemanfaatan teknologi. Pertanian membuat ekonomi dalam satu daerah bisa berputar dan meningkat. Karena itu, kelola baik dengan teknologi. Tidak ada pertanian yang rugi. Kalau rugi penyebabnya salah menerapkan manajemen pertanian. Karena itu perlu perencaan yang baik," kata Mentan.
Gorontalo [B2B] - The Indonesian Agriculture Ministry to disseminate the development of agricultural extension centers at the sub-district level [BPP] into the center of Indonesian agricultural development [KostraTani] across the country, according to Agriculture Minister Syahrul Yasin Limpo here on Wednesday [February 5].