Puncak Kemarau Mengancam, Ini Langkah Kementan Jaga Produksi Padi
Indonesian Agriculture Ministry Take Positive Impact of Drought
Reporter : Gusmiati Waris
Editor : Cahyani Harzi
Translator : Dhelia Gani

PUBLISHED: Minggu, 12 Agustus 2018 , 23:14:00 WIB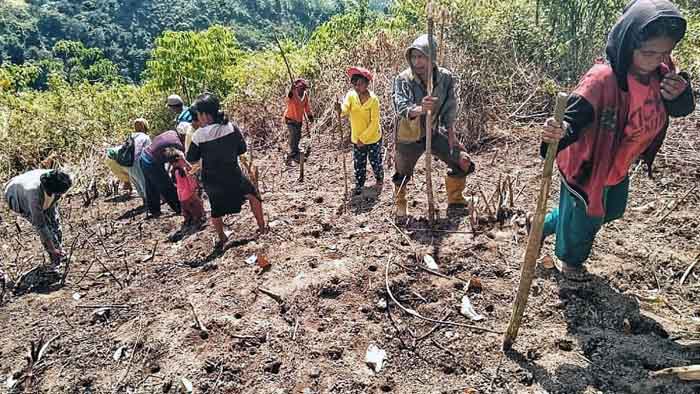 Kementerian Pertanian RI melakukan percepatan tanam padi pada daerah yang belum kekeringan, penggunaan benih khusus untuk lahan kering, penerapan teknologi dan mekanisasi untuk penyediaan air (Foto: Humas Kementan)
Jakarta (B2B) - Kementerian Pertanian RI melakukan percepatan tanam padi pada daerah yang belum kekeringan, penggunaan benih khusus untuk lahan kering, penerapan teknologi dan mekanisasi untuk penyediaan air, diikuti sosialisasi dan koordinasi kepada para pemangku kepentingan di seluruh Indonesia, sebagai langkah komprehensif mengantisipasi puncak kemarau.
"Seluruh pejabat Kementan bersama-sama turun ke lapangan untuk mendukung petani di lahan sawah mereka. Mencari sumber air dan mempertahankan pertanaman satu juta hektar di Agustus ini agar tetap panen," kata Menteri Pertanian Andi Amran Sulaiman melalui keterangan tertulis, Minggu (12/8).
Mentan menambahkan musim kemarau tidak harus selalu dipandang sebagai sesuatu yang buruk, justru banyak peluang untuk meningkatkan kualitas dan kuantitas produksi jika dikelola dengan baik. Misalnya, memanfaatkan lahan rawa yang semula tinggi muka air mencapai satu meter, kini di musim kering turun menjadi hanya 20 hingga 30 cm.
"Musim kemarau dapat dimanfaatkan semaksimal mungkin karena hasil panen lebih bagus, hama berkurang, sinar matahari cukup baik untuk fotosintesis, dan kualitas gabah lebih baik," kata Amran Sulaiman.
Jakarta (B2B) - Indonesia´s Agriculture Ministry is accelerating rice planting in areas that have not been affected by drought due to the dry season, special seeds for dry land, technology application, and mechanization for water supply, followed by socialization and coordination with stakeholders across the country as the comprehensive step to anticipate the peak of dry season.
"Ministry officials took to the field to support farmers in their rice fields. Looking for a water source and maintaining a one million hectare rice crop in August to keep rice harvesting," said Agriculture Minister Andi Amran Sulaiman through the written statement here on Sunday (August 12).
Minister Sulaiman said the dry season should not be seen as the bad thing, precisely there are many opportunities to improve the quality and quantity of production. For example a one meter swamp water level, now in the dry season it drops to 20 to 30 cm.
"The dry season is beneficial because rice harvest are better, plant pests are reduced, sunlight is sufficient for photosynthesis, and grain quality is better," Mr Sulaiman said.