Sergap Kalsel, Kapus Risfaheri Koordinasi Distan, Bulog dan Korem Antasari
Indonesian Govt Coordinated with the Regions to Buy Rice Farmers` Grain
Editor : M. Achsan Atjo
Translator : Dhelia Gani

PUBLISHED: Rabu, 06 Februari 2019 , 23:25:00 WIB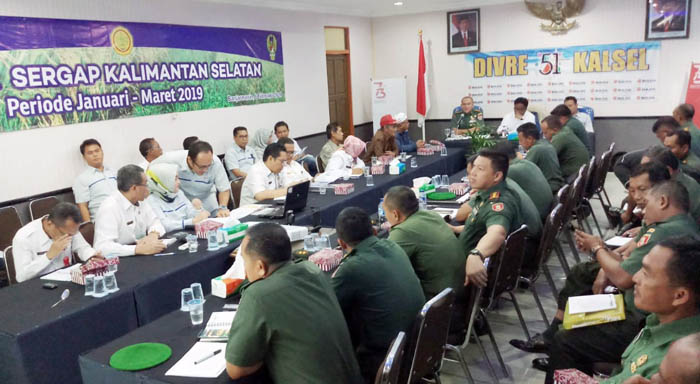 RAKOR SERGAP: Kapus Distribusi dan Cadangan Pangan BKP Kementan, Risfaheri memimpin Rakor Sergap Kalsel di Banjarmasin dengan dinas pertanian, TNI AD dan pihak-pihak terkait (Foto: Humas BKP Kementan)
Banjarmasin, Kalsel (B2B) - Badan Ketahanan Pangan di Kementerian Pertanian RI (BKP) melakukan rapat koordinasi mendukung program serapan gabah petani di Provinsi Kalimantan Selatan (Rakor Sergap) dengan dinas pertanian provinsi/kabupaten/kota, Perum Bulog Divisi Regional Kalsel, Tim Sergap TNI AD, Korem 101 Antasari, dan seluruh Kodim/Babinsa untuk memastikan kesiapan Bulog membeli gabah petani.
Rakor Sergap dipimpin Kepala Pusat Distribusi dan Cadangan Pangan BKP Kementan, Risfaheri pada Rabu (6/2) dengan Kepala Dinas Tanaman Pangan dan Hortikultura Kalsel, H Syamsir Rahman MS; Kabulog Divre Kalsel, Ahmad Kholison; Pamen Mabes TNI AD, Kolonel Inf Rahmat Zulkarnain; Danrem 101 Antasari, Kolonel Infanteri MS Ismed; pengurus DPD Persatuan Penggilingan Padi dan Pengusaha Beras Indonesia - Perpadi Kalsel dan para bintara pembina desa (Babinsa).
"Tujuan kegiatan Sergap adalah membantu dan mensejahterakan petani. Jangan sampai petani yang sudah bekerja keras di sawah merugi, untuk itu pemerintah turun tangan mendukung pembelian gabah petani, agar petani mendapat keuntungan dari usaha taninya," kata Risfaheri dalam arahannya saat membuka Rakor Sergap di Banjarmasin.
Menurutnya, Sergap bertujuan meningkatkan cadangan pangan pemerintah, yang dilakukan melalui penugasan kepada Bulog. Sementara dukungan TNI dan perbankan sangat vital karena memasuki awal masa panen raya padi, mengantisipasi kecenderungan harga gabah anjlok di sebagian besar wilayah sentra produksi padi.
"Kalau tidak segera diantisipasi, akan merugikan petani," kata Risfaheri.
Sebagaimana diketahui, petani memiliki sumbangsih besar terhadap pengadaan cadangan beras pemerintah yang disimpan melalui Bulog, karena itu Sergap terus didorong sebagai upaya memberikan jaminan harga pembelian gabah yang wajar, tidak merugikan petani.
"Kalau cadangan beras pemerintah kuat, kedaulatan pangan kita akan semakin kokoh, maka sekarang inilah saatnya gudang-gudang Bulog diisi oleh petani," kata Risfaheri. (Edi)
Banjarmasin of South Borneo (B2B) - Director General of Food Security at the Indonesian Agriculture Ministry or the BKP Kementan coordination with South Borneo Provincial Agriculture Office, regional division of Logistics Agency or the Bulog, and related parties of farmers´ grain buying program or the Sergap.
The coordination meeting was chaired by Director of BKP´s Food Reserve and Distribution Center, Risfaheri here on Wednesday (February 6) with the Head of Provincial Food and Horticulture Office, H Syamsir Rahman MS; Head of the Bulog Regional Division, Ahmad Kholison; Army Headquarters Officer, Colonel Inf Rahmat Zulkarnain; South Borneo Military Resort Commander, Colonel Inf MS Ismed; and related parties.
"The aim of the Sergap program is to help and improve the welfare of rice farmers. Don´t let rice farmers who have worked hard must lose money. the government intervened to support the purchase of rice farmers´ grain," said Risfaheri while opened coordination meeting in Banjarmasin, the provincial capital of South Borneo.
According to him, the Sergap program aims to increase the government´s food reserves, as the responsibility of Bulog, while army and banking support is vital ahead of rice harvest, anticipate the tendency of grain prices to drop in most of rice production centers.
"If it is not anticipated, farmers will lose money," said Risfaheri.
As is known, rice farmers have a contribution to the procurement of government rice reserves kept by Bulog, therefore the purchase of grain continues to be done in an effort to provide grain price guarantee that benefits farmers.
"If the government´s rice reserve is strong, our food sovereignty will be stronger, then it is time for Bulog warehouses to be filled with rice," Risfaheri said.