Kopra Morotai Terhambat Belenggu Rantai Pasok
Indonesia Seeks to Increase Morotai Copra Exports Abroad
Editor : M. Achsan Atjo
Translator : Dhelia Gani

PUBLISHED: Kamis, 30 April 2020 , 23:23:00 WIB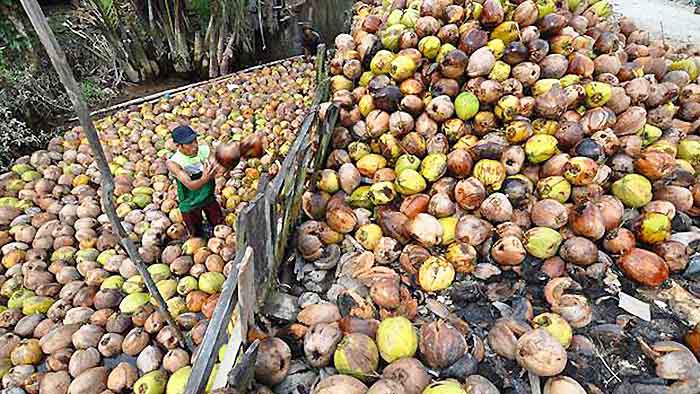 PEDAGANG BESAR: Pemerintah Kabupaten Morotai memberi perhatian khusus pada pemasaran dan penjualan kopra petani, namun dukungan tersebut kerap terbentur kelindan rantai pasok yang dikuasai tengkulak dan pedagang [Foto: istimewa]
Morotai, Maluku Utara [B2B] - Produksi kopra dari Kabupaten Morotai rata-rata mencapai 700 ton tiap tiga bulan, namun petani belum menikmati laba yang setimpal. Petani menjual langsung kepada pengepul secara individu bukan melalui kelompok tani [Poktan] sehingga kerap terkecoh oleh fluktuasi harga yang menguntungkan pedagang.
Pemerintah Kabupaten Morotai memberi perhatian khusus pada pemasaran dan penjualan kopra petani, namun dukungan tersebut kerap terbentur kelindan rantai pasok yang dikuasai tengkulak dan pedagang dari luar Provinsi Maluku Utara.
Sebagaimana diketahui Morotai, pada pergolakan Perang Dunia II menjadi pusat kekuatan militer Sekutu melawan Jepang di Samudera Pasifik. Morotai tumpuan ofensif Panglima Militer Pasifik AS, Jenderal McArthur merangsek basis militer Jepang di Okinawa melalui Pulau Iwojima. Setelah Kemerdekaan RI, Morotai merupakan kabupaten terpencil di Indonesia timur yang kaya potensi pertanian.
Penyuluh pusat Kementan Kementerian Pertanian RI, Lilik Winarti, selaku pendamping penyuluhan pertanian Provinsi Maluku Utara mengungkap tentang potensi luar biasa dari subsektor perkebunan di Morotai, khususnya kopra. Potensi luas kebun kelapa sekitar 12.780 hektar yang menjadi sandaran hidup 7.918 petani kopra di Morotai.
"Hasil produksi kelapa dikeringkan oleh petani dengan cara diasapi menjadi kopra lalu dijual kepada pengepul, kemudian dipasarkan kepada pedagang besar untuk dikirim ke Manado," kata Lilik Winarti.
Menurutnya, pengiriman ke Manado rutin dilakukan tiga bulan sekali, setelah terkumpul 700 ton. Pemasaran langsung ke Manado, ibukota Provinsi Sulawesi Utara dimulai sejak 2010, sebelumnya hanya dijual ke Daruba, ibukota Kabupaten Morotai.
Harga jual kopra di tingkat petani berkisar Rp2.000 hingga Rp9.000 per kg. Sistem pembayaran dengan transaksi tunai oleh pengepul kepada petani, sementara transaksi petani dengan pedagang besar kerap terikat sistem ijon. Maksudnya, petani akan mengajukan pinjaman tunai kepada pedagang, kemudian petani akan membayar utangnya dari hasil penjualan kopra kepada pedagang pemberi pinjaman.
"Saat ini Pemkab Morotai menaruh perhatian besar pada pengelolaan kopra dari hulu ke hilir, dengan cara memantau dan menjaga stabilitas harga termasuk. Pemkab juga mendorong para petani kopra untuk menjual kopra secara berkelompok, karena selama ini dijual langsung kepada pengepul secara individu," kata Lilik Winarti.
Potensi lahan, kesuburan tanah, kinerja petani dan produktifitas hasil kopra tentunya membuka peluang bagi petani mendapatkan keuntungan lebih besar untuk kesejahteraan keluarga petani, yang selama ini terbelenggu kelindan rantai pasok. [Liene]
Morotai of North Mollucas [B2B] - Agricultural and plantation production in North Mollucas province has great potential for export commodities, including Morotai copra, according to the senior official of Indonesian agriculture ministry.