Kepala BKP Kementan Harapkan KRPL Dukung Peningkatan Gizi Keluarga
Indonesian Senior Official Encourage Development of Urban Farming in Lampung
Editor : M. Achsan Atjo
Translator : Dhelia Gani

PUBLISHED: Minggu, 03 Maret 2019 , 23:24:00 WIB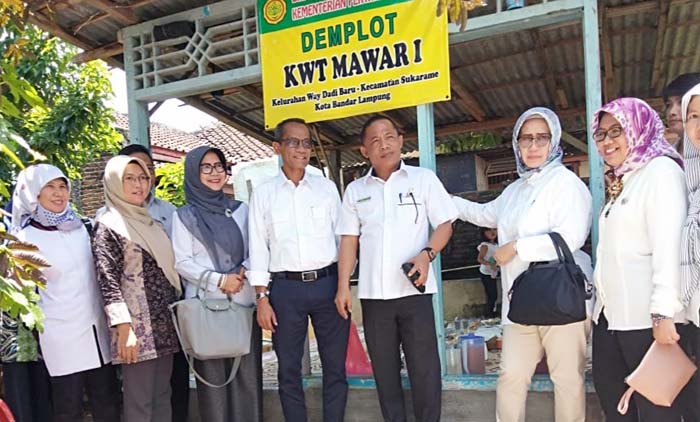 KELOMPOK WANITA TANI: Kepala BKP Kementan, Agung Hendriadi (ke-4 kiri) bersama tim dari Jakarta dialog dengan ketua dan anggota KWT Mawar I di Bandarlampung (Foto: Humas BKP Kementan)
Bandarlampung, Lampung (B2B) - Ketahanan dan kemandirian pangan nasional harus dimulai dari rumah tangga, memanfaatkan lahan pekarangan menjadi urban farming/pertanian perkotaan dengan mengembangkan kawasan rumah pangan lestari disingkat KRPL seperti menanam cabai sehingga dapat menghemat pengeluaran keluarga, meningkatkan gizi keluarga, dan kelebihan hasil panen dijual sebagai pendapatan tambahan keluarga.
Hal itu dikemukakan Kepala Badan Ketahanan Pangan - Kementerian Pertanian RI (BKP Kementan) Agung Hendriadi saat mengunjungi KRPL dari kelompok wanita tani (KWT) Mawar 1 di Kelurahan Waydadi, Kecamatan Sukarame, Bandar Lampung, belum lama ini.
"Pemerintah bersama masyarakat perlu menggerakkan kembali budaya memanfaatkan dan mengelola lahan pekarangan untuk KRPL, tak hanya di pedesaan tapi juga di perkotaan seperti Bandarlampung," kata Agung H yang melakukan rangkaian kunjungan kerja di Provinsi Lampung.
Idealnya, katanya lagi, KRPL terintegrasi dengan para pemangku kepentingan seperti Balai Pengkajian Teknologi Pertanian (BPTP), dinas pertanian, dinas kesehatan, dan swasta agar hasilnya optimal menopang kebutuhan pangan masyarakat dan menambah pendapatan keluarga dari KRPL.
"Tanaman di tiap anggota KWT harus ada minimal 100 tanaman sebagai pemenuhan sumber gizi keluarga, kelebihan hasil dari KRPL dapat dipasarkan untuk menambah pendapatan keluarga," kata Agung H.
Ketua KWT Mawar 1, Sunarti mengatakan bahwa sebagian hasil panen KRPL di Kelurahan Waydadi sudah dijual ke Pasar Tempel di Sukarame.
"Selama ini juga kami selalu mendapat pendampingan dari pendamping desa dan BPTP Provinsi Lampung," katanya.
KRPL di Provinsi Lampung saat ini sekitar 76 KRPL dan empat di antaranya berada di Bandarlampung.
"Sebagai pintu gerbang ke Jawa dan Sumatera, posisi Lampung tergolong strategis sebagai lokasi singgah maka KRPL diharapkan mampu memenuhi kebutuhan pangan bagi masyarakat yang singgah, selain sebagai kegiatan prioritas menangani rawan pangan," kata Agung H.
Bandarlampung of Lampung (B2B) - The Food security in Indonesia can start from the family, by developing urban farming in yard area of house to meet food needs by planting chili so it can save the household expenses because chili prices often soared during the religious holidays and National holiday, according to Indonesia senior official.
It was stated by The Director General of Food Security Agency at the Indonesian Agriculture Ministry or BKP Kementan, Agung Hendriadi while visited urban farming of Mawar 1 women farmers here, recently.
"The government and the community need to encourage urban farming, not only in rural areas but also in urban areas such as Bandarlampung," Hendriadi said in a series of working visits in Lampung province.
Ideally, urban farming is integrated with stakeholders such as agricultural technology assessment centers regional agriculture office, regional health office, and private sector to optimally support people´s food needs and increase family income from urban farming.
"The plants in each urban farming member must have at least 100 plants as a source of family nutrition, and surplus production is marketed to increase family income," Hendriadi said.
"So far, we have been accompanied by village office and related agencies such as the BPTP Lampung," she said.
The urban farming group in Lampung province has about 76 groups, four of which are in Bandar Lampung city.
"As the a gateway to Java and Sumatra, Lampung´s position is strategic as a stopover location, urban farming is expected to be able to meet food needs for people who stop by," Hendriadi said.