Kendala Update Data, BPP Genteng Ideal jadi Model KostraTani
Indonesia`s Agricultural Extension Connected through the KostraTani
Editor : M. Achsan Atjo
Translator : Dhelia Gani

PUBLISHED: Rabu, 29 Juli 2020 , 23:34:00 WIB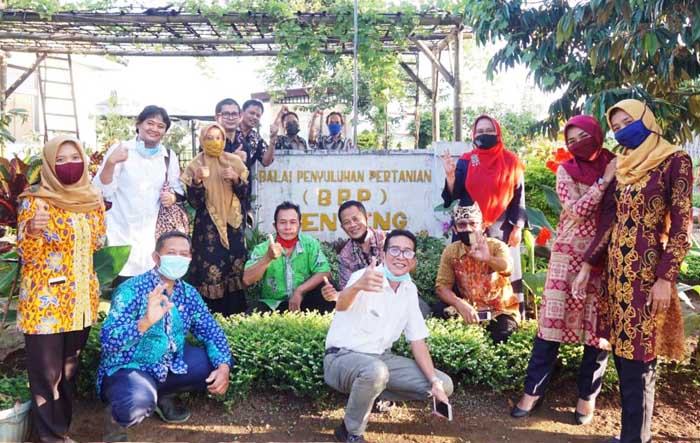 KOORDINASI PENYULUH: Tim Evaluasi dan Sosialisasi Pusluhtan dipimpin Bambang GN dan tim bersama para penyuluh dan pejabat terkait dari Pemkab Banyuwangi [Foto: Humas Pusluhtan]
Banyuwangi, Jatim [B2B] - Kegiatan Balai Penyuluhan Pertanian (BPP) di Kecamatan Genteng mendukung pembangunan pertanian Kabupaten Banyuwangi sudah memenuhi Lima Peran BPP sebagai KostraTani, namun belum seluruh kegiatan terdokumentasi dengan baik, sehingga prioritas utama pembenahan BPP Genteng adalah selaku 'pusat data dan informasi'.
Tim sosialisasi dan evaluasi Pusluhtan yang dipimpin Bambang Gatut Nuryanto mengakui BPP Genteng sudah melaksanakan Lima Peran BPP KostraTani hanya terkendala update data, pembuatan dokumentasi dan kegiatan belum maksimal.
"Kami harap kedatangan Tim Pusluhtan dari Kementan akan mendorong BPP Genteng menjadi lebih baik menuju model BPP KostraTani," kata Camat Genteng, Firman Sanyoto selaku Ketua KostraTani Genteng, belum lama ini.
BPP model KostraTani berfungsi sebagai pusat data dan informasi, pusat gerakan pembangunan pertanian, pusat pembelajaran, pusat konsultasi agribisnis dan pusat pengembangan jejaring kemitraan.
"Pembinaan BPP model KostraTani sesuai arahan Kepala BPPSDMP Dedi Nursyamsi mengacu pada instruksi Menteri Pertanian RI Syahrul Yasin Limpo bahwa BPP di tingkat kecamatan merupakan locust pembangunan pertanian," kata Leli Nuryati pada berbagai pertemuan dengan petani dan penyuluh.
Firman Sanyoto mengatakan seluruh kegiatan BPP Genteng sudah berbasis teknologi informasi (IT) era 4.0 sehingga kerap menjadi percontohan BPP lain di dalam maupun di luar Provinsi Jawa Timur.
Untuk meningkatkan peran tersebut, Tim Pusluhtan menggelar pelatihan IT dan manajemen data terkait input data program utama pembangunan pertanian yang ditetapkan Kementan seperti Propaktani, PMS dan Sikomandan serta update data Sistem Informasi Penyuluhan Pertanian (Simluhtan) untuk terhubung dengan Agriculture War Room (AWR).
"Dengan adanya pelatihan IT dan manajemen data serta sosialisasi, diharapkan BPP Genteng di Banyuwangi lebih meningkatkan kinerjanya sebagai percontohan model BPP Kostratani di Indonesia," kata Bambang GN.
Sementara dari sisi sarana dan prasarana, Kepala Dinas Pertanian dan Pangan Pemkab Banyuwangi, Arief Setyawan menyatakan siap mendukung BPP Genteng.
"Kalau 2020 berupa rumah prosesing susu dan pagar kantor maka pada 2021 akan rehabilitasi BPP dan mengembangkan tanaman hortikultura dari anggaran APBD kabupaten," kata Kabid Sarana dan Prasarana Distan Banyuwangi mewakili Kadistan. [Liene]
Banyuwangi of East Java [B2B] - Indonesian Agriculture Ministry to disseminate the development of agricultural extension centers at the sub-district level [BPP] into the center of Indonesian agricultural development [KostraTani] across the country, according to Indonesian senior official of the ministry here on Wednesday [July 29].