Stok Berlimpah, Mentan Heran Harga Telur Ayam Mahal
Indonesian Minister Wondered Why the Price of Broiler Eggs is Expensive
Reporter : Gusmiati Waris
Editor : Cahyani Harzi
Translator : Dhelia Gani

PUBLISHED: Rabu, 08 Mei 2019 , 23:40:00 WIB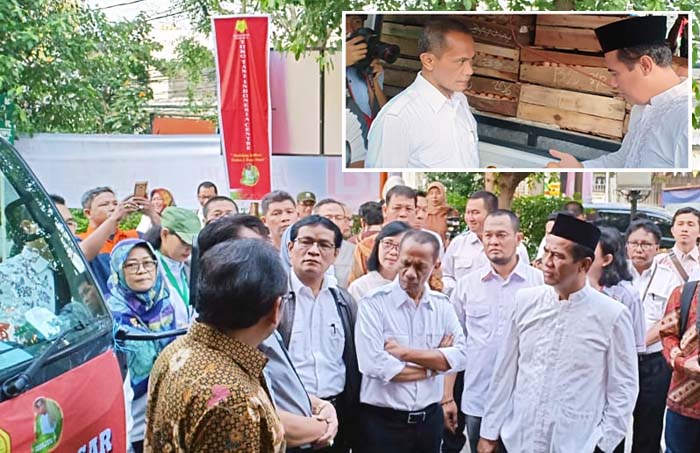 PASAR TEBET BARAT: Mentan Amran Sulaiman [peci hitam] dialog dengan tim dari Toko Tani Indonesia [TTI] didampingi Kepala BKP Kementan Agung Hendriadi [ke-2 kanan] dan dialog intensif [inset atas] Foto2: B2B/Mya
Jakarta [B2B] - Menteri Pertanian RI Andi Amran Sulaiman mengaku heran pada lonjakan harga telur ayam ras mencapai Rp26.000 per kg di tujuh pasar tradisional di DKI Jakarta, padahal stok di tingkat peternak maupun di pasaran berlimpah, sehingga hal itu mendorongnya melakukan operasi pasar [OP] di bawah koordinasi dan kendali Badan Ketahanan Pangan - Kementerian Pertanian RI [BKP Kementan].
"Stok telur ayam ras saat ini berlimpah di tingkat peternak maupun pasar, tapi justru harga di tingkat pengecer menjadi mahal. Mestinya Rp23.000 karena di tingkat peternak Rp22.000, tapi di pasaran melonjak ke Rp26.000 per kg," kata Mentan Amran Sulaiman kepada pers saat meninjau OP di Pasar Tebet Barat bersama Kepala BKP Kementan, Agung Hendriadi pada Rabu pagi [8/5].
Sebelumnya diberitakan, Pasar Tebet Barat dan Pasar Palmerah adalah dua dari tujuh pasar tradisional yang mengalami lonjakan harga telur ayam ras, setelah BKP Kementan melakukan survei harga pada tiga hari menjelang Ramadan, dari 40 pasar di seluruh DKI Jakarta.
Pasar tradisional dimaksud adalah Palmerah, Glodok dan Pluit di Jakarta Barat; Petojo Ilir dan Tebet Barat di Jakarta Selatan; dan Pulogadung di Jakarta Timur.
Mentan mengatakan Pemerintah RI mengharapkan harga telur ayam sesuai harga eceran tertinggi (HET), berkisar Rp22.000 hingga Rp23.000 per kg. Sementara di tujuh pasar tradisional seperti disebut di atas, harganya mencapai Rp26.000 per kg.
"Harga ini harus dijaga karena bisa dinikmati konsumen sekaligus menguntungkan peternak telur sehingga bisa terus berproduksi," kata Amran Sulaiman.
Menurutnya, stok telur ayam ras berlimpah namun harga di tingkat pengecer malah melonjak, sehingga Kementan berinisiatif menggelar OP untuk stabilisasi harga, untuk meringankan beban rakyat yang ingin membeli telur dengan harga terjangkau untuk memenuhi kebutuhan selama Ramadan dan Lebaran mendatang.
"Operasi ini terus berjalan sampai harga telur ayam stabil sesuai yang diharapkan pemerintah, produsen, pengusaha, dan konsumen," kata Mentan.
Dia menambahkan, kegiatan OP telur ayam ras murah akan digelar sepanjang Ramadan pada sejumlah pasar tradisional yang harga telurnya di atas Rp23.000 per kg.
Agung Hendriadi memastikan BKP Kementan terus memantau fluktuasi harga telur ayam ras maupun bahan pangan pokok lainnya selama Ramadan hingga Hari Raya ?Idul Fitri 1440 H.
"Pemerintah dalam hal ini Kementan akan terus mendukung operasi pasar bahan pangan pokok untuk memastikan konsumen tidak terbebani dengan lonjakan harga selama Ramadan hingga Lebaran," kata Agung H.
Jakarta [B2B] - Indonesian Agriculture Minister, Andi Amran Sulaiman said he wondered why the price of broiler eggs reached IDR26.000 per kg in seven traditional markets in Jakarta, the capital of Indonesia, even though the stock at the farmer level and the market is abundant, so that it encourages his ministry to hold cheap bazaars under coordination and control of Directorate General of Food Security at the Indonesian Agriculture Ministry or the BKP Kementan.
"Stock is currently abundant at the farmer and market level, but at the retail level it becomes expensive. It should have been IDR23,000 because at the farmer level IDR22,000, but the market jumped to IDR26,000 per kg," Minister Sulaiman told the press here on Wednesday morning [May 8].
Previously reported, Tebet Barat and Palmerah Traditional Market are two of the seven traditional markets in Jakarta, the price of broiler eggs surged above the normal price after the BKP Ministry of Agriculture conducted a price survey on three days ahead of Ramadan of 40 traditional markets across the Jakarta.
The traditional markets are Palmerah, Glodok and Pluit in West Jakarta; Petojo Ilir and Tebet Barat in South Jakarta; and Pulogadung in East Jakarta.
The Indonesian government expects the price of broiler eggs to match the highest retail price or the HET is IDR22,000 to IDR23,000 per kg. While in seven traditional markets as mentioned above the price reaches IDR 26,000 per kg.
"This price must be maintained because it is affordable to consumers while at the same time profitable for farmers to continue production," Minister Sulaiman said.
[U$1 = 14,318 rupiah]