5 Nominator, Tim Pusluhtan Verifikasi BPP Sekampung di Lampung Timur
Indonesian Govt Verifies Agricultural Extension Office in Lampung Province
Editor : M. Achsan Atjo
Translator : Dhelia Gani

PUBLISHED: Jum'at, 19 Juli 2019 , 23:41:00 WIB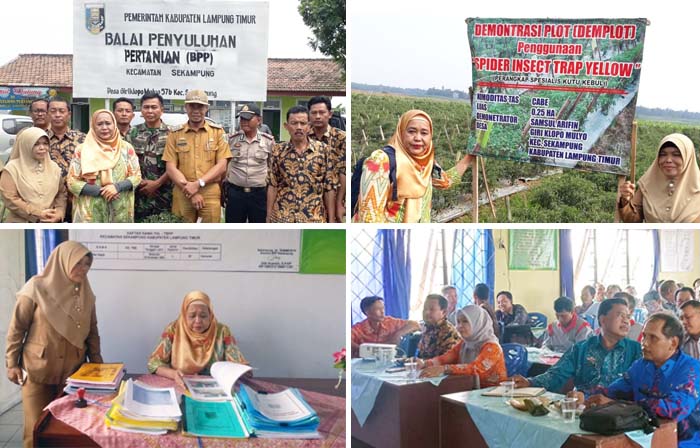 OBYEKTIVITAS PENILAIAN: Penyuluh Utama Kementan, Siti Nurjanah [hijab kuning] bersama pengurus BPP dan Muspika setempat, Demplot, memeriksa berkas, dan pengurus Poktan [Foto: Humas Pusluhtan/S Nurjanah]
Lampung Timur, Lampung [B2B] - Lima balai penyuluhan pertanian [BPP] di seluruh Indonesia masuk nominasi sebagai BPP berprestasi, yang layak meraih penghargaan dari Menteri Pertanian RI Andi Amran Sulaiman, dan memperingati HUT Kemerdekaan RI ke-74 bersama Presiden RI Joko Widodo di Istana Merdeka pada 17 Agustus 2019.
Dari usulan seluruh provinsi, dilakukan penilaian oleh tim verifikasi dan validasi disingkat Verval untuk menetapkan lima nominator melalui sidang pleno yang dipimpin oleh Kepala Pusat Penyuluhan Pertanian [Pusluhtan BPPSDMP Kementan] Siti Munifah.
Siti Munifah berulangkali mengingatkan kepada tim Verval untuk memperoleh obyektivitas dalam penetapan BPP berprestasi yang memperoleh penghargaan, menyusun pedoman yang mengatur tata cara dan mekanisme penilaian berprestasi dalam mengelola dan mengembangkan usaha.
Salah satu nominator adalah BPP Sekampung di Kabupaten Lampung Timur, Provinsi Lampung yang diverifikasi oleh tim yang dipimpin oleh Penyuluh Utama Kementan, Siti Nurjanah di Desa Giri Klopo Mulyo, Kecamatan Sekampung, belum lama ini.
"Peran BPP telah dilaksanakan dengan baik oleh BPP Sekampung melalui berbagai aktifitas, khususnya sebagai pusat data dan informasi maupun pusat pembelajaran melalui kegiatan pemanfaatan lahan untuk para petani," kata Siti Nurjanah.
Dia menambahkan, sektor pertanian berperan penting dan strategis dalam pembangunan nasional, yang telah memberikan kontribusi nyata terhadap penyediaan pangan, kegiatan utama ekonomi perdesaan sebagaian besar masih tetap mengandalkan bidang pertanian.
"Desa sebagai sentra produksi pertanian lanjutnya tidak terlepas dari peran BPP dalam menggali potensi pertanian di pedesaan sebagai wilayah binaannya. Kementan melakukan penilaian untuk pemberian penghargaan BPP berprestasi sebagai apresiasi dalam pendampingan dan pengawalan program pembangunan pertanian terdepan di kecamatan yaitu BPP," katanya. [Liene]
East Lampung of Lampung [B2B] - Indonesian Agriculture Ministry verifies and evaluates of agricultural extension office [BPP] across the country to choose the best BPP as done by Senior Agricultural Extentionist, Siti Nurjanah in East Lampung district of Lampung province to conduct field verification of the BPP Sekampung here, rercently.