Korporasi Petani, Mentan Ingatkan 25.444 Penyuluh Swadaya Dukung 662.472 KEP
Indonesian Govt Encourages Farmers to Develop Corporations
Reporter : Adipati Edonizar
Editor : M. Achsan Atjo
Translator : Dhelia Gani

PUBLISHED: Minggu, 23 September 2018 , 23:41:00 WIB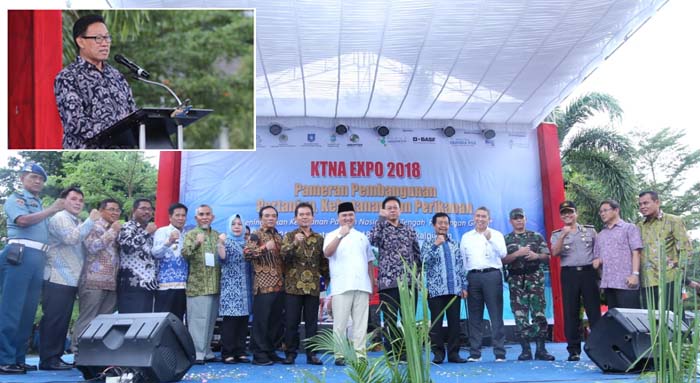 REMBUG KTNA: Kepala BPPSDMP Kementan, Momon Rusmono bersama Ketua Umum KTNA Winarno Tohir, Gubernur Babel, Erzaldi Rosman, mewakili Mentan Andi Amran Sulaiman (inset) membuka Rembug KTNA (Foto2: Humas Kementan)
Pangkalpinang, Bangka Belitung (B2B) - Kementerian Pertanian RI mengingatkan 25.444 orang penyuluh pertanian swadaya di seluruh Indonesia atas peran dan tugasnya mendorong 662.472 kelompok ekonomi petani (KEP) mendukung pengembangan korporasi petani seperti diamanatkan Presiden RI Joko Widodo bahwa "harus ada korporasi petani, sebagai kelompok besar dari gabungan kelompok tani."
Hal itu dikemukakan oleh Kepala Badan Penyuluhan dan Pengembangan Sumber Daya Manusia Pertanian (BPPSDMP) Momon Rusmono mewakili Menteri Pertanian RI Andi Amran Sulaiman saat membuka Rembug Utama Kelompok Kontak Tani Nelayan Andalan (KTNA) dan Expo KTNA di Bangka Belitung, Jumat (21/9).
"KEP merupakan keniscayaan menghadapi persaingan ekonomi dunia, meningkatkan produktivitas, efisiensi usaha tani, skala usaha dan daya saing, dan percepatan industrialisasi petani yang menguasai teknologi dilakukan melaui korporasi petani," kata Momon Rusmono.
Saat ini petani di seluruh Indonesia bergabung pada 662.472 kelompok, terdiri atas 585.895 kelompok tani (Poktan) dalam 63.420 gabungan kelompok tani (Gapoktan), dari jumlah tersebut terdapat 13.157 KEP.
Tampak hadir Ketua Umum KTNA Winarno Tohir, Gubernur Bangka Belitung Erzaldi Rosman dan Anggota Komisi IV DPR RI Oo Sutisna.
Momon menambahkan saat ini Kementan membuat pilot project untuk pengembangan kawasan pertanian berbasis ekonomi petani di empat kabupaten: Lebak, Provinsi Banten untuk jagung seluas 1.000 hektar; Kolaka Timur, Provinsi Sulawesi Tenggara untuk kakao seluas 550 hektar; bawang merah di Malang, Provinsi Jawa Timur; dan padi di Karawang, Provinsi Jawa Barat.
"Kementan juga sinergi dengan Kementerian BUMN dan Kementerian Desa mengembangkan korporasi petani dalam bentuk perseroan terbatas di delapan kabupaten di Provinsi Jawa Barat," kata Momon.
Kepala BPPSDMP Kementan mengharapkan dukungan KTNA dalam mendorong kelompok-kelompok tani untuk lebih berdaya saing, begitu pula dengan penyuluh pertanian swadaya.
"Perlu diperkuat dari aspek kompetensi dan profesionalisme melalui campur tangan KTNA, dan penguatan kelembagaan pos penyuluhan di tingkat pedesaan atau Posluhdes," kata Momon Rusmono.
Pangkalpinang of Bangka Belitung (B2B) - Indonesian Agriculture Ministry reminded 25,444 independent agricultural extensionist across the country over the role and tasks to encourage 662,472 farmer economic groups or the KEP support development of farmer corporations as mandated by Indonesian President Joko Widodo that "there must be a farmer corporation as the main group of farmer groups combined."
It was stated by Director General of Agency for Agricultural Extension and Human Resources Development or BPPSDMP, Momon Rusmono represent Agriculture Minister Andi Amran Sulaiman opening meetings of Indonesian Farmers and Fishermen Associations or the KTNA and KTNA Expo here on Friday (September 21).
"The KEP is a necessity to face global competition, increase productivity, farming efficiency, business scale and competitiveness, and accelerating farmers to apply agricultural mechanization through corporations," Mr Rusmono said.
Currently farmers across the country to join 662,472 groups, consists of 585,895 farmer groups or the Poktan in the 63,420 farmers´ groups combined or the Gapoktan, and of that number there are 13,157 KEP.
It was attended by Chairman of KTNA Winarno Tohir, Bangka Belitung Governor Erzaldi Rosman and member of parliament Oo Sutisna.
Mr Rusmono said the ministry is currently making a pilot project for the development of agricultural areas based on farmers´ economies in four districts: Lebak of Banten Province for 1,000 hectares of corn; East Kolaka in Southeast Sulawesi province for 550 hectares of cocoa; shallot in Malang of East Java province and rice in Karawang of West Java province.
"The Agriculture Ministry also synergizes with the SOEs Ministry and the Village Ministry develop farmer corporations into a kind of private company in eight districts in West Java province," Mr Rusmono said.
He hopes that the support of KTNA encourages farmer groups to be more competitive, as well as the independent agricultural extensionist.
"It is necessary to strengthen the competency and professionalism aspects of farmers by KTNA, and institutional strengthening of village agricultural extension centers or the Posluhdes," Mr Rusmono said.