Satgas Covid-19 Paniai Beli dan Bagikan Hasil Tani Rakyat Papua
Indonesian Agriculture Anticipate Covid-19 by Weaker Health Systems
Editor : M. Achsan Atjo
Translator : Dhelia Gani

PUBLISHED: Rabu, 13 Mei 2020 , 23:45:00 WIB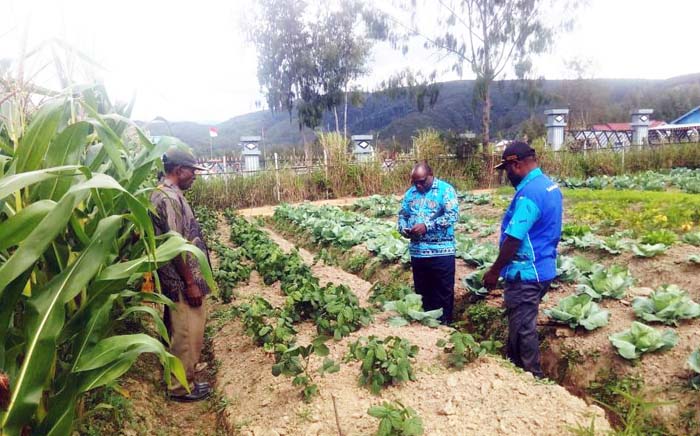 Kegiatan Satgas diawali pendataan ratusan kampung dari 24 distrik di Paniai. Data yang dikumpulkan adalah jumlah kebun milik warga yang panen petatas, sayuran dan buah-buahan [Foto: Humas Pusluhtan]
Paniai, Papua [B2B] - Bupati Paniai, Meki Wanipa membentuk Satuan Tugas [Satgas] Jaring Pengaman Sosial, dengan membeli hasil budidaya pertanian masyarakat kemudian didistribusikan kepada masyarakat terdampak pandemi Covid-19.
Bupati Paniai, Meki Wanipa mengatakan Satgas dipimpin oleh Kepala Dinas Ketahanan Pangan Kabupaten Paniai, John Nicolas Pigome didukung para pemangku kepentingan bertujuan menjaga ketahanan pangan lokal, agar masyarakat dapat menikmati hasil panen dari pangan lokal.
Kegiatan Satgas diawali pendataan ratusan kampung dari 24 distrik di Paniai. Data yang dikumpulkan adalah jumlah kebun milik warga yang panen petatas, sayuran dan buah-buahan.
"Sayuran akan dibeli dari kelompok wanita tani atau KWT yang bergabung pada program kawasan rumah pangan lestari di Kabupaten Paniai sebanyak 11 KRPL," kata John Nicholas Pigome.
Penyuluh pusat di Kementerian Pertanian RI, Siti Nurjanah selaku pendamping kegiatan penyuluhan pertanian Provinsi Papua mengatakan langkah Bupati Meki Wanipa sejalan dengan instruksi Menteri Pertanian RI Syahrul Yasin Limpo bahwa pangan lokal meningkatkan imunitas tubuh.
"Virus corona belum ada obatnya saat ini, kecuali daya tahan tubuh yang diperoleh dari konsumsi pangan dengan antioksidan tinggi. Biasanya terdapat pada aneka pangan lokal seperti singkong, ubi jalar atau petatas, keladi dan masih banyak lagi," kata Kepala BPPSDMP Kementan, Prof Dedi Nursyamsi.
Kepala Pusat Penyuluhan Pertanian [Pusluhtan BPPSDMP] Leli Nuryati mengapresiasi dukungan penyuluh pertanian yang setia mendampingi petani dan warga Paniai bercocok tanam pangan lokal. [Liene]
Paniai of Papua [B2B] - Indonesia´s Agriculture Ministry is in intensive care after testing positive for the novel coronavirus, as civil servants in head office and across the country were ordered to close over the health threat. The World Health Organization has said it is particularly concerned about high-risk nations with weaker health systems, which who may lack the facilities to identify cases.