Tambah 71 ASN, Luas Lahan Bireuen Tak Sebanding Jumlah Penyuluh Pertanian
Number of Agricultural Extensionists is not Comparable Indonesia`s Aceh Rice Fields
Editor : M. Achsan Atjo
Translator : Dhelia Gani

PUBLISHED: Minggu, 06 Oktober 2019 , 23:47:00 WIB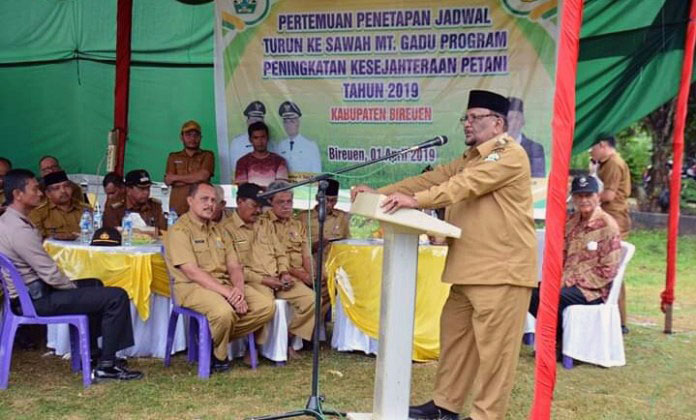 MUSIM GADU: Bupati Bireuen H Saifannur membuka pertemuan penetapan jadwal turun ke sawah musim tanam gadu bersama penyuluh pertanian [Foto: istimewa]
Bireuen, Aceh [B2B] - Bupati Bireuen H Saifannur pada akhir September 2019 melantik 400 aparatur sipil negara [ASN], 71 di antaranya adalah tenaga harian lepas [THL] penyuluh pertanian, yang lulus sebagai ASN, namun tambahan penyuluh pertanian masih kurang karena belum sebanding dengan luas lahan pertanian dan jumlah desa di Kabupaten Bireuen, Provinsi Aceh.
Kepala Dinas Pertanian Pemkab Bireuen, M Nasir mengatakan meskipun ada tambahan 71 penyuluh ASN belum memadai dengan potensi lahan dan komoditas pertanian maupun jumlah desa di seluruh Bireuen, memaksa penyuluh harus bertugas di dua hingga tiga desa sekaligus, yang dikhawatirkan tidak maksimal membimbing petani maupun kunjungan ke lapangan.
Menurutnya, jumlah penyuluh THL yang sudah diangkat menjadi ASN, sebelumnya sekitar 200 orang dan ditambah 71 penyuluh ASN setelah dilantik Bupati H Saifannur akhir September lalu.
"Mereka adalah penyuluh THL yang diangkat menjadi ASN dan diambil sumpah oleh Bupati sudah bertugas minimal enam tahun lalu, dan wilayah tugas sudah ditetapkan sejak lama. Mereka sudah ada tempat tugasnya sejak lama. Tinggal melanjutkan dengan status baru sebagai pegawai negeri," kata M Nasir.
Dia menambahkan, selama ini seorang penyuluh bertugas di dua atau tiga desa, sehingga tidak maksimal membimbing petani maupun kunjungan ke lapangan. Idealnya, sesuai program pemerintah adalah satu penyuluh pertanian untuk satu desa. Sementara di Bireuen saat ini 609 desa, sedangkan jumlah penyuluh hanya 271 orang lebih.
M Nasir menegaskan bahwa pihaknya akan mengirim data lengkap jumlah kebutuhan penyuluh pertanian ke pemerintah provinsi dan Kementerian Pertanian RI, yang akan didukung data sektor pertanian khususnya potensi luas sawah.
"Data sementara luas sawah irigasi teknis di Bireuen mencapai 21 ribu hektar ditambah sawah tadah hujan maupun lahan kering yang berpotensi menjadi lahan pertanian," katanya seperti dilansir serambinews.com.
Bireuen of Aceh [B2B] - Bireuen Regent H Saifannur at the end of September 2019 induct 400 civil servants 71 of them are agricultural extension workers but additional extensionist is still lacking because it is not comparable agricultural land and number of villages in Bireuen district of Aceh province.