Sergap Jabar, BKP Kementan Desak Bulog Proaktif dan Ubah `Mindset`
Indonesia`s Bulog is Urged to Accelerate Buy Rice of West Java Farmers
Editor : M. Achsan Atjo
Translator : Dhelia Gani

PUBLISHED: Minggu, 10 Maret 2019 , 23:05:00 WIB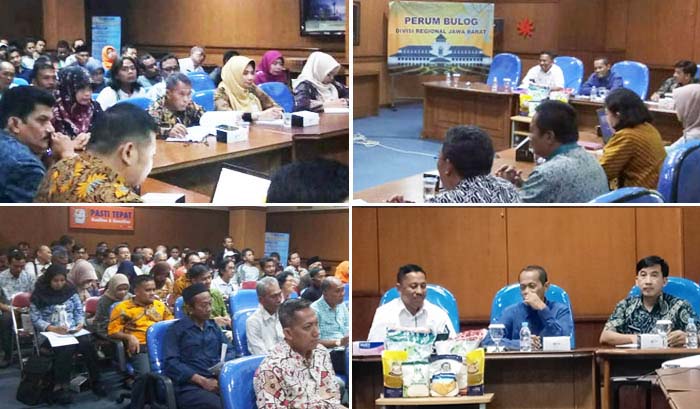 SERAP GABAH: Kepala BKP Kementan, Agung Hendriadi [kemeja biru] memimpin Rakor Sergap didampingi Kepala Bulog Divre Jabar, Benhur [kemeja putih] di Bandung [Foto2: Humas Pusluhtan BPPSDMP/Septalina P]
Bandung, Jabar [B2B] - Kementerian Pertanian RI mendesak Perum Bulog, khususnya Divre Jawa Barat lebih proaktif menyerap dan mencari pasar beras/gabah, dengan mengubah mindset [pola pikir] sehingga dapat mendukung percepatan program serap beras/gabah petani [Sergap], dan seluruh unit penggilingan padi/beras siap bekerja terutama pada puncak panen, Maret - April 2019.
Hal itu dikemukakan Kepala Badan Ketahanan Pangan [BKP Kementan] Agung Hendriadi kepada Kepala Bulog Divre Jabar pada ´rapat koordinasi percepatan Sergap´ di Bandung, Jabar, Jumat [8/3] yang dihadiri oleh tim Sergap dari Badan Penyuluhan dan Pengembangan SDM Pertanian [BPPSDMP] di bawah koordinasi Momon Rusmono selaku Penanggung Jawab - PJ Sergap Jabar.
"Bulog harus lebih proaktif menyerap dan mencari pasar dengan mengubah mindset. Sergap bisa gabah atau beras, dan Kementan tidak main-main untuk kerjasama dengan Bulog. Pejabat eselon satu ditempatkan Mentan di tiap provinsi. PJ untuk Jabar adalah Kepala BPPSDMP. Ini buktinya, seluruh jajaran eselon dua hingga empat Badan SDM Kementan hadir di ruangan ini membuktikan komitmen PJ-nya," kata Agung Hendriadi.
Agung H mengaku telah melakukan survei lapangan untuk melihat kondisi persawahan yang siap panen dan akan panen, begitu pula informasi dari tim Sergap BKP Kementan untuk memantau kondisi lapangan di Jabar, ternyata upaya penyerapan beras/gabah oleh Bulog belum memadai.
"Rakor Sergap ini diadakan BKP dan BPPSDMP Kementan dengan Bulog untuk percepatan Sergap dan pemantauan lapangan. Saya juga pantau sejumlah areal persawahan siap panen, begitu pula dengan tim BKP dan SDM Kementan, tapi faktanya penyerapan Bulog sangat rendah," kata Agung H.
Benhur selaku bos Bulog Jabar menyatakan komitmen Bulog dengan menghadirkan tujuh Kasubdivre dan siap mengerahkan 315 personel serta puluhan gudang Bulog di seluruh provinsi.
Benhur menyatakan komitmen Bulog Divre Jabar untuk menyerap gabah 700 ton setara beras per hari seperti ditargetkan Kementan pada tujuh Subdivre Bulog di tujuh kabupaten/kota: Bandung, Ciamis, Cianjur, Cirebon, Indramayu, Karawang, dan Subang. (Liene)
Bandung of West Java [B2B] - Indonesian government urges the National Logistics Agency or Bulog, especially the West Java regional division more proactive buying farmer´s rice by change the mindset to support acceleration of the farmers´ grain purchase program or the Sergap and rice milling units are ready to work, especially the peak of harvest, March - April 2019.
It was stated by the ministry´s Director General of Food Security, Agung Hendriadi to the Head of Bulog West Java regional division, Benhur at a coordination meeting here on Friday [March 3], attended by team of Directorate General of Extension and Agricultural HR Development or the BPPSDMP under the coordination of Momon Rusmono as the Person in Charge or the PJ Sergap Jabar.
"Bulog must be more proactive in buying and looking for markets by changing the mindset," Hendriadi said.
He claimed to have monitored the field to see rice fields ready for harvest and harvest, as well as information of the ministry team to monitor field conditions in West Java province, it turned out the Bulog´s efforts were not yet adequate.
"The coordination meeting was held by the ministry and Bulog to accelerate the purchase of rice and field monitoring. I also monitored a number of paddy fields ready for harvest, but in fact the realization of Bulog is very low," Hendriadi said.
Benhur stated that his commitment was supported by seven branch offices in West Java, and ready to deploy 315 personnel and dozens of Bulog warehouses across the province.
Benhur stated Bulog´s commitment in West Java to buy 700 tons of rice as targeted by the ministry in seven districts/cities: Bandung, Ciamis, Cianjur, Cirebon, Indramayu, Karawang, and Subang.