KRPL dan KMP Solusi Rentan Pangan, Rumah Tangga Miskin 2018 Turun 10,88%
Urban Farming Supports the Decline of Poor Households in Indonesia
Reporter : Gusmiati Waris
Editor : Cahyani Harzi
Translator : Dhelia Gani

PUBLISHED: Jum'at, 16 November 2018 , 23:52:00 WIB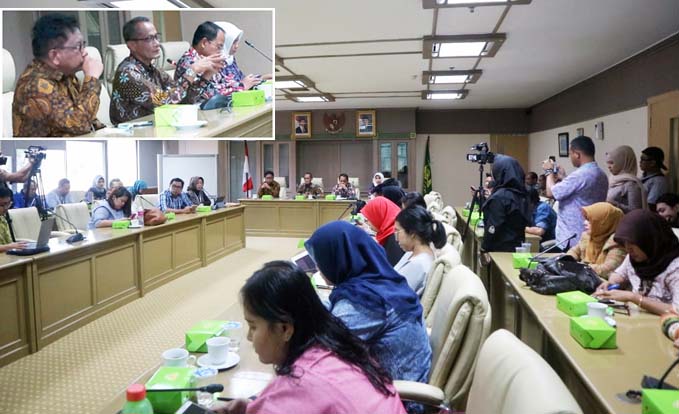 PETA KETAHANAN PANGAN: Kepala BKP Kementan, Agung Hendriadi menjawab pers didampingi Kepala Pusat Distribusi dan Cadangan Pangan, Rishaferi; dan Sekretaris BKP Riwantoro (insert atas) Foto2: Humas BKP Kementan)
Jakarta (B2B) - Kawasan Rumah Pangan Lestari (KRPL) dan Kawasan Mandiri Pangan (KMP) yang didorong dan dikembangkan Badan Ketahanan Pangan (BKP) kepada para keluarga di daerah rentan rawan pangan mendukung penurunan rumah tangga miskin (RTM) per Maret 2018 menjadi 15,81 juta jiwa dari 17,74 juta jiwa per Maret 2013 seperti dilansir oleh Badan Pusat Statistik (BPS) yang menunjukkan kinerja positif Kementerian Pertanian RI mendukung penyediaan kebutuhan pangan dari lahan pekarangan rumah.
Kepala BKP Kementan, AgungA Hendriadi mengatakan pengembangan KRPL dan KMP merupakan amanat dari UU Pangan No 18/2012 yang mengamanatkan bahwa ketahanan pangan nasional dimulai dari ketahanan pangan tingkat rumah tangga.
Kementan mendorong setiap rumah tangga mengakses pangan secara mudah dan murah dari pemanfaatan sumberdaya atau aset yang mereka miliki dari lahan pekarangan rumah, sehingga pangan dapat tersedia setiap saat untuk kebutuhan keluarga.
"Terbukti bahwa KRPL dan KMP berkontribusi positif mendukung penurunan RTM seperti diuraikan data BPS tentang RTM per Maret 2018 sebanyak 15,81 juta jiwa, turun 10,88% selama lima tahun terakhir, per Maret 2013," kata Agung Hendriadi kepada pers di Jakarta, Jumat (16/11).
Tujuan KRPL untuk memenuhi kebutuhan pangan dan gizi keluarga serta menikatkan pendapatan. "Melalui kegiatan ini masyarakat melalui kelompok wanita diajak untuk memanfaatkan pekarangannya dengan melakukan kegiatan budidaya sumber karbohidrat, protein dan vitamin," katanya.
Menurutnya, KRPL mendorong para ibu rumah tangga dapat mengurangi pengeluaran belanja bahan pangan sekitar Rp750 ribu hingga Rp1,5 juta per bulan.
Jakarta (B2B) - The urban farming in Indonesia or the KRPL and Food Independent Area or the KMP developed by the Indonesian Food Security Agency (BKP) to families in vulnerable areas of food insecurity, supporting the decline of poor households or the RTM per March 2018 to 15.81 million of 17.74 million per March 2013 as reported by the Central Statistics Agency, which shows the positive performance of Agriculture Ministry support the provision of food needs from home yards as the family's main.
Director General of the BKP, Agung Hendriadi said the development of KRPL and KMP was mandated by the Food Law Number 18/2012 which mandates that Indonesia's food security starts from household food security.
The agriculture ministry encourages every household to access food easily and cheaply from resource use or food assets from home yards, so food needs are available at any time,
"It is proven that KRPL and KMP contribute positively supporting the decline in RTM as announced by the BPS," Mr Hendriadi told the press here on Friday (November 16).
The aim of KRPL is to meet family food and nutrition needs and increase income. "Through urban farming, people through women's groups are invited to take advantage of the yard with activities to cultivate carbohydrate, protein and vitamin sources," he said.
According to him, the KRPL support housewives to reduce food expenditure by around IDR750 thousand to IDR1.5 million per month.