Buka Puasa, Nunukan Suplai Kebutuhan Melon di Kaltara
Indonesian Agriculture Anticipate Covid-19 by Weaker Health Systems
Editor : M. Achsan Atjo
Translator : Dhelia Gani

PUBLISHED: Rabu, 13 Mei 2020 , 23:56:00 WIB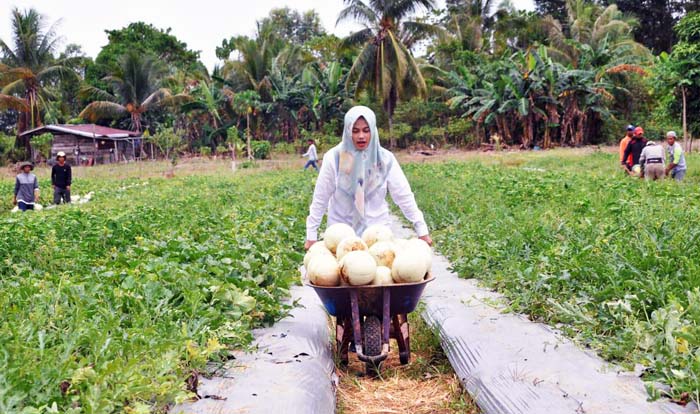 Pemasaran dilakukan di Nunukan dan lintas kabupaten seperti Bulungan dan Kota Tarakan, ibukota Kaltara. Produksi melon melimpah namun harga tetap stabil lantaran tingginya kebutuhan selama Ramadan [Foto: Humas Pusluhtan]
Nunukan, Kaltara [B2B] - Petani melon di Kelurahan Nunukan Selatan, Kecamatan Nunukan Selatan pada Ramadan menjadi lebih sibuk pada Ramadan. Hasil panen seluas empat hektar menjadi tumpuan konsumsi es buah untuk buka puasa di Kabupaten Nunukan, Bulungan dan Kota Tarakan, ibukota Provinsi Kalimantan Utara [Kaltara].
Pemerintah Kabupaten Nunukan khususnya Kepala Dinas Pertanian Pemkab Nunukan, Masniadi menaruh perhatian khusus pada budidaya melon dan semangka oleh kelompok tani [Poktan] Pesona Mansapa dengan mengikuti panen melon bersama petani setempat.
Kadistan Masniadi, seperti dilaporkan penyuluh pertanian pusat di Kementerian Pertanian RI, Bambang Gatut Nuryanto, mengerahkan penyuluh pertanian setempat untuk mendampingi dan mengawal petani melon Poktan Pesona Mansapa. Mulai olah tanah, olah tanam, pemeliharaan hingga panen dan pasca panen.
"Panen melon menjadi momen kebahagiaan para petani, karena permintaan terus meningkat selama Ramadan. Varietas yang digunakan melon Jade Dew, yang ditanam pada lahan empat hektar. Produksinya 15 ton per hektar. Harga jual di tingkat petani di kisaran Rp6.000 hingga Rp7.000," kata Bambang GN melalui pernyataan tertulis yang dihimpun Pusat Penyuluhan Pertanian [Pusluhtan BPPSDMP].
Kehadiran Kadistan Masniadi selaku regulator dan pembina sektor pertanian di Kabupatan Nunukan mendorong petani melon Poktan Pesona Mansapa kian bersemangat memenuhi kebutuhan konsumen di Kaltara, sesuai moto Kabupaten Nunukan 'Penekindidebaya' atau membangun daerah.
Pemasaran dilakukan di Nunukan dan lintas kabupaten seperti Bulungan dan Kota Tarakan, ibukota Kaltara. Produksi melon melimpah namun harga tetap stabil lantaran tingginya kebutuhan selama Ramadan, sehingga teknik budidaya dan luas lahan pertanaman harus ditingkatkan untuk menjangkau lebih banyak konsumen.
Sinergi dan koordinasi antara regulator didukung penyuluh dengan petani, menurut Bambang GN, sejalan dengan instruksi Menteri Pertanian RI Syahrul Yasin Limpo menginstruksikan petani dan penyuluh tetap bekerja di lapangan untuk memenuhi ketersediaan pangan.
Sementara Kepala BPPSDMP Kementan Prof Dedi Nursyamsi berulangkali mengingatkan petani dan penyuluh mematuhi Protokol Kesehatan untuk menangkal pandemi Covid-19. Kenakan masker, jaga jarak, hindari kerumunan dan sering cuci tangan pakai sabun untuk menangkal Corona."
Kepala Pusluhtan BPPSDMP] Leli Nuryati mengapresiasi dukungan penyuluh pertanian yang setia mendampingi petani di lapangan. "Pangan berperan penting untuk memenuhi kebutuhan dasar manusia sekaligus menjaga stabilitas nasional di tengah krisis Covid-19." [Liene]
Nunukan of North Borneo [B2B] - Indonesia´s Agriculture Ministry is in intensive care after testing positive for the novel coronavirus, as civil servants in head office and across the country were ordered to close over the health threat. The World Health Organization has said it is particularly concerned about high-risk nations with weaker health systems, which who may lack the facilities to identify cases.