Pemulihan Pasca Gempa, PKU Kementan Motivasi Petani untuk Bangkit
Agriculture Raises the People of Indonesia`s Lombok after the Earthquake
Reporter : Gusmiati Waris
Editor : Cahyani Harzi
Translator : Dhelia Gani

PUBLISHED: Rabu, 03 Juli 2019 , 23:59:00 WIB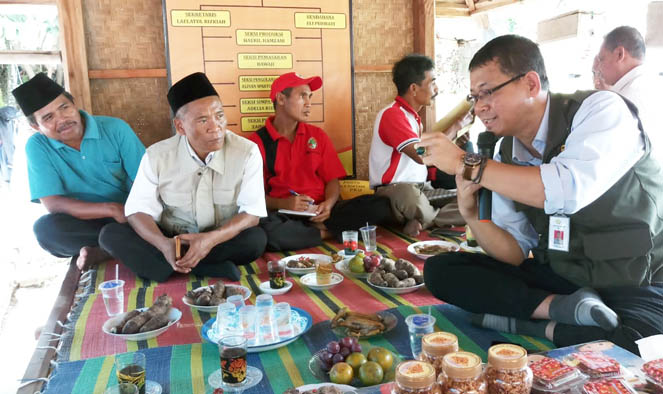 BKP KEMENTAN: Kapus Ketersediaan dan Kerawanan Pangan BKP Kementan, Andriko Noto Susanto dialog dengan Ketua Gapoktan Serumpun, Mujahidin [Foto: Humas BKP Kementan]
Lombok Utara, NTB [B2B] - Keberadaan Pengembangan Korporasi Usahatani [PKU] di Kabupaten Lombok Utara, Provinsi Nusa Tenggara Barat [NTB] memotivasi petani untuk bangkit setelah terpuruk akibat gempa bumi 2018, khususnya bimbingan dari hulu sampai hilir dalam usahatani oleh Badan Ketahanan Pangan - Kementerian Pertanian RI [BKP Kementan] memberi harapan dan optimisme bagi petani dan masyarakat untuk menatap masa depan.
"Program PKU yang dikembangkan BKP Kementan sangat tepat dan menolong kami setelah ditimpa bencana gempa bumi, ini membuat kami optimistis menatap masa depan yang lebih baik," kata Mujahidin, Ketua Gapoktan Serumpun di Desa Pendua, Kecamatan Kayangan pada Selasa [3/7].
Kepala Pusat Ketersediaan dan Kerawanan Pangan BKP Kementan, Andriko Noto Susanto menyatakan gembira melihat kebersamaan dan kerja keras anggota Gapoktan Serumpun seraya mengingatkan untuk meningkatkan kesejahteraan petani untuk mempercepat pemulihan petani pasca bencana.
"Saya harapkan kalau saya ke sini lagi sudah banyak kemajuan. Tolong kegiatan PKU ini dibina dan dikembangkan dengan baik, untuk meningkatkan kesejahteraan petani sehingga bisa mempercepat recovery petani pasca gempa bumi," kata Andriko NS.=
Kegiatan PKU digulirkan BKP Kementan untuk mengentaskan daerah rentan rawan pangan untuk meningkatkan pendapatan dan kesejahteraan petani. Melalui PKU kegiatan usahatani dari hulu sampai hilir, sehingga nilai tambah dan keuntungan yang dinikmati petani semakin besar.
Sebagaimana diketahui, NTB menjadi satu satunya provinsi yang mendapatkan dua lokasi kegiatan PKU yakni Kabupaten Lombok Timur dan Lombok Utara, sebagai bukti keseriusan Pemerintah RI khususnya Kementerian Pertanian RI meningkatkan kesejahteraan petani.
Kepala Bidang Ketahanan Pangan Dinas Kabupaten Lombok Utara Munhayadi menyampaikan terima kasih atas dipilhnya Desa Pendua sebagai lokasi kegiatan PKU.
Gapoktan Serumpun sebagai pelaksana PKU terdiri atas lima kelompok tani yang membudidayakan komoditas bawang merah, cabai, dan tomat. Sebagian produk diolah oleh anggota Gapoktan menjadi pangan olahan seperti manisan tomat, bubuk cabai dan grading sayuran.
"Kami berkomitmen penuh menyukseskan kegiatan ini. Atas nama pemerintah kabupaten dan masyarakat kami sampaikan terima kasih atas dipilihnya Desa Pendua sebagai lokasi kegiatan PKU, kami akan koordinasikan dan sinergikan dengan dinas terkait lainnya," kata Munhayadi.
Kepala Desa Pendua Agus Salim mengapresiasi PKU di wilayahnya untuk menumbuhkan "Kepercayaan pengurus dan anggota menjadi kunci sukses program PKU ini. Mari kita perkuat kembali dan menumbuhkan rasa percaya, sehingga cita-cita kita meningkatkan kesejahteraan bisa tercapai."
Dalam kunjungan ini juga hadir Kabid Kerawanan Pangan BKP Kementan, Nasfirman Yul; dan Kabid Ketersediaan dan Kerawanan Pangan Dinas Ketahanan Pangan NTB, Lalu Sugiarto.
North Lombok of West Nusa Tenggara [B2B] - The Farming Corporation Development program [PKU] in the West Nusa Tenggara district of North Lombok by Indonesian government to motivate farmers to rise after being affected by the 2018 earthquake, specifically guidance of upstream to downstream in farming by Indonesian Agriculture Ministry.