Senam Pagi Bersama, Kepala BKP Kementan Promosi Toko Tani Indonesia di Bogor
Indonesian Agriculture Ministry Promotes Cheap Food Stores in Bogor City
Reporter : Gusmiati Waris
Editor : Cahyani Harzi
Translator : Dhelia Gani

PUBLISHED: Senin, 01 Juli 2019 , 23:08:00 WIB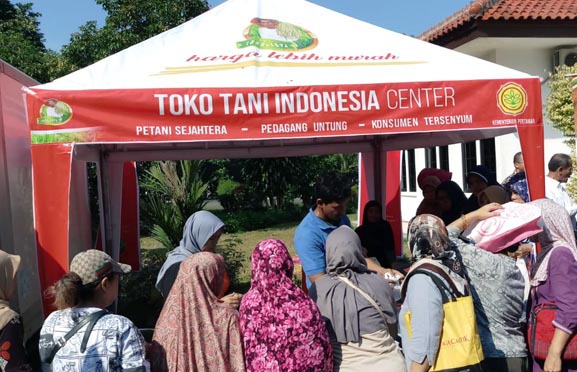 Foto: Humas BKP Kementan
Bogor, Jabar [B2B] - Kementerian Pertanian RI menggelar kegiatan senam pagi bersama di Toko Tani Indonesia Center [TTIC] di kawasan Cimanggu, Kota Bogor, Provinsi Jawa Barat pada Minggu pagi [30/6], untuk mempromosikan TTIC Bogor kepada warga setempat untuk berbelanja pangan murah sekaligus berolahraga setiap Minggu pagi, dan mengundang Walikota Bogor, Bima Arya untuk melihat langsung manfaat TTIC Bogor sebagai gerai pengendali harga yang dikembangkan oleh Badan Ketahanan Pangan [BKP Kementan] sejak 2015.
"Kementan mengapresiasi antusias warga Bogor hadir pada kegiatan senam pagi ini sekaligus belanja pangan murah. Selain mendapat pangan murah, masyarakat juga bisa berolahraga setiap minggunya" kata Kepala BKP Kementan Agung Hendriadi kepada pers usai senam pagi bersama.
Tampak hadir Kepala Balitbangtan, Fadjri Djufri dan Kepala Pusat Distribusi dan Cadangan Pangan BKP Kementan, Risfaheri.
Agung H mengajak Walikota Bima Arya untuk melihat langsung TTIC yang di gagas BKP, karena memberikan manfaat bagi masyarakat terutama di kota Bogor.
"Dalam waktu dekat saya akan mengajak Walikota Bogor untuk bersama-sama berolahraga sambil mempromosikan TTIC ini, agar harga pangan selalu stabil," katanya.
Kepala Pusat Distribusi dan Cadangan Pangan BKP, Risfaheri yang hadir di pagi itu, menghimbau kepada masyarakat Bogor sekitarnya agar datang ke TTIC.
"TTIC ini perlu dikembangkan dengan menarik dan dilakukan kontinyu guna mensosialisasikan keberadaan TTIC," ujar Risfaheri.
Menurut Risfaheri, kegiatan serupa diharapkan dapat di dilakukan oleh TTIC lain yang berada di 32 provinsi.
"Kalau acara seperti ini dilakukan diseluruh TTIC di Indonesia, harga pangan akan terus stabil, dan masyarakat juga semakin sehat."
Fadjry Djufri menambahkan senam bersama di TTIC Bogor hendaknya dapat menjadi kegiatan rutin setiap Minggu pagi. "Tujuannya, untuk membiasakan hidup sehat, sekaligus memperkenalkan TTIC Bogor sebagai outlet bahan pangan pokok dan strategis dengan harga terjangkau kepada warga Bogor."
Dia juga menyatakan terima kasih atas kepercayaan BKP Kementan terhadap fasilitas Litbang Perkebunan yang digunakan untuk mempermudah masyarakat mengakses pangan murah.
"Kami akan dukung sepenuhnya kegiatan ini, dan ke depan saya berharap banyak TTIC akan menjadi gerai yang akan diminati warga Bogor. Selain itu, TTIC dapat dimanfaatkan untuk sarana promosi produk Balitbangtan seperti bibit, buah dan sayuran unggul," kata Fadjry Djufri.
Bogor of West Java [B2B] - Indonesian Agriculture Ministry promotes cheap food stores, locally known as the Toko Tani Indonesia Center [TTIC] in Bogor city of West Java province, through morning exercise in the Cimanggu area to invite Bogor residents to buy staple food at affordable prices and benefit farmers.