Optimalisasi Alsintan, Penyuluh Pertanian Latih Petani Muda Belitung Timur
Indonesia`s East Belitung Farmers are Trained to Use Agricultural Machinery
Editor : M. Achsan Atjo
Translator : Dhelia Gani

PUBLISHED: Senin, 20 Mei 2019 , 02:40:00 WIB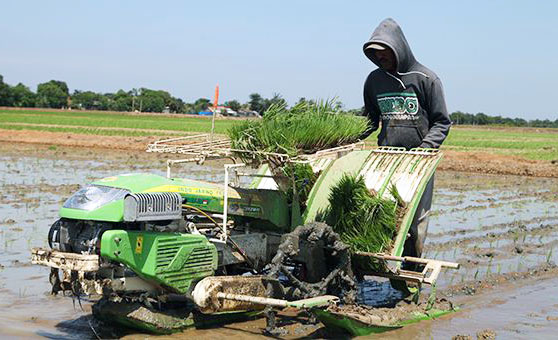 RICE TRANSPLANTER: Petani muda Belitung Timur berlatih menggunakan mesin tanam padi [rice transplanter] Foto: istimewa
Tanjung Pandan, Babel [B2B] - Penyuluh pertanian di Kabupaten Belitung Timur, Provinsi Bangka Belitung [Babel] memberi pelatihan pada petani muda untuk menggunakan alat mesin pertanian [Alsintan], khususnya mesin tanam padi [rice transplanter] sebagai bagian dari modernisasi pertanian.
Dukungan penyuluh pertanian disambut baik Sekretaris Dinas Pertanian Pemkab Belitung Timur, Trijaka Priono yang disebutnya sebagai ´langkah maju´ mengantisipasi biaya produksi dan terbatasnya tenaga kerja pertanian.
"Penggunaan rice transplanter diharapkan mendorong proses tanam lebih cepat dan hemat biaya. Hal yang paling utama adalah penanaman padi lebih teratur, populasi tanaman padi optimal, pemeliharaan lebih mudah, dan produktivitas meningkat signifikan," kata Trijaka P.
Dia optimistis penggunaan Alsintan di Belitung Timur sangat bermanfaat mendorong pencapaian target luas tambah tanam [LTT], efisiensi tenaga kerja dan biaya sehingga berdampak positif terhadap pendapatan petani.
Trijaka P menyatakan komitmennya untuk menambah jumlah unit dan optimalisasi penggunaan Alsintan sehingga dirasakan manfaatnya oleh masyarakat khususnya petani.
"Ke depan, kami harapkan terjadi peningkatan signifikan sehingga masyarakat Belitung Timur dapat merasakan manfaat dari modernisasi pertanian," katanya.
Tanjung Pandan of Bangka Belitung [B2B] - East Belitung´s agricultural extensionists in Bangka Belitung province training young farmers to use agricultural machinery, especially rice transplanter as part of agricultural modernization, according to senior regional official.
Support of agricultural extensionists was welcomed by by Secretary of East Belitung´s Agricultural Office district government, Trijaka Priono describes as the ´step forward´ anticipate production costs and and the lack of agricultural labor.
"The use of a rice transplanter is expected to encourage the planting process faster and cost effective. The main thing is more regular planting of rice, optimal rice plant population and easier maintenance," Priono said.
He is optimistic that agricultural machinery in East Belitung is very beneficial in supporting the extension of rice plants, labor efficiency and costs so that it has a positive impact on farmers´ income.
Priono stated his commitment to add units and optimize the use of agricultural machinery so that it is beneficial for farmers.
"In the future, we expect East Belitung farmers get benefit of agricultural modernization," he said.