Surplus 1,6 Juta Ton, Bulog Jatim Target Sergap 279 Ribu Ton Beras Petani
Indonesia`s East Java State Logistics Agency Ready to Buy Rice from Farmers
Editor : M. Achsan Atjo
Translator : Dhelia Gani

PUBLISHED: Rabu, 23 Januari 2019 , 02:50:00 WIB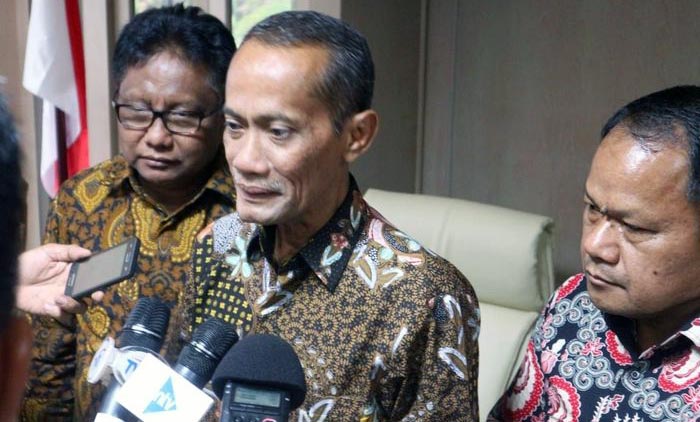 KOMITMEN BULOG: Kepala BKP Kementan, Agung Hendriadi (tengah) didampingi Sekretaris BKP Riwantoro (kanan) dan Kapus Distribusi dan Cadangan Pangan, Rishaferi pada konpers akhir tahun di Jakarta (Foto: Humas BKP)
Surabaya, Jatim (B2B) - Potensi produksi gabah kering giling (GKG) setara beras di Provinsi Jawa Timur untuk triwulan pertama 2019 diperkirakan surplus 1,6 juta ton, setelah dikurangi untuk konsumsi penduduk dari total produksi Januari hingga Maret yang mencapai 2,3 juta ton. Kementerian Pertanian menargetkan dukungan Badan Urusan Logistik (Bulog) untuk menyerap hasil panen gabah petani minimal 279.000 dari surplus produksi 1,6 juta ton.
Target tersebut dikemukakan Agung Hendriadi, Kepala Badan Ketahanan Pangan di Kementerian Pertanian RI (BKP Kementan) dan Kepala Dinas Pertanian dan Ketahanan Pangan Jawa Timur, Hadi Sulistiyo kepada Kepala Divre Bulog Jawa Timur, Muhammad Hasyim pada rapat koordinasi serapan gabah petani (Rakor Sergap) Jawa Timur, Selasa (22/1) di Surabaya, yang juga dihadiri oleh perwakilan petani dan Kepala Pusat Distribusi dan Cadangan Pangan BKP Kementan, Risfaheri.
"Jawa Timur merupakan andalan sentra produksi padi menjadi sasaran Kementan dalam pencapaian serapan gabah. Potensi produksi setara beras untuk Januari hingga Maret 2019 diperkirakan 2,3 juta ton. Kalau dikurangi kebutuhan konsumsi masih surplus 1,6 juta ton," kata Agung H.
Kepala BKP Kementan sesuai arahan Menteri Pertanian RI Andi Amran Sulaiman dan diketahui oleh Dirut Bulog, Budi Waseso, maka Bulog Divre Jatim ditarget menyerap 279.000 ton beras petani.
Hadi Sulistiyo menambahkan bahwa harga di tingkat produsen, petani maksudnya, saat ini menunjukkan tren menurun karena memasuki panen sub round-1 .
"Harga gabah kering panen atau GKP kemarin sekitar Rp5.033 per kg, namun harga di sentra-sentra produksi padi terus turun. Momentum harga gabah turun ini harus segera diantisipasi agar target Sergap tercapai," kata Hadi S.
Muhammad Hasyim menyatakan kesanggupannya untuk mengerahkan seluruh potensi di Bulog Divre Jatim untuk membeli gabah dari petani dengan harga yang disepakati.
"Bulog sudah siap. Kami sudah instruksikan ke semua subdivre di Jatim untuk membeli gabah dari petani sehingga target Sergap tercapai," katanya.
Mendengar pernyataan Hadi Sulistiyo dan Muhammad Hasyim, Agung H tampak sumringah dan menyatakan optimismenya bahwa pencapaian target Sergap Jatim akan berjalan kondusif, apalagi didukung para pemangku kepentingan khususnya dari Danrem dan Dandim di Kodam V Brawijaya yang melakukan pendampingan dan pengawalan program Sergap di Jatim.
"Di sini ada perwakilan petani atau Perpadi, dan yang terpenting jaminan pendampingan dan pengawalan petani oleh Babinsa, Dandim hingga Danrem juga hadir di sini. Siap satu komando melaksanakan tugas mulia ini," kata Agung H.
Agung H menguraikan tujuh strategi Sergap yang dilakukan Kementan dan Bulog bersama pemerintah daerah dan pihak-pihak terkait: Pertama, meningkatkan integritas pelaksana. Kedua, peningkatan customer service melalui sistem jemput bola; pemetaan informasi panen, dan gudang Bulog akan buka meski hari libur. Ketiga mempermudah kerjasama PO dengan petani. Keempat, peningkatan kesiapan anggaran pembelian gabah/beras. Kelima, pembentukan Satker Divre/Sub-Divre. Keenam, penambahan gudang operasional di lebih seribu unit. Ketujuh, penyiapan lebih dari 60 unit pengolahan gabah/beras.
Surabaya of East Java (B2B) - Potential production of dry milled grain or the GKG equivalent to rice in Indonesia´s East Java province for the first quarter of 2019 an estimated surplus of 1.6 million tons, after being reduced for population consumption from total production of January to March which reached 2.3 million tons. The Indonesian Agriculture Ministry target the Indonesian Logistics Agency or the Bulog to buy rice farmers harvest minimum of 279,000 tons.
The target was stated by Agung Hendriadi as the Director General of the Food Security Agency at the Indonesian Agriculture Ministry or the BKP and Head of the East Java Agricultural Service Office, Hadi Sulistiyo to the Head of the East Java Bulog Regional Division, Muhammad Hasyim at the East Java farmer rice production coordination meeting here on Tuesday (January 22), which was also attended by farmer representatives and Director of Food Distribution and Reserve Center, Risfaheri.
"East Java Province is a mainstay of rice production centers, which is the government´s target to support the sale of rice farmers. East Java´s rice production potential in the first quarter of 2019 is estimated to be 2.3 million tons. If reduced for consumption, there is still a surplus of 1.6 million tons," Hendriadi said.
Sulistiyo said that rice prices at the farm level are currently showing a downward trend due to entering the sub-round 1 harvest.
"The price of harvested dry grain or the GKP yesterday around IDR 5,033 per kg, but prices in rice production centers continued to fall. It should be anticipated," he said.
Hasyim said he was ready to deploy all the potential of East Java´s Bulog to buy rice from farmers at an agreed price.
"Bulog is ready. I have instructed all units in East Java to buy rice from farmers so that the Sergap target is reached," he said.
The commitment of Hadi Sulistiyo and Muhammad Hasyim made Hendriadi happy and expressed his optimism that the rice purchase target of farmers will run smoothly, especially supported by stakeholders, especially the Army in East Java who assist and escort the Sergap program in East Java.
He was outlined seven ministerial strategies with Bulog, local government and related parties: First, improve implementing integrity. Second is the increasing customer service, mapping of rice harvest information, and the Bulog warehouse remains open on holidays. Third, it is easier to buy GKG of farmers. Fourth, prepare money to purchase rice from farmers. Fifth, increase the work unit task in each regional subdivision of Bulog. Sixth, adding an operational warehouse of more than one thousand units. Seventh, preparing more than 60 GKG processing units.