Pemuda Tani Barito Timur Manfaatkan Dana Desa untuk Ternak Ayam
Indonesian Agriculture Anticipate Covid-19 by Weaker Health Systems
Editor : M. Achsan Atjo
Translator : Dhelia Gani

PUBLISHED: Minggu, 03 Mei 2020 , 02:53:00 WIB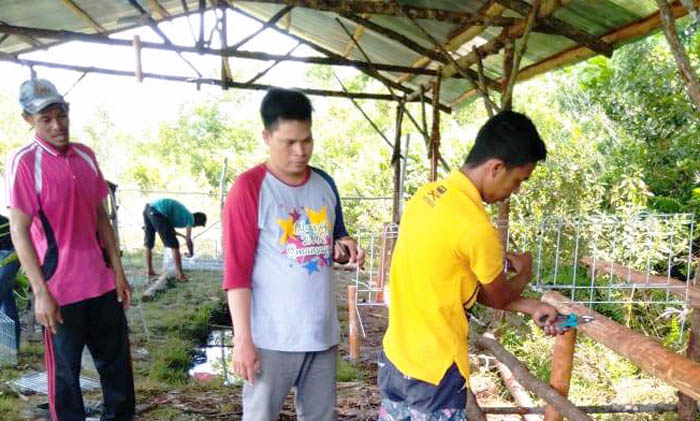 PANDEMI COVID-19: Penyuluh Anton Boan Tua Sirait dari BPP Paju Epat menggerakkan 12 pemuda tani di Desa Juru Baru memanfaatkan dana desa untuk membuat kandang, pengadaan pakan dan 200 ekor ayam petelur [Foto: Humas Pusluhtan]
Barito Timur, Kalteng [B2B] - Penyuluh dan petani di Kecamatan Paju Epat, Kabupaten Barito Timur di Provinsi Kalimantan Tengah tetap beraktifitas di tengah pandemi Covid-19 dengan mematuhi Protokol Kesehatan WHO, seperti dilakukan kelompok tani [Poktan] Juru Banu membuat kandang ayam petelur kapasitas 200 ekor.
Penyuluh pertanian Anton Boan Tua Sirait dari BPP Paju Epat menggerakkan 12 pemuda tani di Desa Juru Baru memanfaatkan dana desa untuk membuat kandang, pengadaan pakan dan 200 ekor ayam petelur.
"Kegiatan pengembangan ayam petelur ini dapat memotivasi Poktan lain utuk mengembangkan ternak serupa di Desa Juru Banu maupun Kecamatan Paju Epat," kata Anton BTS belum lama ini.
Kepala Dinas Pertanian Kabupaten Barito Timur, Riza Rahmadi mengapresiasi kinerja penyuluh Anton BTS dan pemuda tani dari Poktan Juru Banu sebagai kegiatan produktif di tengah pandemi Covid-19, dengan tetap mematuhi Protokol Kesehatan WHO.
"Pemerintah kabupaten menganjurkan penyuluh pertanian tidak hanya memberikan materi penyuluhan saja, melainkan harus mendampingi Poktan seperti membuat ternak ayam petelur. Mulai dari pembuatan kandang hingga produksi dan pemasaran telurnya," kata Riza Rahmadi.
Di kabupaten yang sama, penyuluh Siti Nurhidayah di WKPP Kelurahan Tamiang Layang, Kecamatan Dusun Timur mendampingi petani dari Poktan Sumber Hidup melakukan panen semangka.
"Hasil panen lumayan besar sekitar Rp84 juta dari lahan seluas setengah hektar yang ditanami 700 semangka, dengan hasil produksi 14 ton. Harga jual Rp6.000 per kg," kata Siti Nurhidayah.
Penyuluh pertanian pusat di Kementerian Pertanian RI, Susilo Astuti H selaku pendamping kegiatan penyuluhan pertanian Provinsi Kalimantan Tengah mengatakan kiprah kedua penyuluh sejalan dengan instruksi Menteri Pertanian RI Syahrul Yasin Limpo agar petani didampingi penyuluh pertanian tetap produktif di tengah pandemi Covid-19.
"Petani dan penyuluh dan pemangku kepentingan selama berada di lapangan wajib mengenakan masker, jaga jarak, hindari kerumunan dan sering cuci tangan pakai sabun untuk menangkal Corona," pesan Kepala BPPSDMP Kementa, Prof Dedi Nursyamsi.
Kepala Pusat Penyuluhan Pertanian [Pusluhtan BPPSDMP] Leli Nuryati mengapresiasi dukungan penyuluh pertanian yang setia mendampingi petani di lapangan.
"Pangan berperan penting untuk memenuhi kebutuhan dasar manusia sekaligus menjaga stabilitas nasional di tengah krisis Covid-19," kata Leli Nuryati. [Liene]
East Barito of Central Borneo [B2B] - Indonesia´s Agriculture Ministry is in intensive care after testing positive for the novel coronavirus, as civil servants in head office and across the country were ordered to close over the health threat. The World Health Organization has said it is particularly concerned about high-risk nations with weaker health systems, which who may lack the facilities to identify cases.