Tiga Fungsional BPPSDMP Sinergi Ikuti TOT Pengelolaan Kesuburan Lahan
Indonesian Agriculture Ministry Asked Farmers to Maintain Soil Fertility
Reporter : Gusmiati Waris
Editor : Cahyani Harzi
Translator : Dhelia Gani

PUBLISHED: Jum'at, 13 Maret 2020 , 02:54:00 WIB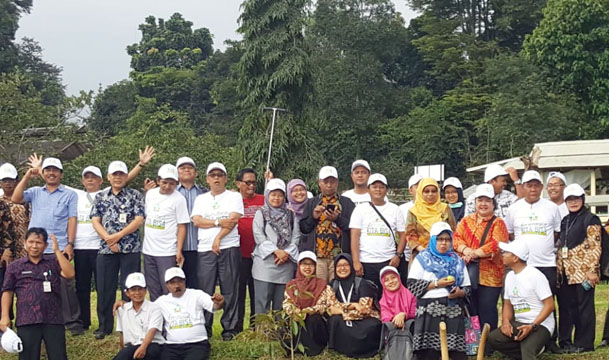 SINERGI FUNGSIONAL: Materi meliputi pemupukan berimbang sebagai dasar penetapan rekomendasi pemupukan sawah; pengenalan aneka pupuk; pengambilan contoh tanah; dan penggunaan perangkat uji. [Foto2: Humas Pusluhtan]
Bogor, Jabar [B2B] - Tiga fungsional BPPSDMP Kementan - penyuluh pertanian, dosen dan widyaiswara - mengikuti training on trainer [TOT] pengelolaan kesuburan lahan di PPMKP Ciawi, 9 - 10 Maret 2020, yang dinyatakan oleh Kepala BPPSDMP Prof Dedi Nursyamsi sebagai sinergi mendukung pencapaian target KostraTani melalui Integrated Participatory Development and Managemen of Irigation Project [IPDMIP] pada 362 balai penyuluhan pertanian [BPP] di 67 kabupaten dari 16 provinsi.
"KostraTani membutuhkan dukungan penyuluh, dosen dan widyaiswara yang profesional, pintar dan gesit. Jadilah eksekutor yang hebat. Percuma punya peluru tajam, kalau tidak ada yang menembaknya. Ada varietas unggul, kalau tidak didukung pengelolaan kesuburan lahan atau pupuk berkualitas, tidak akan tercapai produksi yang tinggi," kata Prof Dedi Nursyamsi saat membuka Bimtek TOT Pengelolaan Kesuburan Lahan bagi Fungsional BPPSDMP Kementan mendukung Program PDMIP di Ciawi, Jabar pada Senin [9/3].
Menurutnya, pengelolaan kesuburan lahan sangat penting, karena merupakan variabel kunci untuk semua tanaman maka Bimtek TOT bertujuan membekali penyuluh pertanian dan penyuluh swadaya dengan keterampilan penggunaan perangkat uji tanah sawah [PUTS], perangkat uji tanah rawa [PUTR], perangkat uji pupuk [PUP] yang telah dibagikan kepada BPP di wilayah Proyek IPDMIP pada 2019.
"Proyek IPDMIP telah membagikan perangkat pendukung untuk pengelolaan kesuburan lahan. Bagaimana untuk memanfaatkan perangkat tersebut, kita tidak bisa mengandalkan kepada peneliti saja, karena peneliti tugasnya melakukan penelitian," kata Dedi Nursyamsi yang didampingi Kepala Pusat Penyuluhan Pertanian [Pusluhtan BPPSDMP] Leli Nuryati.
Leli Nuryati mengatakan bahwa KostraTani sebagai pusat gerakan pembangunan pertanian di kecamatan memerlukan pengetahuan tentang pengelolaan kesuburan lahan, untuk mendukung pencapaian tujuan pembangunan pertanian khususnya penyediaan pangan bagi 267 juta penduduk.
"Target utama dari KostraTani adalah meningkatkan kesejahteraan petani, peningkatan produktivitas hasil produksi dan ekspor komoditas pertanian yang hanya dapat dicapai oleh dukungan SDM profesional, mandiri, kuat dan berdaya saing," kata Leli Nuryati.
Bimtek TOT menghadirkan narasumber Kepala Balai Penelitian Tanah, Ladiyani Retno Widowati dan Nurjaya MP dibantu Mulyadi untuk kegiatan praktiknya. Sementara materinya meliputi pemupukan berimbang sebagai dasar penetapan rekomendasi pemupukan sawah dan pengenalan Agri DSS; pengenalan aneka pupuk; pengambilan contoh tanah; tata cara penggunaan PUTS, PUTR dan PUP. [Yulia TS]
Bogor of West Java [B2B] - Indonesian Agriculture Ministry encourages and supports rice farmers to maintain the biological nature and structure of the land through proper and correct use of fertilizers and pesticides, according to according to senior official of the ministry.