No LockDown, Mentan SYL Pastikan Stok Pangan Aman #PertanianTidakBerhenti
Indonesian Govt Anticipate COVID-19 by Weaker Health Systems
Reporter : Gusmiati Waris
Editor : Cahyani Harzi
Translator : Dhelia Gani

PUBLISHED: Sabtu, 04 April 2020 , 02:59:00 WIB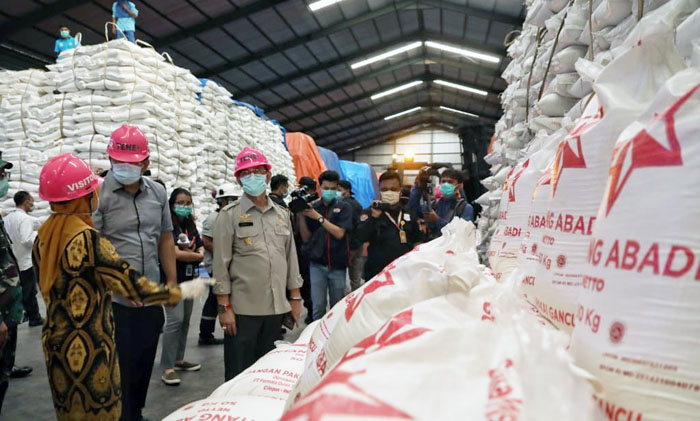 PANTAU STOK PANGAN: Mentan SYL, ""Tidak perlu kita melakukan lockdown untuk memutus penyebaran virus Corona. Langkah itu menurut saya hanya akan menghambat distribusi pangan ke sejumlah daerah" [FotoL
Jakarta [B2B] - Sebelas bahan pangan pokok dipastikan aman untuk kebutuhan Ramadan dan Lebaran 2020 di tengah intaian virus Corona. Keraguan sejumlah pihak atas kelangkaan stok pangan akibat Covid-19 dijawab Menteri Pertanian Syahrul Yasin Limpo [SYL] dengan memastikan persediaan beras overstock hingga empat juta ton. Sementara April 2020 memasuki panen raya sebanyak delapan juta ton, begitu pula stok gula terus diproduksi untuk mememuhi kebutuhan konsumen.
Kementerian Pertanian RI menyodorkan data perkiraan pasokan ketersediaan pangan strategis nasional untuk Maret hingga Agustus 2020. Ketersediaan beras mencapai 25,65 juta ton, kebutuhan 15,09 juta ton; jagung 13,74 juta ton, kebutuhan 9,09 juta ton; bawang merah 1,06 juta ton, kebutuhan 701.482 ton; cabai besar 657.467 ton, kebutuhan 551.261 ton;daging ayam ras 2,06 juta ton, kebutuhan 1,73 juta ton; minyak goreng 23,39 juta ton, kebutuhan 4,41 juta ton.
"Beras kita sudah over stock sekitar 4 juta ton. Kemudian bulan ini kita panen raya sekitar 8 juta ton. Lalu ada juga stok gula yang terus diproduksi. Jadi tidak perlu khawatir dengan kebutuhan bahan pokok. InsyaAllah semua dalam kendali," kata Menteri Pertanian RI Syahrul Yasin Limpo [SYL] di Cilegon, Banten pada Kamis [2/4].
Menurutnya, pangan adalah kebutuhan pokok yang tidak boleh diabaikan, pemerintah meminta semua pihak menahan diri dan tidak melakukan hal-hal di luar kebijakan pemerintah pusat.
"Tidak perlu kita melakukan lockdown untuk memutus penyebaran virus Corona. Langkah itu menurut saya hanya akan menghambat distribusi pangan ke sejumlah daerah dan akan berujung pada kelangkaan kebutuhan pokok bagi masyarakat," kata Mentan SYL.
Dikatakan, dalam situasi seperti ini distribusi pangan harus menjadi kepentingan bersama agar tidak terjadi kelangkaan yang berujung pada kepanikan. Dalam hal ini, baik pemerintah maupun masyarakat harus bersatu dan saling menjaga situasi negara agar tetap kondusif.
"Kalau sudah menyangkut pangan, seharusnya tidak ada isolasi, yang ada adalah distribusi. Memang Corona membuat ekonomi menurun. Tapi harus ingat, satu satunya lapngan kerja yang tersedia adalah pertanian. Jadi janganlah kita melakukan lockdown atau isolasi," katanya.
Di lokasi yang sama, Anggota Komisi IV DPR RI, Nur Aini mendukung upaya Kementan memenuhi kebutuhan masyarakat melalui peningkatan produksi dan percepatan pola tanam dengan menggunakan teknologi mekanisasi.
"Saya optimis bahwa sebelas kebutuhan dasar kita tetap terjamin aman dan terkendali sampai Ramadhan dan Lebaran. Sekali lagi saya mendukung upaya Kementan menggenjot produksi dan percepatan pola tanam," kata Nur Aini.
Jakarta [B2B] - Indonesia´s Agriculture Ministry is in intensive care after testing positive for the novel coronavirus, as civil servants in head office and across the country were ordered to close over the health threat. The World Health Organization has said it is particularly concerned about high-risk nations with weaker health systems, which who may lack the facilities to identify cases, according to official of the region.