41 Kabupaten, Kadin Apresiasi Kementan Kembangkan Lumbung Pangan di Perbatasan
Indonesia Developing Agricultural Potential in the Border Region
Reporter : Kevin Cesario
Editor : Cahyani Harzi
Translator : Dhelia Gani

PUBLISHED: Rabu, 17 Juli 2019 , 02:07:00 WIB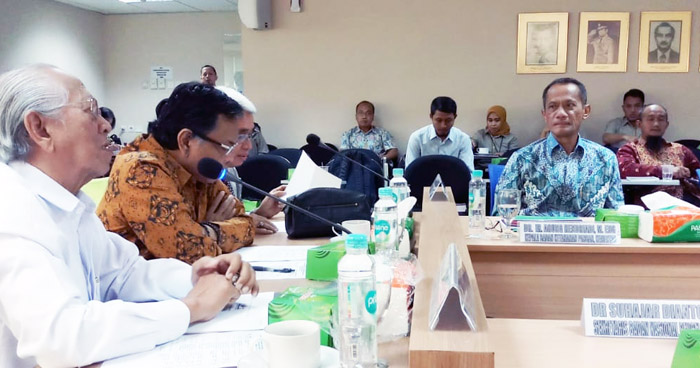 FOCUS GROUP DISCUSSION: Kepala BKP Kementan, Agung Hendriadi [depan kanan] dan Ketua Komite Tetap Agribisbis Kadin, Andi Bachtiar Sirang [batik coklat, kiri] pada FGD Kadin [Foto: Humas BKP Kementan]
Jakarta [B2B] - Pemerintah RI mengembangkan ´lumbung pangan berorientasi ekspor´ di wilayah perbatasan sebagai gerbang ekspor ke negara-negara tetangga dan meningkatkan kesejahteraan rakyat di wilayah terluar NKRI, sesuai instruksi Presiden RI Joko Widodo kepada Kementerian Pertanian RI untuk ´membangun dari pinggiran´ demi mendorong pertumbuhan ekonomi. Kebijakan tersebut diapresiasi oleh Kamar Dagang dan Industri Indonesia [Kadin] untuk pemenuhan pangan dan kesejatehraan masyarakat.
Mengacu pada Grand Design Pengelolaan Batas Wilayah Negara dan Kawasan Perbatasan 2011 - 2025 yang diterbitkan Badan Nasional Pengelolaan Perbatasan, Kementan telah menyiapkan grand design untuk membangun lumbung pangan berorientasi ekspor di wilayah perbatasan yang mencakup 147 kecamatan dari 41 kabupaten/kota pada 13 provinsi di seluruh Indonesia.
Ketua Komite Tetap Agribisbis Kadin, Andi Bachtiar Sirang mengapresiasi kinerja Kementan mengingat wilayah perbatasan Indonesia relatif tertinggal dari wilayah lain, karena faktor geografis dan keterbatasan infrastruktur pendukung, khususnya dari aspek sosial ekonomi masyarakat.
"Apa yang sudah dirintis dan dikembangkan Kementan ini sangat bagus dan strategis, tidak hanya dalam mencukupi pangan bagi masyarakat di wilayah perbatasan, juga menjadikan arah yang jelas dalam menungkatkan kesejahteraan bagi masyarakat dipinggiran," kata Bachtiar Sirang pada Kepala Badan Ketahanan Pangan Kementerian Pertanian [BKP Kementan] Agung Hendriadi mewakili Mentan Amran Sulaiman pada Focus Group Discussion (FGD) di kantor Kadin di Jakarta, belum lama ini.
Agung Hendriadi mengatakan sesuai NawaCita dan Pembangunan Jangka Panjang Nasional yang dimulai dari pinggiran, pembangunan wilayah perbatasan menjadi prioritas dan menjadi bagian integral yang menjadi beranda terdepan NKRI. Membangun Lumbung Pangan Berorientasi Ekspor di Wilayah Perbatasan harus dikaitkan dengan upaya peningkatkan ketahanan pangan nasional, mendorong pertumbuhan ekonomi, dan mengurangi kesenjangan kesejahteraan antarwilayah.
"Fokus utama pengembangan lumbung pangan di wilayah perbatasan adalah meningkatkan produksi pangan dan pertanian agar mampu mencukupi kebutuhan penduduk setempat dan daerah lain di Indonesia, bahkan diekspor ke negara tetangga, terutama Malaysia, Singapura, Brunei, Filipina, Papua Nugini, dan Timor Leste," kata Kepala BKP Kementan.
Jakarta [B2B] - Indonesian government developing an ´export-oriented food barn´ in the border region as an export gateway to neighboring countries and improve people´s welfare in Indonesia´s outer regions, according to President Joko Widodo´s instructions to the Agriculture Ministry to develop agriculture in the border region. The policy was appreciated by Indonesian Chamber of Commerce and Industry [Kadin] to meet food needs and people´s welfare.