Pemerintah India Apresiasi Studi Banding Penyuluh dan Petani RI di New Delhi
Indonesian farmers and Extensionists were Welcomed by Indian Govt
Editor : M. Achsan Atjo
Translator : Dhelia Gani

PUBLISHED: Jum'at, 21 Juni 2019 , 02:09:00 WIB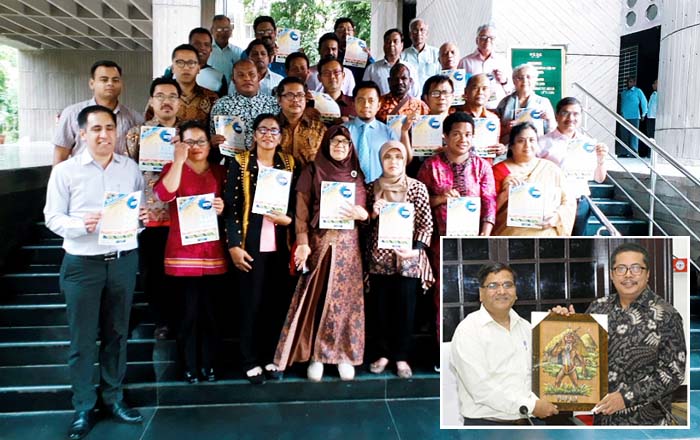 KOMUNIKASI INTENSIF: Peserta studi banding ke India usai bertemu sejumlah pejabat sektor pertanian di New Delhi, Dr Harmanto dan Joint Director IARI, Dr JP Sharma [kiri, inset foto] Foto2: Humas Pusluhtan BPPSDMP
New Delhi, India [B2B] - Pemerintah, lembaga riset, dan otoritas terkait pada sektor pertanian India menyambut baik dan mengapresiasi inisiasi Menteri Pertanian RI Andi Amran Sulaiman mendukung kegiatan studi banding tujuh penyuluh pertanian dan dua petani milenial di India selama enam hari, 15 Juni hingga hari ini. Studi banding dipimpin oleh Dr Hermanto, peneliti senior dari Pusat Sosial Ekonomi dan Kebijakan Pertanian Kementan, didampingi pihak terkait dari Kedutaan Besar RI [KBRI] New Delhi sebagai fasilitator.
Direktur Penyuluhan Pertanian India pada Departemen Pertanian dan Kesejahteraan Petani, Shri Arun Kumar menyambut hangat dan mengapresiasi audiensi sembilan peserta studi banding dan rombongan di kantornya di New Delhi, Selasa [19/6], dengan memaparkan kebijakan dan program pengembangan sistem penyuluhan pertanian modern yang telah dan sedang dilaksanakan di India.
Shri Arun Kumar sebagai pejabat tinggi di Kementerian Pertanian India mengharapkan kehadiran ketujuh penyuluh dan dua petani didampingi pejabat terkait dari Pemerintah RI membuka komunikasi dan kerjasama kedua negara di sektor pertanian, khususnya penyuluhan sebagai ´penentu keberhasilan´ mendukung kinerja petani sebagai produsen pangan.
"India mengharapkan adanya komunikasi intensif dan pertukaran informasi menyangkut penyuluhan pertanian kedua negara secara khusus, dan sektor pertanian secara umum untuk kepentingan petani sebagai produsen pangan utama," kata Shri Arun Kumar seperti dikutip Pusluhtan BPPSDMP Kementan yang dilansir Bidang Penyelenggaraan Penyuluhan - Pusluhtan.
Kunjungan berikutnya di New Delhi adalah Institut Penelitian Pertanian India (IARI) dan diterima oleh Joint Director IARI, Dr JP Sharma di kantornya, dan berkesempatan memaparkan aneka inovasi teknologi yang telah dihasilkan IARI dan dimanfaatkan untuk kepentingan petani India.
Sebagaimana diketahui, IARI adalah institut nasional utama di India untuk riset pertanian, pendidikan dan penyuluhan. Didirikan pada 1905 sebagai Institut Penelitian Pertanian Imperial awalnya berlokasi di Pusa, Samastipur, Bihar, namun setelah gempa bumi Bihar pada 1934, kemudian pindah ke New Delhi dan kini dikenal sebagai Pusa di New Delhi. Saat ini, IARI fokus pada penelitian, inovasi teknologi tepat guna dan pengembangan SDM pertanian India.
Kunjungan berikutnya di New Delhi, seperti dilaporkan Welly Nugraha mewakili Pusluhtan BPPSDMP, adalah National Seeds Corporation Limited [NSC] yang diterima oleh Direktur NSC, Sh. Vinod Kumar Gaur dan memberi kesempatan kepada 15 peserta kunjungan di India untuk meninjau fasilitas laboratorium NSC dan mengenal tata kelola untuk menghasilkan benih bersertifikat di NSC.
"NSC merupakan badan usaha milik pemerintah India yang berwenang memproduksi kebutuhan benih tanaman untuk petani India melalui kerjasama dengan para penangkar benih setempat," kata Welly Nugraha.
Kunjungan terakhir dari hari pertama di New Delhi adalah Otoritas Pengembangan Pangan Olahan dan Komoditas Ekspor India [APEDA] sebagai lembaga di bawah Kementerian Perdagangan dan Perindustrian yang khusus menangani pengembangan industri pengolahan pangan dan komoditas ekspor. [Liene]
New Delhi of India [B2B] - Indian government, research institutions, and relevant authorities in agricultural sector welcomed and appreciated the initiation of Indonesian Agriculture Minister Andi Amran Sulaiman support the comparative study of agricultural extensionists and farmers in India for six days, 15 to June 21, 2019. The comparative study was led by Dr Hermanto, senior Indonesian agricultural researcher and related parties of the Indonesian Embassy in New Delhi as the facilitator.