Penyuluh Gorontalo Dampingi Petani Sipatana Tanam Padi Nutrizink
Indonesian Govt will Deploy Agriculture Extension Support the Farmers
Editor : Kemal A Praghotsa
Translator : Dhelia Gani

PUBLISHED: Kamis, 04 Februari 2021 , 03:13:00 WIB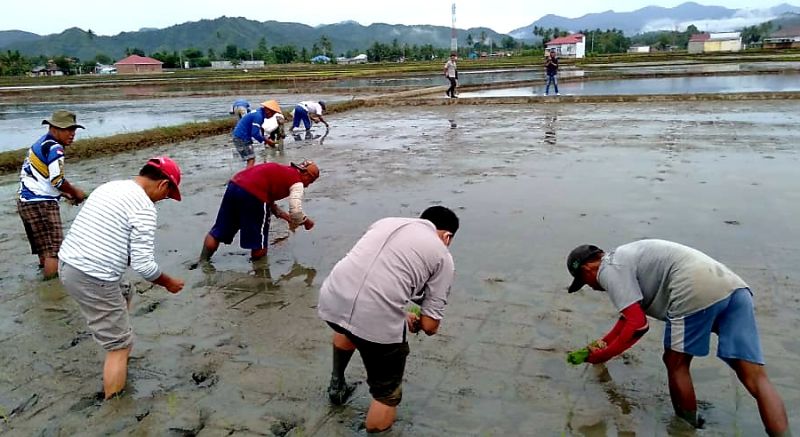 INOVASI TEKNOLOGI: Para petani melakukan penanaman padi varietas nutrizink di lahan seluas satu hektare [Foto: Kementan]
Gorontalo [B2B] - Para petani yang tergabung dalam kelompok tani [Poktan] Tumba, Desa Bulotadaa Timur, Kecamatan Sipatana, Melakukan penanaman padi varietas nutrizink di dampingi penyuluh serta melibatkan Balai Pengkajian Teknologi Pertanian [BPTP] Gorontalo di lahan seluas satu Ha, pada Senin [25/1].
"Dengan kerja sama, kita manfaatkan teknologi yang lebih baik, memanfaatkan sains dan riset yang lebih kuat sehingga bisa menghadirkan kemampuan-kemampuan kita serta mampu ber-swasembada," kata Menteri Pertanian RI Syahrul Yasin Limpo.
Hal senada dikemukakan Kepala Badan Penyuluhan dan Pengembangan Sumber Daya Manusia Pertanian [BPPSDMP] Dedi Nursyamsi dalam kondisi saat ini masyarakat Indonesia semua membutuhkan ketersediaan pangan.
"Dampak pandemi Covid-19 memang mempengaruhi perekonomian bangsa, namun tidak halnya dengan pertanian. Pertanian justru harus semakin kuat dan terus berinovasi di saat kondisi sekarang ini agar terhindar dari stunting," kata Dedi Nursyamsi.
Teknologi yang diterapkan pada lahan pendampingan ini menggunakan varietas unggul baru (VUB) Inpari Nutri Zinc yang memiliki beberapa keunggulan. Diantaranya, tahan hama WBC biotipe (1 dan 2), tahan penyakit blas (ras 0.33, 0,73, dan 133), potensi hasil 9,98 ton/ha, serta keunggulan khusus yaitu memiliki rata-rata kandungan Zn 29, 54 ppm. Yang disebutkan terakhir ini diharapkan dapat berperan mengatasi kekurangan gizi Zn yang menjadi salah satu penyebab stunting.
Kepala BPTP Gorontalo Amin Nur mengatakan bahwa sudah menjadi tugas bersama melakukan penderasan inovasi teknologi tepat guna spesifik lokasi.
"Melalui display teknologi ini diharapkan petani dapat mencontoh dan menerapkan teknologi untuk meningkatkan produktivitas dan kesejahteraan petani sekaligus mengatasi kekurangan gizi Zn sebagai salah satu penyebab stunting," kata Amin Nur.
Kegiatan ini juga dihadiri oleh pejabat setempat dan ketua brigade tanam.
Selain penggunaan VUB, pada lahan ini juga diterapkan penanaman dengan jumlah bibit 1-3 batang per lubang [titik tanam]. Hal ini dimaksudkan untuk menghindari kompetisi, agar bibit dapat menghasilkan jumlah anakan dengan pertumbuhan optimal. Selain hal tersebut meminimalkan penggunaan jumlah bibit, sebab jika per lubangnya lebih banyak [>3 bibit per lubang], akan memerlukan benih yang lebih banyak pula.
Selanjutnya, penggunaan pupuk dilakukan secara berimbang dengan pupuk organik.
Gorontalo [B2B] - Indonesian government in the next five years prioritizes the development of human resources that are ready to face globalization in the era of industrialization 4.0, carry out its role to develop millennial farmers who understand information and communication technology, according to the senior official of the agriculture ministry.