Corona Intai NTT, KostraTani Flores Timur Jaga Demplot Padi IR Nutri Zinc
Indonesia`s Agricultural Extensionists must Support Agriculture Modernization
Editor : M. Achsan Atjo
Translator : Dhelia Gani

PUBLISHED: Minggu, 29 Maret 2020 , 03:14:00 WIB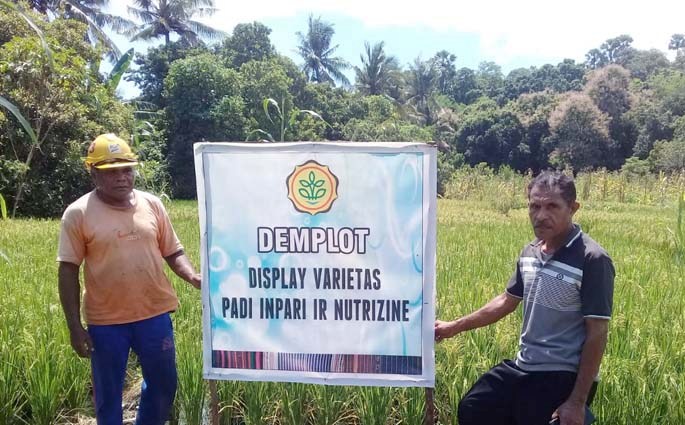 TEKAN STUNTING: Penyuluh pertanian dari BPP Nusa Tandon turun ke lapangan dengan tetap mematuhi Protokol Kewaspadaan tangkal virus Corona [Foto: Pusluhtan BPPSDMP]
Flores Timur, NTT [B2B] - Setengah bulan lagi panen, penyuluh dari balai penyuluhan pertanian [BPP] Nusa Tandon di Kabupaten Flores Timur, Provinsi Nusa Tenggara Timur [NTT] rutin menjaga demo tanam padi atau demonstration plotting [Demplot] dari varietas Inpari - IR Nutri Zinc kaya Zn, nutrisi untuk mengatasi kekerdilan [stunting] meskipun ancaman virus Corona [Covid-19] mengintai NTT saat ini.
Penyuluh BPP Nusa Tandon selaku KostraTani berupaya melaksanakan instruksi Menteri Pertanian RI Syahrul Yasin Limpo [SYL] untuk tetap bekerja di lapangan seraya melaksanakan Protokol Kewaspadaan virus Corona. Sosialisasi tangkal Covid-19 dilakukan Kepala BPPSDMP Prof Dedi Nursyamsi didukung Kepala Pusat Penyuluhan Pertanian [Pusluhtan] Leli Nuryati untuk memastikan SDM pertanian di lapangan patuhi jaga jarak [social distance].
Sebagaimana diberitakan, saat ini sekitar 186 warga NTT berstatus Orang Dalam Pemantauan [ODP] Covid-19, dari jumlah tersebut, 21 orang sudah rampung dipantau dan saat ini 11 orang masih menjalani perawatan medis di rumah sakit sementara 165 orang lainnya menjalani isolasi mandiri di rumah masing-masing, seperti dilaporkan Karo Humas dan Protokol Setda Provinsi NTT, Marius Ardu Jalemu.
Demplot IR Nutri Zinc dilakukan penyuluh BPP Nusa Tandon bertujuan mendorong replikasi oleh petani menghasilkan beras dengan kandungan Zn sekitar 34,51 ppm sementara varietas Ciherang hanya 24,06 mm seperti direkomendasikan Keputusan Menteri Pertanian RI [Kepmentan] untuk mendukung program pemerintah menekan kelahiran stunting di Indonesia.
Pengembangan Demplot diawali persemaian benih sesuai rekomendasi Kepmentan. Jarak tanam 25 x 25 cm. Pupuk urea 35 Kg untuk pupuk dasar dikombinasi pupuk organik cair Nasa sekitar 500 ml secara bertahap.
Pernyataan tertulis Pusluhtan BPPSDMP menyatakan kondisi tanaman sampai saat ini dalam kondisi baik, karena penyuluh tetap menjaga tanaman dari serangan hama. Kegiatan panen dijadwalkan pada 15 April, selanjutnya pemindahan dari lahan persemaian ke pertanaman mengacu pada pengalaman petani dan kondisi setempat.
"Demplot adalah metode penyuluhan pertanian kepada petani, dengan cara membuat lahan percontohan agar petani dapat melihat dan membuktikan objek yang didemontrasikan. Demplot bisa berupa inovasi teknologi budidaya, varietas unggul baru disingkat VUB, pemupukan dan lainnya disesuaikan demografi wilayah," kata Kasubbid Informasi dan Materi Penyuluhan - Pusluhtan BPPSDMP Kementan, Septalina Pradini.
East Flores of East Nusa Tenggara [B2B] - Indonesian agricultural extensionist workers are expected to encourage farmers to do demonstration plotting through mentoring activities by training farmers, especially rice transplants, then reporting performance every day according to senior official of the ministry.