Kepala BKP Kementan Dorong Percepatan Sergap Nasional
Indonesia`s Bulog is Urged to Accelerate Buy Rice of Farmers
Editor : M. Achsan Atjo
Translator : Dhelia Gani

PUBLISHED: Kamis, 20 Juni 2019 , 03:24:00 WIB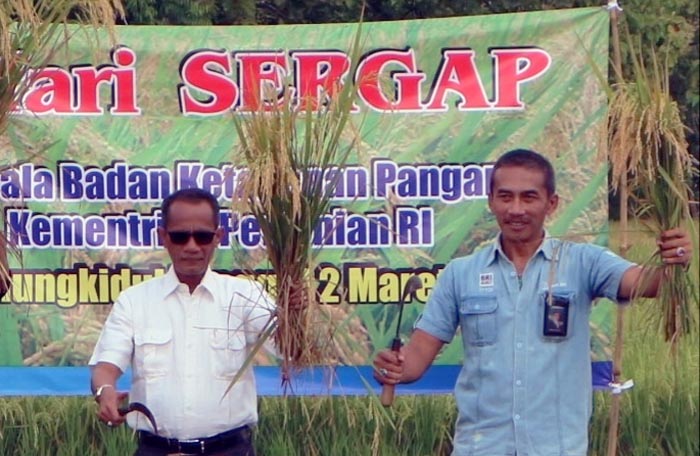 Kepala BKP Kementan, Agung Hendriadi [kiri] melakukan panen raya [Foto: Humas BKP Kementan]
Bogor, Jabar [B2B] - Badan Ketahanan Pangan [BKP] Kementerian Pertanian [Kementan] menggelar rapat koordinasi serapan gabah/beras petani [Rakor Sergap] di Bogor, Rabu [19/6]. Rakor yang dipimpin Kepala BKP Agung Hendriadi dan Direktur Pengadaan Perum Bulog Bachtiar serta dihadiri para kepala divisi regional Bulog, kepala dinas pangan provinsi, serta penanggung jawab Sergap provinsi.
Rakor Sergap bertujuan untuk mengevaluasi kegiatan Sergap yang dilakukan sejak Januari - Juni 2019, dan upaya percepatan yang akan dilakukan sampai akhir 2019.
Menurut Agung, hingga saat ini realisasi Sergap baru mencapai 37% dari target Januari - Desember 2019 sebesar 1,8 juta ton.
"Untuk meningkatkan persentase capaian Sergap, saya mengharapkan Bulog melakukan penyerapan di wilayah yang potensi panennya masih cukup besar," kata Agung.
Ditambahkan Agung, berdasarkan data potensi panen bulan Juli mendatang akan cukup banyak panen di beberapa wilayah.
"Bulog harus melakukan penyerapan berdasarkan potensi tersebut, agar target serapan dapat tercapai" tegas Agung.
Direktur Pengadaan Perum Bulog, Bachtiar menyampaikan bahwa jajarannya telah menyiapkan beberapa strategi baik jangka pendek dan menengah untuk mendorong percepatan pengadaan gabah/beras sampai akhir tahun 2019.
"Strategi jangka pendek ini kita lakukan melalui optimalisasi satker dan sinergi dengan instansi terkait. Untuk jangka menengah kita upayakan melalui peningkatan pengadaan dalam bentuk gabah, menyusun bisnis model pengadaan, dan kerjasama dengan BUMN Perbankan dan BUMN Pertanian untuk penyediaan permodalan dan Saprodi," jelas Bachtiar.
Rakor Sergap juga dihadiri oleh Kadivre Bulog beserta Kepala Dinas Pangan Provinsi dari 10 provinsi sentra padi yaitu Sumatera Utara, Lampung, Sumatera Selatan, Jawa Barat, Jawa Tengah, DI Yogyakarta, Jawa Timur, Kalimantan Selatan, Sulawesi Selatan, dan Nusa Tenggara Barat.
Kepada peserta Rakor, Agung berharap sinergi antara BKP Kementan dengan Perum Bulog dapat terus dijaga dalam upaya bersama mewujudkan ketahanan pangan nasional.
"BKP dan Bulog memiliki visi yang sama untuk menjaga ketahanan pangan, baik dalam upaya menjaga ketersediaan dan kecukupan pangan, serta menjaga kondisi dan stabilitas harga pangan" pungkas Agung.
Meskipun sampai saat ini serapan baru mencapai 37%, Perum Bulog tetap optimis sergap tahun 2019 dapat tercapai mengingat potensi panen sampai akhir tahun masih banyak.
"Kami optimis target pengadaan beras tahun 2019 sekitar 1,8 juta ton dapat tercapai", pungkas Bachtiar.
Bogor of West Java [B2B] - Directorate General of Indonesian´s Food Resilience of Agriculture Ministry [BKP Kementan] Agung Hendriadi chaired coordination meeting of the purchase of rice farmers [Rakor Sergap] by the Indonesian Logistics Agency [Bulog] and Director of Procurement Bulog, Bachtiar and was attended by the heads of the Bulog regional division and the head of the provincial agriculture office.
The Sergap coordination meeting aims to evaluate the Sergap activities carried out from January to June 2019, and the acceleration will be carried out until the end of 2019.