Penyuluhan dan Peran Swasta Sorotan Utama Sidang AWGATE ke-26
ASEAN will Involve the Private Sector in Agricultural Extension
Editor : M. Achsan Atjo
Translator : Dhelia Gani

PUBLISHED: Rabu, 03 Juli 2019 , 03:38:00 WIB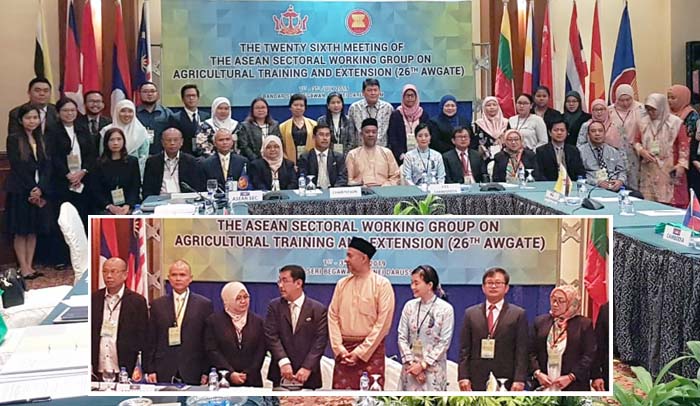 ANGGOTA ASEAN: Kepala Pusluhtan BPPSDMP Kementan, Siti Munifah [duduk ke-3 kanan] bersama peserta AWGATE ke-26 yang dihadiri perwakilan 10 negara anggota ASEAN [Foto2: Humas Pusluhtan]
Brunei Darussalam [B2B] - Pelibatan swasta dan modernisasi pertanian untuk meningkatkan peran generasi muda melalui penyuluhan dan pelatihan pertanian menjadi sorotan utama Sidang ke-26 ASEAN Working Group on Agricultural Training and Extension (AWGATE) yang berlangsung 1 - 3 Juli 2019 di Bandar Seri Begawan, Brunei Darussalam.
Kepala Pusat Penyuluhan Pertanian [Pusluhtan BPPSDMP Kementan] Siti Munifah memimpin delegasi RI pada Sidang ke-26 AWGATE yang dibuka oleh pejabat senior Brunei, Pengiran Haji Kmalrudzaman bin Pengiran Haji Mohd Ishak selaku Permanent Secretary of Primary Resources and Tourism. Dilanjutkan serah terima host country dari Vietnam yang diwakili Ha Thuy Hanh kepada Hj Rusli Bin Haji Safar, sebagai Timbalan Pengarah Pertanian Brunei Darussalam.
"Selanjutnya agenda seluruh anggota ASEAN adalah menetapkan jadwal kegiatan, jumlah peserta, dan tema agenda yang ditawarkan di antara negara anggota ASEAN," kata Siti Munifah pada Sidang AWGATE ke-26 yang dipimpin oleh Hj Suria Binti Zainuddin.
Menurutnya, Indonesia akan mengikuti sejumlah kegiatan pelatihan yang terkait peran generasi muda petani di beberapa negara anggota ASEAN, mengingat Indonesia memiliki sejumlah petani muda dan duta untuk Asean Youth Social Entrepreneur Indonesia.
Kepala Pusluhtan mengusulkan tema agenda 2019 adalah pelatihan dan lokakarya tentang ´Peran Penyuluhan Pertanian Memperkuat Sistem Inovasi Pertanian atau Training and Workshop on The Role of Agricultural Extension in Reinforcing Agricultural Innovation System (AIS) yang akan diadakan di Yogyakarta pada minggu kedua September 2019.
"Sebagian besar negara anggota ASEAN sepakat mengirimkan beberapa perwakilan untuk mengikuti pelatihan dan lokakarya tersebut," kata Siti Munifah yang hadir di Brunei didampingi Kepala Bidang Program dan Kerjasama - Pusat Pelatihan Pertanian [Puslatan] Zahron Helmy.
Siti Munifah juga menyampaikan informasi dan mengundang negara anggota ASEAN untuk menghadiri Pekan Nasional Kontak Tani Nelayan Andalan ke-16 (Penas 2020) di Kota Padang, Provinsi Sumatera Barat.
"Sebagian besar peserta AWGATE ke-26 menyatakan kesediaan mengikuti Penas ke-16 di Padang," katanya. [Smf]
Brunei Darussalam [B2B] - The involvement of private and agricultural modernization to enhance role of younger generation through agricultural extention and training became the main focus of the ASEAN Sectoral Working on Agricultural Training and Extention [26th AWGATE] in Bandar Seri Begawan, Brunei Darussalam, 1 to July 3rd, 2019.