Hari Tanah Sedunia 2019, Kementan Percepat Hilirisasi Inovasi Teknologi Balitbangtan
Indonesian Agriculture Ministry Commemorates World Soil Day in Bogor
Editor : M. Achsan Atjo
Translator : Dhelia Gani

PUBLISHED: Rabu, 04 Desember 2019 , 03:28:00 WIB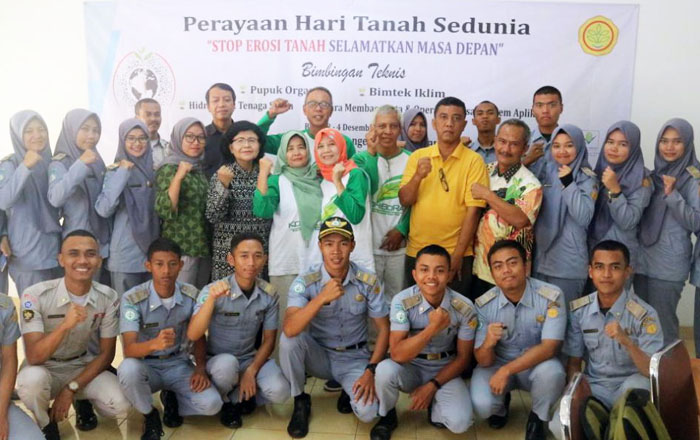 KONTES DAN BIMTEK: Petani, penyuluh, peneliti, pelajar dan mahasiswa berpartisipasi pada perayaan Hari Tanah Sedunia 2019 yang digelar oleh Balitklimat BBSDLP - Balitbangtan di Bogor [Foto: Humas Pusluhtan/Septalina P]
Bogor, Jabar [B2B] - ´Stop Erosi Tanah, Selamatkan Masa Depan´ dipilih Kementerian Pertanian RI sebagai tema perayaan Hari Tanah Sedunia 2019 [World Soil Day] yang berlangsung tiga hari [3 - 5 Desember 2019] di Balai Penelitian Tanah dan Balai Penelitian Agroklimat dan Hidrologi [Balitklimat] di Cimanggu Bogor, Jabar. Tujuan kegiatan untuk mempercepat hilirisasi inovasi teknologi Badan Penelitian dan Pengembangan Pertanian [Balitbangtan].
Menteri Pertanian RI, Syahrul Yasin Limpo dijadwalkan menghadiri puncak perayaan Hari Tanah Sedunia, Kamis [5/12], pada peluncuran Peta Lahan Gambut Skala 1:50.000, soil sensing kit dirangkai dengan kegiatan pameran inovasi teknologi Balitbangtan dan orasi purnabakti di Cimanggu, Bogor.
Kegiatan yang diselenggarakan Balitklimat dari Balai Besar Litbang Sumberdaya Lahan Pertanian [BBSDLP - Balitbangtan] yang dibuka pada Selasa [3/12] menggelar berbagai bimbingan teknis terkait Balitklimat, inovasi teknologi BBSDLP - Balitbangtan, seminar, demo makanan sehat, display inovasi teknologi dan bazaar.
Balitklimat BBSDLP - Balitbangtan akan menggelar Soil Judging Contest [SJC] pada Kamis [5/12] memperebutkan Soepraptohardjo Cup yang diikuti 23 tim dari sembilan perguruan tinggi nasional di antaranya Universitas Sebelas Maret [UNS] Solo, Universitas Jember [Uned], Universitas Pajajaran [Unpad Bandung], Universitas Gajah Mada [UGM Yogyakarta], Universitas Pembangunan Nasional Veteran Jatim], Universitas Pembangunan Nasional Veteran Yogyakarta, Universitas Brawijaya [Unbraw Malang], Universitas Andalas [Unand Padang], Universitas Halu Oleo [Kendari] dan University of Sydney dari Australia.
Juri kontes dipimpin oleh Prof Dr Ir Sukarman, MS; Prof Dr Ir D.Subardja, MSc [HITI], Dr Ir RA Dyah Tjahyandari Suryaningtyas [IPB], dan Stephen Cattle [University of Sydney].
Para peserta kontes harus mendeskripsi profil tanah yang terdiri atas pengamatan profil dan pengolahan data profil. Selain itu, penilaian peserta juga dilihat dari kerjasama tim dan cara menggunakan peralatan.
Bimtek Inovasi Teknologi Sumberdaya Lahan Pertanian dan akan berlangsung dua hari [3 - 4 Desember]dengan materi Bimtek Pengelolaan Lahan dan Aplikasi yang diikuti 100 peserta dan 360 orang mengikuti Bimtek Pemupukan. Sementara Bimtek Pengelolaan Lahan terdiri atas enam materi yakni cara membaca peta, hidroponik tenaga surya, SPKL, SI Sultan, Loka Peta, dan PKDSS.
Selain Bimtek, juga diadakan aneka lomba bagi para pelajar dan mahasiswa serta bazar. Seminar makanan sehat akan berlangsung di Auditorium Sadikin Sumintawikarta pada Rabu [4/12] dengan pembicara ahli gizi dari Puslitbang Gizi. Selain itu juga akan diadakan demo masakan sehat, dan pembagian benih cabai kepada para peserta. [Liene]
Bogor of West Java [B2B] - ´Stop Soil Erosion, Save the Future´ was chosen by the Indonesian Agriculture Ministry as the theme of commemorating the 2019 World Soil Day which will last for three days, 3 to 5 December 2019 in Bogor city of West Java province.