Mahasiswa Belgia di Masamba, Kapusluhtan: "PPL Jangan Royal Info pada Asing"
Indonesian Govt is Aware of Foreign Students Research
Editor : M. Achsan Atjo
Translator : Dhelia Gani

PUBLISHED: Minggu, 13 Januari 2019 , 22:35:00 WIB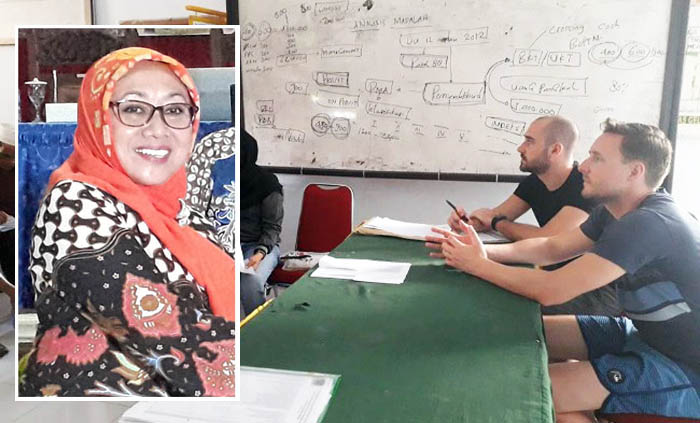 AGENDA ASING: Kedua mahasiswa S2 Belgia, David dan Dries, kunjungi BPP Masamba (foto utama) dan Kepala Pusluhtan BPPSDMP Kementan, Siti Munifah (inset) Foto2: istimewa & B2B/Mac
Masamba, Sulsel (B2B) - UU Penyuluhan Pertanian, Perikanan, dan Kehutanan No 16/2006 menyebutkan delapan fungsi penyuluh pertanian, salah satunya berperan sebagai penghubung dengan peneliti, dalam hal ini penyuluh senantiasa membawa inovasi baru hasil-hasil penelitian untuk memajukan usaha tani.
Kementerian Pertanian RI melalui Badan Penyuluhan dan Pengembangan SDM Pertanian - BPPSDMP mengapresiasi penyuluh pertanian lapangan (PPL) di Kecamatan Masamba bertemu dengan dua mahasiswa S2 dari Belgia, David dan Dries, yang bermaksud melakukan penelitian tentang sertifikasi kakao di Kabupaten Luwu Utara, Provinsi Sulawesi Selatan.
Sebelumnya diberitakan bahwa Bunga Intan, PPL Desa Rompu di Kecamatan Masamba, Rabu pekan lalu (9/1) menerima kunjungan mahasiswa S2 dari Belgia atas kerjasama dengan Koperasi Tani Masagena di Desa Pongo, Kecamatan Masamba.
"PPL Masamba telah melaksanakan tugas pokok dan fungsi penyuluh pertanian sebagai penghubung dengan peneliti, dalam hal ini mahasiswa S2 asal Belgia yang meneliti tentang sertifikasi kakao, khususnya terkait dengan kelebihan dan kekurangan sertifikasi kakao," kata Siti Munifah, Kepala Pusat Penyuluhan Pertanian (Pusluhtan) melalui keterangan tertulis kepada B2B, Minggu malam (13/1).
Kendati begitu, Siti Munifah mengingatkan PPL di Masamba, Sulsel maupun di seluruh Indonesia untuk mendampingi mahasiswa asing yang melakukan penelitian, khususnya terhadap permit dan perijinan melakukan penelitian di Indonesia terhadap instansi terkait seperti Ditjen Imigrasi di Kementerian Hukum dan HAM RI terkait paspor, visa, dan ijin tinggal; ijin penelitian pada Kementerian Riset, Teknologi dan Pendidikan Tinggi; akses petani dan lahan perkebunan milik petani kepada dinas perkebunan di Pemprov Sulsel dan Pemkab Luwu Utara.
"Kita apresiasi PPL Masamba menerima mahasiswa Belgia untuk interview didampingi penerjemah, tapi tetap fokus dan waspada dengan cara mendampingi kegiatan mereka melakukan penelitian, untuk mencegah agenda lain dari penelitian tersebut," kata Siti Munifah.
Dia pun menguraikan tentang kakao sebagai komoditas pertanian yang strategis bagi Indonesia lantaran sebagian besar lahan dimiliki petani skala kecil, 97% dari total produksi nasional berasal dari 1,7 juta petani kecil. Sementara Indonesia tercatat sebagai penghasil kakao terbesar di Asia dan ketiga terbesar dunia setelah Pantai Gading dan Ghana.
"Kementan mencatat produksi kakao Indonesia sekitar 650 ribu ton pada 2017," kata Siti Munifah merujuk pada data Ditjen Perkebunan. (Liene)
Masamba of South Sulawesi (B2B) - The Agriculture, Fisheries and Forestry Extension Law number 16/2006 mentions eight agricultural extensionist functions, one of them being a liaison with researchers, in this case the extensionist always brings new innovations the results of research to developing farming.
Indonesian Agriculture Ministry through the Directorate General of Extension and Agricultural HR Development or BPPSDMP appreciated South Sulawesi´s Masamba agricultural extentionist met with student master´s program from Belgium, David and Dries, who conducted research of cocoa certification in North Luwu district, South Sulawesi province.
Previously it was reported that Bunga Intan, an agricultural extentionist in Rompu village of Masamba subdistrict, Wednesday last week (January 9) visited by Belgian students who was initiated by Tani Masagena Cooperatives in Pongo village of Masamba subdistrict.
"Mrs Intan has carried out its main duties as a liaison with researchers, who researched cocoa certification, related to the strengths and weaknesses of cocoa certification," said Munifah, Director of Agricultural Extension Center through written statement to B2B, last night.
Even so, Munifah reminded agricultural instructors in Masamba and throughout the country to assist foreign students conducting research, especially the permit to conduct research in Indonesia to the relevant ministries. such as the Directorate General of Immigration at the Law and Human Rights Ministry regarding passports, visas and residence permits; permit research at the Research, Technology and University Ministry; access to farmers and plantation land owned by farmers in provincial and district government offices.
"We appreciate them for the interview accompanied by an interpreter, but remain focused and be aware of research activities, to prevent other agendas of the research," Munifah said.
She also describes about cocoa as the strategic agricultural commodity for Indonesia because most cocoa fields are owned by small-scale farmers, 97% of the total national production comes from 1.7 million small farmers. Indonesia is currently listed as the largest cocoa producer in Asia and the third world after Ivory Coast and Ghana.
"The ministry Indonesia´s cocoa production is around 650 thousand tons in 2017," Munifah said refers to data of the Directorate General of Plantation.