Pensiun dan Wafat, Kabupaten Batanghari Kekurangan Penyuluh Pertanian
Indonesia`s Batanghari District Lacks of Agricultural Extensionist
Editor : M. Achsan Atjo
Translator : Dhelia Gani

PUBLISHED: Rabu, 15 Mei 2019 , 03:41:00 WIB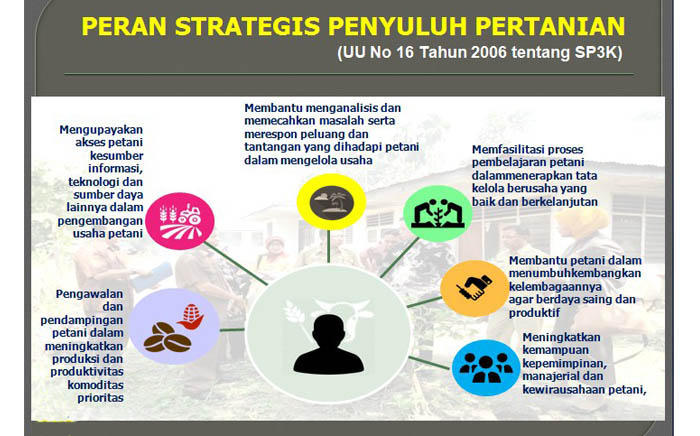 Tabel & Data: Pusat Penyuluhan Pertanian - Pusluhtan BPPSDMP Kementan
Batanghari, Jambi [B2B] - Pemerintah Kabupaten [Pemkab] Batanghari di Provinsi Jambi menyadari peran penting penyuluh pertanian untuk mendukung pencapaian swasembada pangan, namun saat ini hanya ada 69 penyuluh pertanian berstatus PNS, tiga di antaranya sebagai kelompok fungsional yang ditugaskan tapi jabatan tetap PPL, sementara satu orang memasuki masa pensiun dan beberapa meninggal dunia.
Pelaksana Tugas [Plt] Kepala Dinas Tanaman Pangan dan Hortikultura Kabupaten Batanghari, M Hatta Ak mengatakan saat ini Batanghari kekurangan penyuluh pertanian lantaran banyak yang pensiun dan ada yang meninggal dunia, sehingga penyuluh untuk pedesaan jauh berkurang.
"Saat ini penyuluh pertanian yang berstatus PNS yang tersebar di desa sekitar 69 orang, sedangkan penyuluh honorer hanya 16 orang," kata M Hatta Ak seperti dikutip Alpian selaku Kabid Penyuluh Pertanian Pemkab Batanghari.
Menurutnya, dari 69 penyuluh, tiga di antaranya beralih tugas sebagai kelompok fungsional namun tetap menjabat sebagai penyuluh pertanian, dan seorang di antaranya bersiap memasuki masa pensiun.
Alpian mengatakan mengacu aturan yang ada, idealnya satu desa satu penyuluh, sementara di Kabupaten Batanghari ada 110 desa dan 14 kelurahan. Artinya, jumlah penyuluh pertanian belum memadai untuk memenuhi rasio ´satu penyuluh satu desa´.
"Saat ini terdapat seorang penyuluh yang bertugas di dua desa sesuai potensi wilayah dan kelompok taninya," kata Alpian mengutip M Hatta Ak seperti dilansir serujambi.com.
Batanghari of Jambi [B2B] - The Batanghari district government in Jambi province realizes the important role of agricultural extensionist to support achievement of food self-sufficiency, currently there are only 69 agricultural extensionists while one person retired and some died, according to senior district government officials.
Acting Head of the Office of Food Crops and Horticulture M Hatta Ak said nowadays Batanghari lacks agricultural instructors, because many retire and some die, so that agricultural extensionist are inadequate.
"Currently there are only 69 extension agents available, while honorary agricultural extensionists were only 16 people," said M Hatta Ak as quoted by Alpian as the Head of Batanghari Agricultural Extension.
According to him, of 69 agricultural extension officers, three of whom switched tasks as functional groups, but still served as an agricultural extensionists, and one of them prepared to retire.
Alpian said according to the provisions of the law, ideally one village of one agricultural extensionist while in Batanghari district there are 124 villages.
"It means, number of agricultural extensionist is not sufficient to meet ratio of ´one extension of one village," said Alpian who goes by one name, like many Indonesians.