Sinergi Penyuluh dan UPJA Dukung Optimalisasi Alsintan Barito Timur
Indonesian Agricultural Extensionists Support Mechanization Across the Country
Editor : M. Achsan Atjo
Translator : Dhelia Gani

PUBLISHED: Selasa, 04 Juni 2019 , 03:44:00 WIB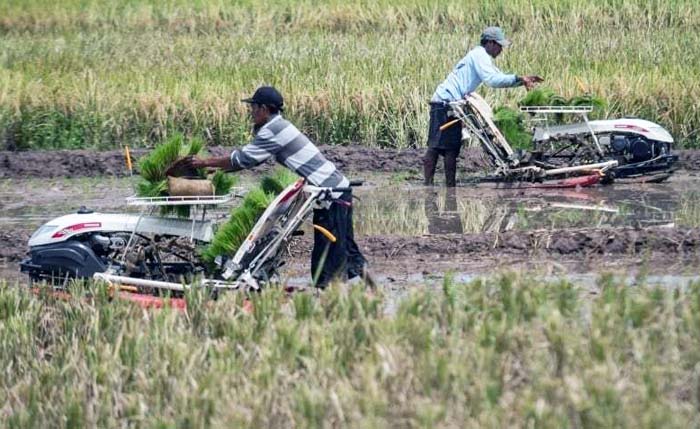 Foto: Penyelenggaraan Penyuluhan Pusluhtan BPPSDMP Kementan
Barito Timur, Kalteng [B2B] - Penyuluh pertanian mendukung optimalisasi alat mesin pertanian [Alsintan] pada Unit Pengeloa Jasa Alsintan [UPJA] Cahaya Muda, khususnya alat tanam padi [rice transplanter] bagi operator dan pemuda tani setempat mendukung tahapan tanam padi berlangsung cepat dan hemat biaya. Kegiatan tersebut didukung oleh Kantor Dinas Pertanian Kabupaten Barito Timur, Provinsi Kalimantan Tengah melalui sinergi dengan penyuluh pertanian dan UPJA.
Hal itu dikemukakan Kepala Dinas Pertanian Pemkab Barito Timur, Riza Rahmadi dan penyuluh dari BPP Raren Batuah, Lukmanul Chakim pada UPJA Cahaya Muda di Desa Malintut, Kecamatan Raren Batuah, Senin [3/6].
Riza Rahmadi mengatakan kendala utama usaha tani di Barito Timur adalah berkurangnya tenaga kerja pertanian, dan menurunnya minat pemuda menekuni sektor pertanian. Hal itu diperparah dengan jumlah petani terus berkurang, sementara anak-anak petani tidak berminat menekuni sektor pertanian.
"Akibatnya tahapan tanam padi terkendala, dalam bahasa Banjar dikenal sebagai meneradak, melampak, mamacak dan batanam. UPJA Cahaya Muda mencoba mengajak pemuda setempat menggunakan rice transplanter untuk menggugah minat mereka ke pertanian," katanya seperti dilaporkan Lukmanul Chakim yang dilansir Bidang Penyelenggaraan Penyuluhan pada Pusat Penyuluhan Pertanian [Pusluhtan BPPSDMP Kementan] kepada B2B, Senin [3/6].
Sebagaimana diketahui, Alsintan berperan penting dalam usaha tani untuk mengerjakan tugas khusus atau sulit dikerjakan oleh manusia, menyediakan tenaga untuk daerah yang kekurangan tenaga kerja, antisipasi minat kerja di sektor pertanian yang terus menurun, meningkatkan kapasitas kerja sehingga luas tanam dan intensitas tanam dapat meningkat.
Ketua UPJA Cahaya Mulia, Sugeng mengatakan peran penting lain Alsintan adalah meningkatkan kualitas sehingga ketepatan dan keseragaman proses dan hasil dapat diandalkan serta mutu terjamin, meningkatkan kenyamanan dan keamanan sehingga menambah produktivitas kerja, dan memberikan peran dan ruang dalam pertumbuhan di sektor nonpertanian.
"Penggunaan rice Transplanter sangat membantu petani, dapat menghemat biaya hingga 30 persen dari biaya persemaian sampai penanaman. Satu hektar hanya memerlukan tenaga kerja dua orang dalam waktu empat hingga enam jam, sesuai keterampilan dan kemahiran operator," kata Sugeng.
Lukmanul Chakim menambahkan pemanfaatan rice transplanter menghemat biaya proses tanam padi ketimbang proses manual memerlukan sedikitnya 40 orang dalam satu hektar. Juga tidak perlu persemaian di sawah maupun cabut bibit atau daut sebagai satu solusi Kementerian Pertanian RI dan kantor dinas pertanian Pemkab Barito Timur untuk mengatasi kekurangan tenaga kerja kususnya tanam padi.
"Dengan tanam yang serempak dapat mengendalikan hama dan organisme pengganggu tanaman atau OPT. Selain itu, produksi gabah tetap terjaga kontinuitas dan kualitasnya," kata Lukmanul Chakim.
Sugeng menambahkan bahwa UPJA Cahaya Muda di Desa Malintut juga melayani persemaian apabila ada petani yang membutuhkan sekalian penanamannya, dengan sistem borongan atau harian. [Liene]
East Barito of Central Borneo [B2B] - Agricultural extensionists support optimization of agricultural machinery [Alsintan] in rental business of Alsintan [UPJA] Cahaya Muda, especially rice transplanters for farm operators and youth farmers support rice planting to be fast and cost-effective. The activity was supported by the East Barito District Agriculture Office Central Kalimantan province [Distan Barito Timur] through synergy of agricultural extension officers and UPJA.
It was stated by Head of Distan Barito Timur, Riza Rahmadi and agricultural extensionist of Raren Batuah Agricultural Extension Center [BPP] Lukmanul Chakim here on Monday [June 3].
Riza Rahmadi said the main obstacle of farming in East Barito was the reduction of agricultural labor, and the decreasing interest of youth in the agricultural sector. The condition is exacerbated by reduced number of farmers, while farmers´ children are not interested to make a living in agricultural sector.
"It resulted in the planting of rice is inhibited, UPJA Cahaya Muda tried to invite local youth to use rice transplants to arouse their interest in agriculture," Riza Rahmadi said.
As is known, agriculture mechanization by using Alsintan plays an important role in agriculture such as doing difficult work that can not be done by humans, replacing human labor due to lack of manpower, increase work capacity to increase planting area and cropping intensity.
"Another important role is to improve the quality of agricultural production, improve safety and comfort so as to increase work productivity, and promote economic growth in the non-agricultural sector," Sugeng said.