Kepala BPPSDM: PEPI Raih Izin Gubernur, Terima Mahasiswa April/Mei 2019
Banten Governor Support Indonesian Agricultural Engineering Polytechnic
Editor : M. Achsan Atjo
Translator : Dhelia Gani

PUBLISHED: Jum'at, 08 Maret 2019 , 03:48:00 WIB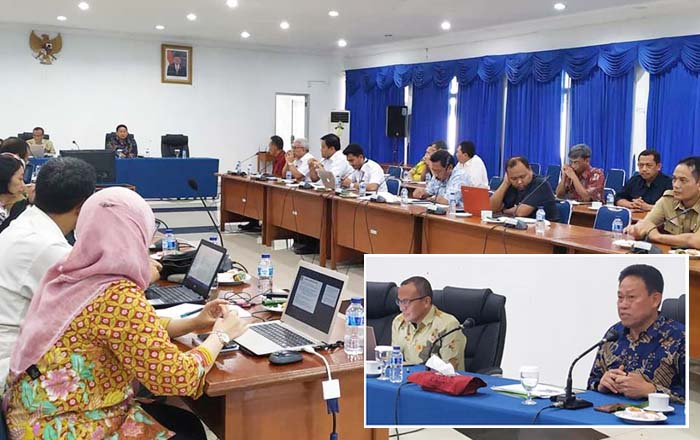 SOSIALISASI & VISITASI: Kepala BPPSDMP Kementan, Momon Rusmono (kemeja biru) didampingi Irjentan Justan Siahaan (inset) memimpin rapat koordinasi di Tangerang, Banten (Foto2: istimewa)
Tangerang, Banten (B2B) - Momon Rusmono selaku Kepala Badan SDM Pertanian merespons cepat surat rekomendasi Gubernur Banten untuk pendirian kampus Politeknik Enjiniring Pertanian Indonesia (PEPI) di kawasan Serpong, Tangerang. Momon R melakukan koordinasi dengan pihak-pihak terkait di Kementerian Pertanian RI, lintas kementerian, pemerintah daerah dan para pemangku kepentingan, untuk memastikan kesiapan PEPI menerima mahasiswa baru pada April/Mei 2019 dan proses pembelajaran pada September 2019.
"Tahapan pendirian PEPI dengan program studinya sudah disetujui Kemenristek Dikti. Pendirian UPT pendidikan harus ada rekomendasi pemerintah daerah, sudah keluar dari Bupati Tangerang dan Gubernur Banten sesuai ketentuan Kemenpan RB. Target tahun akademik 2019 bisa dicapai untuk menerima 72 mahasiswa baru," kata Momon Rusmono, Kepala Badan Penyuluhan dan Pengembangan SDM Pertanian (BPPSDMP) dalam arahannya saat ´sosialisasi dan visitasi PEPI´ di Tangerang, belum lama ini.
Hadir pada visitasi tersebut Inspektur Jenderal Kementan (Irjentan) Justan Siahaan dan Kepala Pusat Pendidikan Pertanian (Pusdiktan) Idha Widi Arsanti, dan sejumlah pejabat kementerian terkait maupun pemerintah dan para pemangku kepentingan.
Dia menambahkan, penerimaan mahasiswa baru PEPI diupayakan paling lambat April atau Mei 2019, sementara proses pembelajaran awal dimulai September 2019, yang merupakan sinergi BPPSDMP dengan Balai Besar Mekanisasi Pertanian (BB Mektan Balitbangtan) untuk mengembangkan kegiatan penelitian, perekayasaan, dan pengembangan enjiniring pertanian mulai dari hulu sampai hilir secara efisien, berkelanjutan, dan ramah lingkungan.
"Standar minimal pendidikan untuk PEPI sudah siap seperti laboratorium, asrama dan lainnya sudah tersedia atas dukungan BB Mektan, dan secara bertahap akan membangun kampus PEPI didukung fasilitas pendidikan tinggi vokasi bertaraf internasional" kata Momon R.
Irjentan Justan Siahaan menyatakan dukungannya pada PEPI yang fokus pada tiga prograrm studi yakni teknologi mekanisasi pertanian, tata air pertanian, dan teknologi hasil pertanian.
"Kebutuhan SDM pertanian Indonesia yang menguasai mesin pertanian Alsintan, modernisasi pertanian di pedesaan, dan pemberdayaan masyarakat petani kian mendesak untuk menjawab tantangan pertanian masa depan di era industrialisasi 4.0," kata Justan S.
Tangerang of Banten (B2B) - Momon Rusmono as the Director General of Extension and Agricultural HR Development of Indonesian Agriculture Ministry or the BPPSDMP Kementan to quick respond of Banten Governor´s recommendation letter about for development of the Indonesian Agricultural Engineering Polytechnic or the PEPI in Serpong area of Tangerang district. Rusmono coordinates with relevant parties with stakeholders to ensure readiness of PEPI to accept new students in April or May 2019 and the lecture process starting September 2019.
"The PEPI development phase with its study program has been approved by the relevant ministry. The government´s recommendation letter was approved by the Tangerang Regent and Banten Governor. The target of the 2019 academic year can accept 72 new students," said Rusmono in his direction during ´PEPI socialization and visitation´ here, recently.
He said, the PEPI new student admissions are sought no later than April or May 2019, while the learning process begins in September 2019, which is a synergy of BPPSDMP with the Center for Agricultural Mechanization to developing research, engineering and agricultural engineering development activities of upstream to downstream, sustainable and environmentally friendly.
"The minimum standard of education for PEPI is ready such as laboratories, dormitories and others available supported by BB Mektan, and gradually build a PEPI campus with international vocational higher education facilities," Rusmono said.
Inspector General of the Agriculture Ministry Justan Siahaan said his support for PEPI was focused on three study programs, namely mechanization of agriculture, agricultural water systems, and agricultural technology.
"Indonesia´s agricultural human resources need to control agricultural machinery production, modernization of rural agriculture, and empowerment of farming communities to answer agricultural challenges in the era of industrialization 4.0," Siahaan said.