Optimistis Tercapai, Target BKP Kementan Serap Gabah Kalsel 22.510 Ton
Indonesian Agriculture Ministry Supports Bulog to Buy Rice of Farmers
Editor : M. Achsan Atjo
Translator : Dhelia Gani

PUBLISHED: Kamis, 07 Februari 2019 , 03:49:00 WIB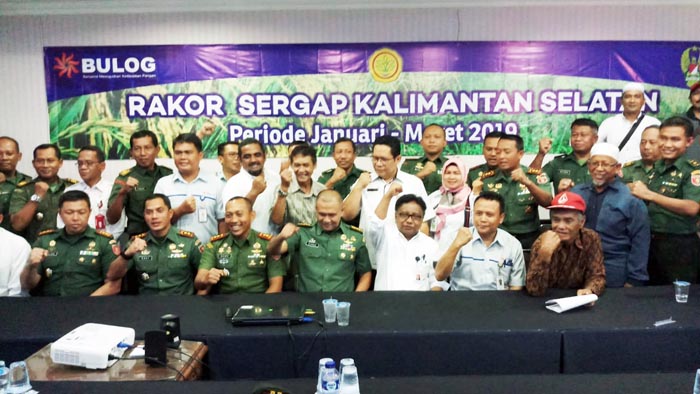 PENGOLAH GABAH: Kapus Distribusi dan Cadangan Pangan BKP Kementan, Risfaheri (depan ke-3 kanan) dan Pamen Mabes TNI AD, Kolonel Inf Rahmat Z bersama seluruh peserta Rakor di Banjarmasin (Foto: Humas BKP)
Banjarmasin, Kalsel (B2B) - Kementerian Pertanian RI optimistis program serap gabah/beras petani disingkat Sergap di Provinsi Kalimantan Selatan pada Januari - Maret 2019 sebesar 22.510 ton oleh Perum Badan Urusan Logistik (Bulog) akan terealisir, atas komitmen dukungan dari pemerintah provinsi/kabupaten/kota, TNI AD, dan Persatuan Penggilingan Padi dan Pengusaha Beras Indonesia atau Perpadi.
Hal itu mengemuka dari rapat koordinasi Sergap (Rakor Sergap) di Banjarmasin, Rabu (6/2) yang dipimpin oleh Kepala Pusat Distribusi dan Cadangan Pangan Badan Ketahanan Pangan (BKP) Risfaheri, yang dihadiri oleh Kepala Dinas Tanaman Pangan dan Hortikultura Kalsel, H Syamsir Rahman MS; Kabulog Divre Kalsel, Ahmad Kholison; Pamen Mabes TNI AD, Kolonel Inf Rahmat Zulkarnain; Danrem 101 Antasari, Kolonel Inf MS Ismed; sejumlah Komandan Kodim, pengurus DPD Perpadi Kalsel, para bintara pembina desa (Babinsa) dan perwakilan kelompok tani.
Risfaheri mengatakan Kementan optimistis Sergap Kalsel akan terealisir 22.510 ton karena tersedia dua unit pengolah gabah dan beras (UPGB) sehingga Bulog akan lebih mudah dan leluasa melakukan pembelian.
"Di Kalsel ada dua UPGB, itu sangat memudahkan bagi mitra Bulog untuk menjual gabah atau beras. Bulog pun bisa membelinya berupa gabah atau beras," katanya lagi.
Hal senada dikemukakan oleh Ahmad Kholison, setelah Divre Bulog Kalsel membentuk satuan kerja khusus yang siap dikerahkan setiap waktu untuk melakukan pembelian gabah/beras dari petani.
"Kami akan proaktif, sehingga target sampai Maret akan tercapai, bahkan kami optimistis sampai Desember 2019 akan terpenuhi target Sergap," kata Ahmad K.
Optimistis serupa disampaikan oleh Kolonel Inf Rahmat Zulkarnain dan Danrem Kolonel Inf MS Ismed, dengan mengerahkan bintara pembina desa (Babinsa) dari seluruh komando rayon militer (Koramil) di tiap kecamatan di bawah kendali komando distrik militer (Kodim).
"Kami akan melakukan pendampingan dan memotivasi Bulog untuk menyerap gabah petani, dan petani juga mau menjual gabahnya ke Bulog, sehingga target yang sudah ditetapkan bisa tercapai," kata Kolonel Inf Rahmat Z.
Banjarmasin of South Borneo (B2B) - The Indonesian Ministry of Agriculture is optimistic that the program to buy grain of rice farmers or the Sergap in South Kalimantan province for January - March 2019 as many as 22,510 tons by the National Logistics Agency or the Bulog will be realized, supported by local government, the army, and Indonesian rice business associations or the Perpadi.
The coordination meeting was chaired by Director of BKP´s Food Reserve and Distribution Center, Risfaheri here on Wednesday (February 6) with the Head of Provincial Food and Horticulture Office, H Syamsir Rahman MS; Head of the Bulog Regional Division, Ahmad Kholison; Army Headquarters Officer, Colonel Inf Rahmat Zulkarnain; South Borneo Military Resort Commander, Colonel Inf MS Ismed; and related parties.
Risfaheri said the ministry is optimistic that the Sergap program in South Borneo will be realized, because there are two grain processing units so Bulog will find it easier to buy farmer´s grain.
"There are two UPGB units in South Borneo, which make it easier for Bulog farmers to sell grain. Bulog can buy grain or rice," he said.
The same thing was stated by Ahmad Kholison, after Bulog formed a special work unit, which was ready to be deployed at any time to buy rice from farmers.
"We will be proactive, so that the target until March will be realized, even we are optimistic that until December 2019 the Sergap target will be fulfilled," Kholison said.
Similar optimism was conveyed by Colonel Inf Rahmat Zulkarnain and Colonel Inf MS Ismed by deploying army soldiers across the province.
"We will assist and motivate Bulog to buy farmer´s grain, and farmers also want to sell their grain to Bulog, so that the Sergap target is more easily achieved," Colonel Zulkarnain said.