Program Cetak Sawah, Warga Kalteng Minta Penyuluh Pertanian Lebih Aktif
Indonesian Govt Support the Regions to Develop New Rice Fields
Editor : M. Achsan Atjo
Translator : Dhelia Gani

PUBLISHED: Selasa, 14 Mei 2019 , 03:52:00 WIB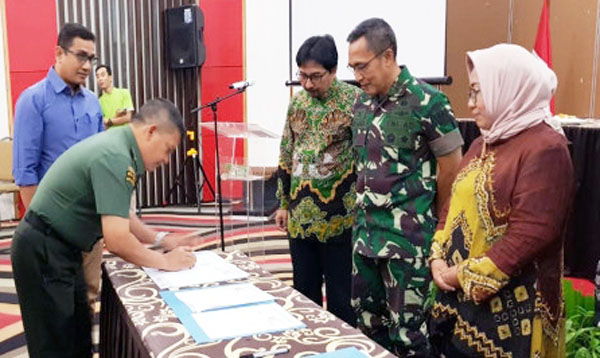 TEKEN MOU: Dirjen PSP Kementan, Sarwo Edhy [kanan, batik hijau] di Bogor [29/3] menyaksikan penandatanganan MoU sejumlah daerah plus Kalteng dan TNI untuk cetak sawah baru 2019 [Foto: istimewa]
Palangkaraya, Kalteng [B2B] - Penyuluh pertanian di Provinsi Kalimantan Tengah diminta lebih aktif bekerja untuk mengoptimalkan potensi pertanian, khususnya di Kota Palangkaraya terkait dengan program cetak sawah baru. Pemerintah pusat, dalam hal ini Direktorat Jenderal Prasarana dan Sarana Pertanian - Kementerian Pertanian RI [Ditjen PSP] menegaskan komitmennya untuk mendukung pemerintah daerah mengembangkan program cetak sawah baru, dan yang teranyar adalah upaya Pemkab Kotawaringin Timur menargetkan 100 hektar tahun ini.

Hal itu mengemuka dari kegiatan masa reses Ketua Komisi C DPRD Kota Palangkaraya, Mukarramah yang mengunjungi konstituennya di Kelurahan Tanjung Pinang, Kecamatan Pahandut, warga setempat mengusulkan dua hal penting terkait pertanian yakni 'penyuluh pertanian dan program cetak sawah baru'.

Menurut Mukarramah, kedua usulan tersebut menjadi perhatian DPRD Kota Palangkaraya, yang harus segera direalisasikan oleh Pemerintah Kota [Pemkot] Palangkaraya untuk 2019.

"Di Kelurahan Tanjung Pinang, masyarakat meminta agar tenaga penyuluh pertanian bisa lebih aktif, terutama di kawasan Bangaris," kata Mukarramah, politikus Partai Nasional Demokrat [Nasdem] yang mengikuti kegiatan reses di di Kelurahan Tanjung Pinang, Kecamatan Pahandut, pekan lalu seperti dilansir Kaltengpos.

Dia menambahkan, peningkatan produksi pertanian menuntut dukungan aktif penyuluh pertanian, mengingat produktivitas pertanian pada daerah yang memiliki potensi pertanian, "tentunya dipengaruhi keaktifan penyuluh pertanian. Bagaimana memberikan kontribusi yang baik bagi masyarakat."

Mukarramah menambahkan, peran aktif penyuluh pertanian terkait erat dengan keinginan masyarakat pada program cetak sawah baru, yang juga diusulkan di kawasan tersebut sebagai bagian dari program cetak sawah baru oleh Ditjen PSP Kementan untuk 2019.

"Cetak sawah juga seharusnya bisa diprogramkan untuk wilayah Kelurahan Tanjung Pinang, terutama di Bangaris yang memang berpotensi untuk pertanian," katanya.

Gayung Bersambut
Sebelumnya diberitakan bahwa Ditjen PSP Kementan siap mendukung pemerintah daerah dalam upaya cetak sawah baru di Provinsi Kalimantan Tengah yang mencanangkan program cetak sawah baru.

Dirjen PSP Kementan, Sarwo Edhy mengatakan bahwa pemerintah pusat, khususnya Kementan akan mendukung pemerintah daerah mengembangkan cetak sawah baru di Kalteng, seperti diutarakan oleh Kepala Dinas Pertanian Pemkab Kotawaringin Timur, I Made Dikantara pada Sarwo Edhy.

Dirjen Sarwo Edhy mengapresiasi kebijakan Pemkab Kotim untuk mengantisipasi alih fungsi lahan di Indonesia seperti dilansir Badan Pusat Statistik [BPS] tentang penyusutan lahan baku sawah dalam lima tahun terakhir mencapai 9%, yang berkurang dari 7,75 juta hektar pada 2013 menjadi 7,1 juta hektar saat ini.

"Salah satu kewajiban pemerintah, pusat maupun daerah wajib menetapkan lahan pangan berkelanjutan. Khusus lahan sawah baru, apabila sudah clean and clear maka Ditjen PSP Kementan siap memberikan bantuan yang dibutuhkan, baik alat mesin pertanian atau Alsintan seperti benih padi, pupuk dan irigasi tersier," kata Sarwo Edhy di Kotim, Sabtu pekan lalu[4/5].

Menurutnya, Kementan siap mendukung penuh apabila semuanya sudah siap. Status lahan tidak masalah. Kelompok tani siap mendukung menggarap lahan sawah baru. "Tinggal ajukan saja kebutuhan apa yang bisa dibantu pemerintah pusat."
Palangkaraya of Central Borneo [B2B] - Agricultural extensionists in Central Borneo province were asked to be more active in optimizing agricultural potential, especially the Palangkaraya city related to the new rice field development program. Central government, specifically the Directorate General of Agricultural Infrastructure and Facilities at the Indonesian Agriculture Ministry [Ditjen PSP] affirms its commitment to support the local government to develop the new rice field program, and the latest is the East Kotawaringin district government target 100 hectares this year.

It was revealed of recess activities Chairman of Regional Representative Council [DPRD] of Palangkaraya city, Mukarramah who visited his constituents in Tanjung Pinang village of Pahandut sub-district, local residents proposed two important things related to agriculture about agricultural extension programs and new rice fields program'.

According to Mukarramah, the proposal was the concern of DPRD Palangkaraya city which must be realized by the Palangkaraya city government for 2019.

"In Tanjung Pinang sub-district, the residents requested that agricultural extensionists be more active, especially in Bangaris area," said Mukarramah, who goes by one name, like many Indonesians.

He added, increasing agricultural production demands active support of agricultural extensionists, considering agricultural productivity in regions that have agricultural potential.

Mukarramah said, the active role of agricultural extension agents was closely related to the people's desire for the new rice field program, which became part of the new rice field program by Ditjen PSP for 2019.