Klasifikasi BPP, KaPusluhtan Siti Munifah Harap Kapasitasnya Terukur di Era 4.0
Agricultural Extension Center Determines Success of Indonesian Development
Editor : M. Achsan Atjo
Translator : Dhelia Gani

PUBLISHED: Jum'at, 10 Mei 2019 , 04:03:00 WIB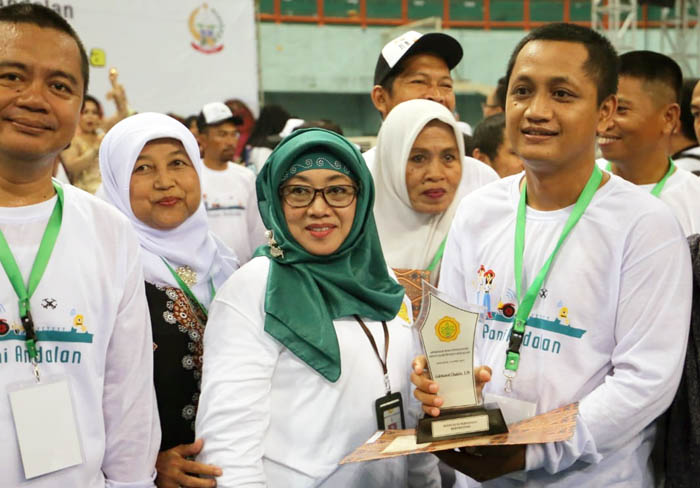 PENYULUH BERPRESTASI: Kepala Pusluhtan BPPSDMP Siti Munifah [hijab hijau] dengan penyuluh berprestasi, Lukmanul Chakim dari Barito Timur, Kalteng pada ´Temu Penyuluh Nasional´ di Makassar [Foto: Humas Pusluhtan/Bima NS]
Jakarta [B2B] - Pemerintah RI mengharapkan Balai Penyuluhan Pertanian [BPP] meningkatkan standar pelayanan dan kapasitas kepada pelaku utama dan pelaku usaha untuk mengoptimalkan perannya, dengan klasifikasi: Pertama, Madya, Utama dan Aditama berdasarkan pengukuran dan penilaian pelayanan, SDM, sarana dan prasarana, meningkatkan kapasitas penyuluh pertanian, mendorong kemandirian petani dan pengusaha tani di wilayah kerja masing-masing BPP.
"BPP harus ditingkatkan kapasitasnya seiring tantangan revolusi industri 4.0 sektor pertanian ibarat Puskesmas atau rumah sakit, dengan melengkapi prasarana dan sarana penyuluhan, meningkatkan pelayanan pada petani, meningkatkan kemampuan dan keterampilan penyuluh pertanian baik aspek manajerial maupun sosiokultural serta mempunyai keterampilan dan menguasai teknologi informasi dan komunikasi," kata Kepala Pusat Penyuluhan Pertanian [Pusluhtan BPPSDMP] Siti Munifah di Jakarta, Selasa [7/5].
Hal itu dia kemukakan pada ´public hearing´ dengan jajarannya terkait penyempurnaan Permentan No 26/2012 dan peran BPP mengacu pada Surat Edaran Menteri Dalam Negeri No 520/2017. Dihadiri pimpinan koordinator BPP Kelas Utama dari BPP Jogoroto di Kabupaten Jombang, Provinsi Jawa Timur; BPP Palimanan, Kabupaten Cirebon, Provinsi Jawa Barat dan BPP Seyegan, Kabupaten Sleman, Provinsi DI Yogyakarta.
Menurutnya, agar BPP mampu melayani petani secara ´total', BPP perlu meningkatkan standar pelayanan agar pelayanan kepada pelaku utama dan pelaku usaha secara optimal melalui klasifikasi BPP: Pertama, Madya, Utama dan Aditama.
"Klasifikasi BPP ini didasarkan pada pengukuran dan penilaian pelayanan, SDM, sarana dan prasarana. BPP juga harus meningkatkan kapasitas penyuluh pertanian, membangun keswadayaan dan kemandirian petani serta pengusaha tani di wilayah kerjanya masing-masing," kata Siti Munifah didampingi Penyuluh Utama Kementan, Siti Nurjanah.
Siti Munifah mengingatkan BPP sebagai garda terdepan ´pembelajaran petani´ di tingkat kecamatan di seluruh Indonesia, untuk total melayani petani. Kementerian Pertanian RI mengharapkan BPP meningkatkan kelengkapan prasarana dan sarana, layanan informasi, konsultasi teknogi pertanian, peningkatan jumlah dan kualitas penyuluh pertanian sesuai perannya sebagai ´rumah besar penyuluh pertanian dan petani´ untuk penyempurnaan Peraturan Menteri Pertanian [Permentan] No 26/2012 tentang Pengelolaan BPP.
"Sebagai rumah penyuluh dan petani, BPP menjalankan fungsi sebagai pusat koordinasi dan sinkronisasi program dan kegiatan pembangunan pertanian; pusat data dan informasi pertanian; pusat pembelajaran; pusat konsultasi agribisnis; dan pusat pengembangan kemitraan usahatani. BPP juga harus mampu mengawal program pembangunan di kecamatan," katanya. [Liene]
Jakarta [B2B] - Indonesian government expect the Agricultural Extension Center or the BPP improve service standards and capacity for farmers and farmer entrepreneurs to optimize the role of the BPP by classification of First, Intermediate, Gold and Premium based on the measurement and assessment of services, human resources, facilities and infrastructure, increasing the capacity of agricultural extensionists, and encourage farmers´ independence.
"The capacity of the BPP must be increased in line with the challenges of the 4.0 industrial revolution in the agricultural sector by completing extension infrastructure and facilities, improving services to farmers, increasing the capabilities and skills of agricultural extension workers both managerial and sociocultural aspects," said Director of ministry´s Agricultural Extension Center, Siti Munifah in coordination meeting here on Wednesday afternoon [May 8].
Munifah reminded the coordinator of BPP as the frontline of ´farmer learning´ at the sub-district level across the country to support farmers. The Indonesian Agriculture Ministry expects the BPP to improve the completeness of infrastructure and facilities, information services, agricultural technology consultations, increase the number and quality of agricultural extensionists according to their roles.
"As the house for agricultural extensionists and farmers, The BPP functions as the center for coordination and synchronization of agricultural development programs; agricultural data and information center; learning center; agribusiness consulting center; and the center for developing farming partnerships," she said.
In the era of industrial revolution 4.0, BPP should play an active role to support national agricultural development, refers to the Minister of Home Affairs Instruction Number 520/2017.
"The BPP as an institution of agricultural extension in the sub-district is a non-structural work unit that functions as the meeting place for agricultural extensionists, farmers and business people led by an extension coordinator," Munifah said.