Biro OKe Kementan Inisiasi Bimtek Pra Uji Kompetensi Jabatan Fungsional
Indonesian Functional Agriculture Official Mandatory Competence Test
Editor : M. Achsan Atjo
Translator : Dhelia Gani

PUBLISHED: Kamis, 01 Agustus 2019 , 04:48:00 WIB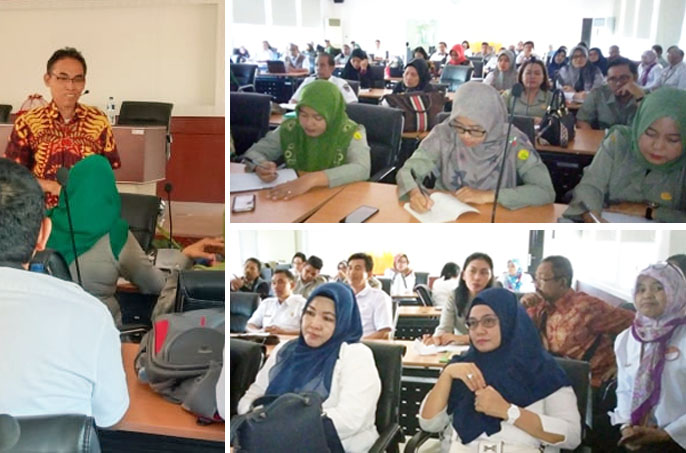 BIMBINGAN TEKNIS: Kantor Regional IV Badan Kepegawaian Negara di Makassar menggelar Bimtek ´pra uji kompetensi´ pejabat fungsional bidang pertanian [Foto2: Bidang Penyelenggaraan Penyuluhan Pusluhtan BPPSDMP]
Makassar, Sulsel [B2B] - Sebanyak 51 pejabat fungsional bidang pertanian di Provinsi Sulawesi Selatan mengikuti bimbingan teknis [Bimtek] pra uji kompetensi di Makassar, Rabu [31/7] yang diinisiasi oleh Biro Organisasi dan Kepegawaian [OKe] Kementerian Pertanian RI.
Tujuan Bimtek untuk memberi gambaran, pemahaman dan meningkatkan motivasi peserta sebelum mengikuti ´uji kompetensi´ yang digelar kantor regional Badan Kepegawaian Negara [Kanreg IV BKN] di Makassar hari ini [1/8] bersamaan dengan Kanreg VI Medan, Provinsi Sumatera Utara.
Kegiatan serupa akan dilaksanakan di Kanreg BKN I Provinsi DI Yogyakarta dan Kanreg II Surabaya, Jawa Timur pada 6 Agustus; Kanreg VIII Banjarmasin [9 Agustus] dan BKN Pusat di Jakartra pada 14 sampai 16 Agustus 2019.
"Bagi peserta akan mengikuti uji kompetensi di Kanreg IV BKN Makassar yang berasal dari Sulawesi, Maluku dan Papua mengikuti Bimtek pra uji terlebih dahulu," kata kata Kabid Penyelenggaraan Penyuluhan - Pusluhtan BPPSDMP Kementan, I Wayan Ediana melalui pernyataan tertulis, Rabu malam [31/7].
Kegiatan Bimtek di Makassar, Rabu [31/7] berlangsung di Balai Pengkajian Teknologi Pertanian [BPTP] Sulawesi Selatan diikuti oleh 15 penyuluh pertanian, enam pengawas bibit tanaman [PBT], enam pengendali organisme pengganggu tanaman [POPT], empat pengawas bibit ternak [Wasbitnak], 11 medik veteriner, delapan paramedik veteriner, dan seorang pengawas mutu hasil pertanian.
"Tujuannya memberikan gambaran, pemahaman, dan motivasi kepada para peserta Bimtek di Makassar dan daerah lain untuk mengikuti ujian dengan lancar, menjawab soal secara benar, dan lulus dengan nilai memuaskan sehingga memenuhi syarat dan berkompeten menduduki jabatan fungsional masing-masing," kata I Wayan Ediana.
Sesuai amanah Peraturan Pemerintah [PP] Nomor 11/2017 tentang Manajemen PNS sebagai Aparatur Sipil Negara mengamanatkan penyuluh pertanian, PBT, POPT, Wasbitnak, medik veteriner, paramedik veteriner, pengawas mutu pakan [Wastukan], pengawas mutu hasil pertanian [PMHP], analis pasar hasil pertanian [APHP], pemeriksa perlindungan varietas tanaman [PVT] dan analis ketahanan pangan [AKP] mendapat hak dan kewajiban secara penuh oleh pejabat yang berwenang untuk terus ditingkatkan kompetensinya, salah satunya melalui uji kompetensi kenaikan jenjang jabatan baik di pusat dan daerah. [Liene]
Makassar of South Sulawesi [B2B] - At least 51 functional agricultural officials in the central and eastern Indonesia regions followed pre-competency test technical guidance in Makassar, which was initiated by the Indonesian Agriculture Ministry The goal is to motivate the participants before joining the ´competency test´ which was held by the Regional Office of the National Civil Service Agency here today [August 1] concurrently with Medan, capital of North Sumatra province.