Penyuluh dan Petani Milenial Penentu Kembalinya Kejayaan Rempah Belitung
Indonesian Govt Seeks to Restore the Glory of Belitung Pepper Product
Editor : M. Achsan Atjo
Translator : Dhelia Gani

PUBLISHED: Sabtu, 11 Mei 2019 , 04:56:00 WIB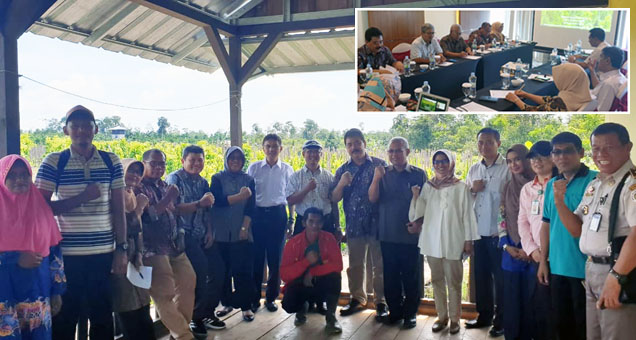 PELUANG EKSPOR: Pejabat eselon dua dan tiga BPPSDMP Kementan bersama petani dan penyuluh pertanian Belitung usai audiensi dengan pejabat terkait dari Pemkab Belitung [Foto2: Pusluhtan BPPSDMP]
Tanjung Pandan, Babel [B2B] - Sejak era kolonial, Pulau Belitung dikenal sebagai penghasil lada terbaik, dunia kala itu menyebutnya sebagai ´Muntok White Pepper´ sehingga Indonesia tidak akan kesulitan menembus pasar internasional, yang dibutuhkan saat ini adalah petani milenial didukung penyuluh andal untuk mengembalikan kejayaan lada melalui inovasi teknologi dan mekanisasi pertanian.
Hal itu mengemuka dari pertemuan sejumlah pejabat eselon dua dan tiga dari Badan Penyuluhan dan Pengembangan SDM Pertanian - Kementerian Pertanian RI [BPPSDMP] dipimpin Lektor Kepala Polbangtan YoMa, Gunawan Yulianto dan Widyaiswara Ahli Utama didampingi Direktur Polbangtan Malang, Surahman dengan pejabat terkait dari Pemprov Bangka Belitung dan Pemkab Belitung pada kegiatan audiensi dengan para petani muda di Desa Air Seruk, Kecamatan Sijuk, Kabupaten Belitung, belum lama ini.
Gunawan Yulianto mengingatkan tentang pentingnya peningkatan kualitas SDM, yakni petani dan penyuluh pertanian didukung pemerintah daerah untuk menunjang keberhasilan Belitung ´mengembalikan kejayaan rempah-rempah Nusantara´ khususnya lada.
"Belitung yang dikenal sejak jaman penjajahan Belanda sebagai penghasil lada kualitas premium, saat itu dikenal dengan sebutan Muntok White Pepper, membutuhkan petani milenial yang tak hanya punya semangat penuh bertani namun mampu berinovasi dan melek teknologi," kata Gunawan Yulianto, mantan Kepala Pusat Pendidikan Pertanian [Pusdiktan BPPSDMP].
Widi Hardjono menyatakan bahwa BPPSDMP Kementan akan mendukung peningkatan kualitas dan pembinaan SDM pertanian di Belitung.
"Pembinaan SDM pertanian bisa dalam bentuk program magang kepada para penyuluh ke daerah yang sukses dalam teknologi dan inovasi di bidang lada, maupun pembinaan petani melalui bimbingan teknis dan program magang ke daerah-daerah yang terkenal akan kesuksesan dalam komoditas lada," kata Widi Hardjono, mantan Kepala Pusat Pelatihan Pertanian [Puslatan BPPSDMP].
Sementara Kepala Bidang Kelembagaan dan Ketenagaan Penyuluhan - Pusluhtan BPPSDMP, Joko Samiyono mengurai tentang pentingnya revitalisasi peran dan fungsi Balai Penyuluhan Pertanian [BPP] sebagai pusat edukasi, informasi, dan konsultasi agribisnis tanaman lada, dengan menyiapkan demonstration plot [Demplot] dan demonstration farming [Denfarm].
"Penyuluh harus lebih banyak dilatih dan diberi wawasan kepada petani milenial tentang sistem agribisnis tanaman lada dari hulu hingga hilir agar memiliki nilai tambah dan daya saing, penguatan kelompok tani untuk menjalankan usahatani lada," katanya melalui pernyataan tertulis kepada B2B. [Liene]
Tanjung Pandan, Babel [B2B] - Since the era of Dutch colonialism, Belitung Island is known as the best pepper producer, the world at that time called it ´Muntok White Pepper´ so that Indonesia would be easier to export pepper from Belitung, needed today farmers are supported by agricultural extensionists to restore the glory of Indonesian pepper.
Senior official of Indonesian Agriculture Ministry, Gunawan Yulianto reminded about improving the quality of agricultural human resources, farmers and agricultural extensionists are supported by regional government to support Belitung as the production center of Indonesian pepper.
"Belitung which was known since the Dutch colonial era as the best pepper producer in the world, formerly known as Muntok White Pepper, it requires farmers with high enthusiasm and innovation ability," Yulianto said.
Widi Hardjono stated that his ministry would support improvement the quality and fostering of agricultural human resources in Belitung.
"Development of agricultural human resources through an apprenticeship program for agricultural extensionists and fostering farmers through technical guidance and apprenticeship programs," Hardjono said.