Bimtek Balitnak, Kepala Pusluhtan Sokong Petani Milenial Ternak Ayam KUB
Indonesian Agricultural Extension Supports Poultry Development
Editor : Cahyani Harzi
Translator : Dhelia Gani

PUBLISHED: Minggu, 26 Mei 2019 , 04:56:00 WIB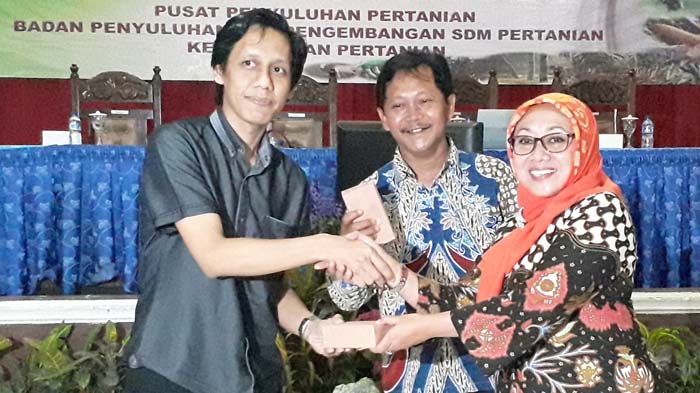 BIMBINGAN TEKNIS: Kepala Pusluhtan BPPSDMP Kementan, Siti Munifah kerap memberikan apresiasi berupa bingkisan seperti smartphone Android kepada penyuluh pertanian berprestasi [Foto: B2B/Mac]
Bogor, Jabar [B2B] - Sedikitnya 35 petani milenial dari enam kabupaten di Provinsi Jawa Barat mengikuti bimbingan teknis [Bimtek] ´Budidaya Pemeliharaan Ayam Kampung Unggulan Balitbangtan´ yang digelar Pusat Penyuluhan Pertanian [Pusluhtan BPPSDMP Kementan] di Balai Penelitian Ternak [Balitnak Balitbangtan] selama dua hari, 23 - 24 Mei 2019.
Bimtek yang melibatkan generasi milenial utusan Gerakan Petani Muda Indonesia Jawa Barat [Gempita Jabar] dihadiri oleh perwakilan anggota Kelompok Usaha Bersama [KUB] binaan Gempita dari sejumlah kabupaten: Subang, Cianjur, Bandung, Garut, Ciamis, dan Pangandaran.
Kepala Pusluhtan, Siti Munifah mengatakan Bimtek pemeliharaan dan pengelolaan bisnis ayam KUB termasuk dalam tataran on farm kegiatan budidaya akan lebih mudah difahami petani milenial apabila diberikan melalui metodologi yang mudah dan menarik.
"Saya bangga bahwa generasi muda sudah berpartisipasi aktif mendukung pengembangan SDM pertanian, dan Kementan konsisten pada komitmen program petani milenial melalui kegiatan pelatihan," kata Siti Munifah dalam arahannya pada Bimtek Ayam KUB di Ciawi, Bogor pada Kamis [23/5].
Menurutnya, Pusluhtan sebagai salah satu pilar dari Badan Penyuluhan dan Pengembangan SDM Pertanian [BPPSDMP] dan Badan Penelitian dan Pengembangan Pertanian [Balitbangtan] sebagai unit kerja eselon satu Kementerian Pertanian RI mengembangkan petani milenial untuk menekuni agribisnis, untuk menyukseskan regenerasi petani didukung modernisasi pertanian melalui kegiatan pelatihan dan praktik.
Sementara Kepala Balitnak Balitbangtan, yang diwakili Kepala Seksi Jasa Penelitian [Kasie Jalitnak - Balitnak] Linda Yunia mengatakan bahwa peserta dibekali berbagai materi Bimtek dengan menyiapkan kandang breeder, penanganan ayam berumur satu hari [day old chicken/DOC], penanganan penyakit, penanganan ayam sakit dan mati.
"Pengembangan kapasitas pemuda tani sebagai kerangka menyukseskan regenerasi petani dan modernisasi pertanian untuk mewujudkan visi Indonesia sebagai lumbung pangan dunia 2045 didukung BPPSDMP Kementan melalui program pendampingan," kata Dadan Muttaqien, Koordinator Gempita Jabar. [Liene]
Bogor of West Java [B2B] - At least 35 young Indonesian farmers of six districts in West Java province participated in technical guidance of chicken farming held by the Agricultural Extension Center of Agriculture Ministry [Pusluhtan BPPSDMP Kementan] in Bogor´s Livestock Research Center for two days [Balitnak Balitbangtan] on 23 to May 24, 2019.
Technical guidance supported by the West Java Indonesian Young Farmers Movement [West Java Gempita] attended by representatives of Gempita´s Joint Business Group members of six districts: Subang, Cianjur, Bandung, Garut, Ciamis, and Pangandaran.
Director of the Agricultural Extension Center, Siti Munifah Siti Munifah said that her support for native chicken farming would be easier for young farmers to understand with an easy and interesting methodology.
"I am proud that the younger generation is participating in the development of agricultural human resources, and the agriculture ministry consistently supports young farmers´ training activities such as chicken farming," Munifah said here on Thursday [May 23].
According to her, the Indonesian Agriculture Ministry developing young farmers to be interested developing agribusiness, while supporting regeneration of farmers by modernizing agriculture through training and practice.