Panen ke-4, Penyuluh Kukar Yakini #pertaniancegahcorona di Loa Kulu
Indonesian Govt Anticipate COVID-19 by Weaker Health Systems
Editor : M. Achsan Atjo
Translator : Dhelia Gani

PUBLISHED: Sabtu, 04 April 2020 , 04:56:00 WIB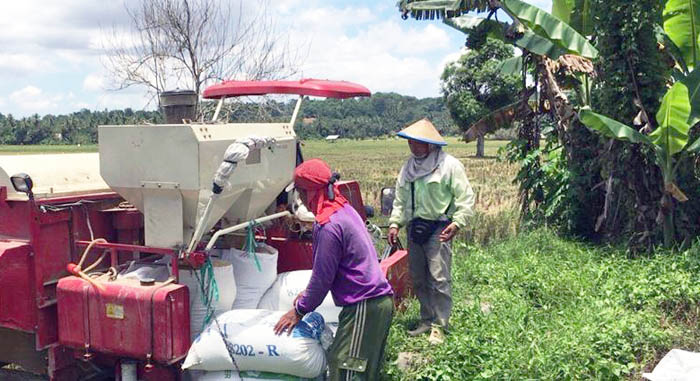 JAGA JARAK: Alsintan sangat membantu proses panen, khususnya menangkal penyebaran virus Corona, karena penggunaan combine harvester meminimalisir interaksi dengan banyak orang [Foto: Humas Pusluhtan]
Kutai Kartanegara, Kaltim [B2B] - Wabah virus Corona tak menyurutkan antusias penyuluh pertanian di Kecamatan Loakulu, Kabupaten Kutai Kartanegara, Provinsi Kalimantan Timur mendampingi petani melakukan panen keempat pada lahan seluas 339,5 hektar awal April 2020. Panen pertama seluas lima hektar hasilkan rata-rata empat ton gabah kering giling [GKG] pada akhir Februari dan panen 25 Maret diperoleh hasil 3,5 ton GKG per hektar.
Penyuluh dan petani menyadari bahwa lahan pertanian adalah ´zona aman´ virus Corona lantaran berlimpah sinar matahari. "Terik matahari juga dimanfaatkan petani untuk menjemur hasil panen padi, meskipun beraktifitas di sawah, mereka tetap waspada dengan menjaga jarak saat interaksi dengan orang lain untuk mencegah penyebaran virus Corona," kata penyuluh pertanian dari Balai Penyuluhan Pertanian [BPP] Loa Kulu, Maidina Fasa dan Jumadi.
Menurut Maidina Fasa, panen tahap pertama dilakukan pada akhir Februari lalu dilakukan oleh empat kelompok tani [Poktan] yakni Sumber Makmur, Mutiara Baru, Tunas Karya dan Sumber Sari di lahan seluas 5 hektar dari varietas Mekongga, Cibogo dan Situbagendit. Hasilnya, rata-rata empat ton GKG.
Panen tahap kedua berlangsung 25 Maret lalu yang menghasilkan 3,5 ton GKG. Diakui Jumadi, terjadi penurunan produksi akibat hama dan penyakit Blast. Pada 26 Maret, dilangsungkan panen tahap ketiga seluas 244,5 hektar di Desa Jonggon Jaya.
"Rencananya, panen tahap keempat akan berlanjut awal April ini dengan luasan 339,5 hektar. Beberapa Poktan telah menggunakan Alsitan combine harvester untuk panen dan mini tresher untuk perontok padi," kata Maidina Fasa.
Menurutnya, Alsintan sangat membantu proses panen, khususnya menangkal penyebaran virus Corona karena penggunaan mesin panen combine harvester meminimalisir interaksi dengan banyak orang di lapangan.
"Petani juga selalu menjaga jarak dan menghindari kerumunan saat bekerja di sawah," kata Jumadi. [Liene]
Kutai Kartanegara of East Borneo [B2B] - Indonesia´s Agriculture Ministry is in intensive care after testing positive for the novel coronavirus, as civil servants in head office and across the country were ordered to close over the health threat. The World Health Organization has said it is particularly concerned about high-risk nations with weaker health systems, which who may lack the facilities to identify cases, according to official of the region.