Guncang Sultra, Penyuluh Muna Berperan Tingkatkan Produksi Pangan
Indonesia`s Muna District Agriculture Extensionists must Support Farmers
Reporter : Gusmiati Waris
Editor : Cahyani Harzi
Translator : Dhelia Gani

PUBLISHED: Kamis, 30 Mei 2019 , 04:59:00 WIB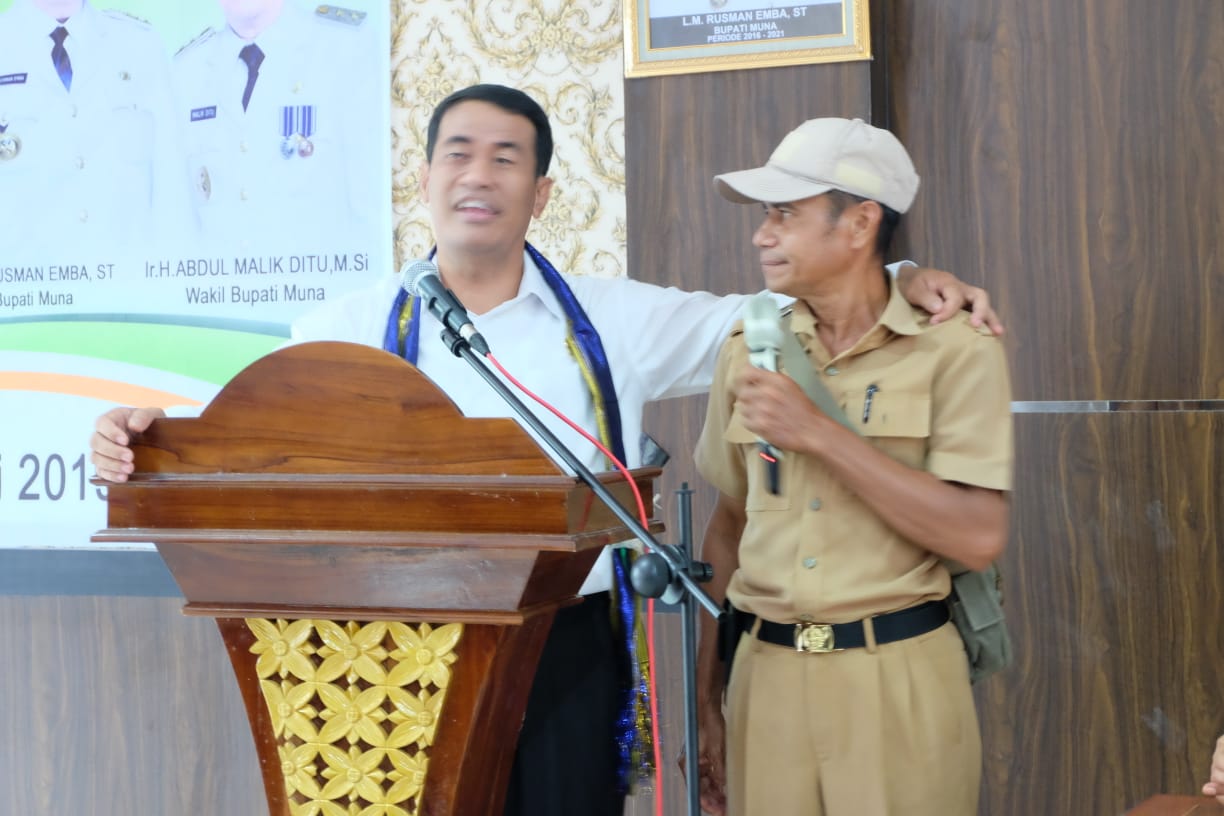 DIALOG PENYULUH: Mentan Amran Sulaiman [kemeja putih] dialog dengan penyuluh pertanian Kabupaten Muna pada kunjungan kerjanya di Provinsi Sulawesi Tenggara [Foto: Biro Humas Kementan]
Muna, Sultra [B2B] - Seluruh penyuluh pertanian di Kabupaten Muna diinstruksikan oleh Menteri Pertanian RI Andi Amran Sulaiman utuk mengguncang potensi pertanian Provinsi Sulawesi Tenggara, khususnya subsektor perkebunan dan hortikultura dengan mengoptimalkan bantuan 10.000 bibit sehingga warga Muna lebih mandiri memenuhi kebutuhan sayur mayur sekaligus meningkatkan pendapatan dari produksi perkebunan.
"Presiden Soekarno pernah mengatakan, berikan aku 10 pemuda Indonesia maka akan kuguncang dunia, seperti halnya Soekarno, saya akan berikan 10 ribu bibit untuk mengguncang Sultra," kata Mentan Amran Sulaiman pada kunjungannya di Muna, Selasa [28/5].
Mentan mengharapkan seluruh bantuan Kementan mampu menjadikan masyarakat Muna mandiri pangan, mengurangi pengeluaran untuk membeli sayur mayur dan kebutuhan pangan di pasar, dengan memanfaatkan lahan kosong di halaman rumah dan pekarangan belakang menjadi perkebunan dan peternakan.
"Mimpi saya adalah masyarakat Muna mampu memetik sayur sendiri, panen ternak sendiri serta mengelola air sendiri. Jangan ada sejengkal tanah yang terabaikan begitu saja. Peliharalah ayam, bebek dan kambing," katanya.
Mentan menginstruksikan penyuluh pertanian bekerja lebih optimal, hal ini penting, mengingat saat ini Indonesia sedang meningkatkan dan mengembangkan sektor pangan yang berkualitas.
"Kuncinya hanya satu, jangan biarkan tubuh kita kena sinar matahari. Artinya kita harus bangun subuh dan baru pulang ke rumah menjelang malam. Datangi 25 kelompok tani setiap hari. Itulah pekerjaan saya selama 15 tahun menjadi penyuluh. Jadi saya tahu kerja keras yang akan membawa kita sukses," katanya.
Menurut Amran, kesuksesan adalah milik semua petani dari kota hingga ke pelosok desa. Caranya, penyuluh harus mengubah sikap dari pemalas menjadi pekerja keras serta menanamkan semangat dan memiliki prinsip pantang menyerah.
"Saya sudah keliling Indonesia dan saya katakan ke petani jangan suka mengeluh, jangan suka meminta kecuali kepada Allah. Kerja keras dan pantang menyerah harus menjadi prinsip dasar. Penyuluh, petani dan semua orang berhak sukses dan berhak maju," katanya.
Muna of Southeast Sulawesi [B2B] - Agricultural extensionists in Muna district were instructed by Indonesian Agriculture Minister Andi Amran Sulaiman to developing agricultural potential of Southeast Sulawesi province, especially plantation and horticulture sub-sectors by optimizing assistance of 10,000 seedlings so that residents of Muna can fulfill vegetable needs while increasing income of plantation production.
"President Soekarno once said, give me 10 Indonesian youth, so I will shake the world, like Soekarno, I will give 10 thousand seeds for Southeast Sulawesi," Minister Sulaiman said here on Tuesday [May 28].
Minister Sulaiman hopes that all ministry assistance will make the Muna community independent of food, reduce spending on buying vegetables and food needs on the market, by utilizing the backyard into plantations and farms.
"My dream is that residents of Muna can fulfill their food needs independently. Do not leave the land abandoned," he said.
Minister Sulaiman instructed agricultural extension workers to work hard, this is important, because Indonesia is currently increasing agricultural production.
"Let´s work hard from morning to evening. Agricultural extensionists must routinely visit 25 farmer groups every day," he said.